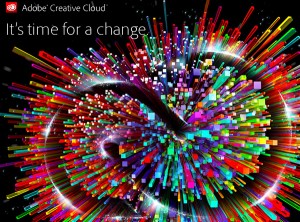 Adobe announced today that they are moving all Creative Suite applications to the Creative Cloud and the Creative Cloud only.  That is, Adobe Photoshop CS6 (and the other CS6 applications) will be the last stand-alone pieces of software of their kind.  From now on, all future versions will require a monthly subscription to use them.
Their slogan for this is: It's time for a change.
They're right about that.  It's time for a change away from Adobe.  This tactic is a giant slap in the face to loyal customers of Adobe and to enthusiast creatives the world over.
I have been a loyal Photoshop customer since Photoshop 6.  Not CS6, but plain old 6.  I have purchased upgrades for Photoshop 7, CS2, CS5 and CS6.
What are the details:
Here is Adobe's official announcement.  The nuts and bolts are: Standalone Creative Suite applications will no longer be developed.  Customers can purchase monthly access to single applications for $20 per month each, or the entire Creative Suite for $50 per month.  Existing CS owners can lock in a reduced rate of $30 per month for one year.  Oh, and that little fine print…the full Creative Suite subscription will require annual commitments, so if you sign up for Creative Suite, you're looking at $600 every year to continue using the whole suite.
Adobe's letter sounds all puppies and roses, doesn't it?  And, for many creative professionals, it IS a good thing.  If you are a professional photographer or graphic artist and regularly use multiple Creative Suite programs, and regularly update them all to the latest version, then the $50 monthly fee for the entire Creative Suite isn't that bad of a deal.  Sure, it's $600 a year, but that's for all the Creative Suite applications. That's really not that bad a deal, overall.  (until you get to the caveat of long-term ownership, but that might not be a big deal for many).
However, if you only use, say, ONE of the Creative Suite programs, then it's $20 a month.  That's $240 a year.  Think about that.  $240 a year to be able to USE the program.  The only CS program I use is Photoshop, and my upgrade to CS6 cost me $200.  I upgraded to CS6 from CS5, which I had purchased 15 months earlier (right when both came out).  So, that upgrade cost me $13.30 per month to stay on the latest version.  That's a lot of money for me, but worth it for Photoshop in my opinion.  Now, in order to upgrade, they want to charge me over 50% more for the upgrade, and the best part is: I don't even own the upgrade.  If I EVER stop paying that monthly fee….it all goes away, and I'm back on CS6.
So, Adobe thinks that this is a great new frontier of connected collaboration, all while giving a hearty "screw you" to its loyal consumers.  They think I'll be overjoyed at having to pay the equivalent of $300 to stay current on Photoshop, and then CONTINUE to pay for, well, forever…if I want to keep using the product.
This isn't going to harm big media companies…for them, it makes perfect sense.  They stay ultra current while being able to meter out their software costs over time and drop them when it makes sense to drop them.  But the enthusiast photographer, or small business graphic artist?  This is just highway robbery.  I have NO NEED for the Creative Cloud features…I just want continued improvements in Photoshop and Lightroom.
Luckily, Lightroom (for the time being), will be exempt from this online requirement, and will still be offered as a standalone product that can be purchased.  I'll probably continue to upgrade Lightroom as long as the features warrant it and the price remains reasonable.  But unless Adobe backtracks from this decision, Adobe Photoshop CS6 will be my last version of Photoshop.