Tamron has made some waves with their lineup of compact, and lightweight, yet high quality zoom lenses for Sony E-mount, offering excellent performance in a small package at a price point significantly lower than the native Sony options.  The final piece of this puzzle is the brand new 70-180mm f/2.8 Di III VXD.  This has been a highly anticipated lens due to its combination of fast aperture, small size and reasonable cost, and it finally is available for Sony shooters.  I have one in my possession at the moment, and while I've only had a very short time to test it out, I thought I'd share my first impressions of the lens.  My full review will come a bit later, once I've had a chance to put it through its paces properly.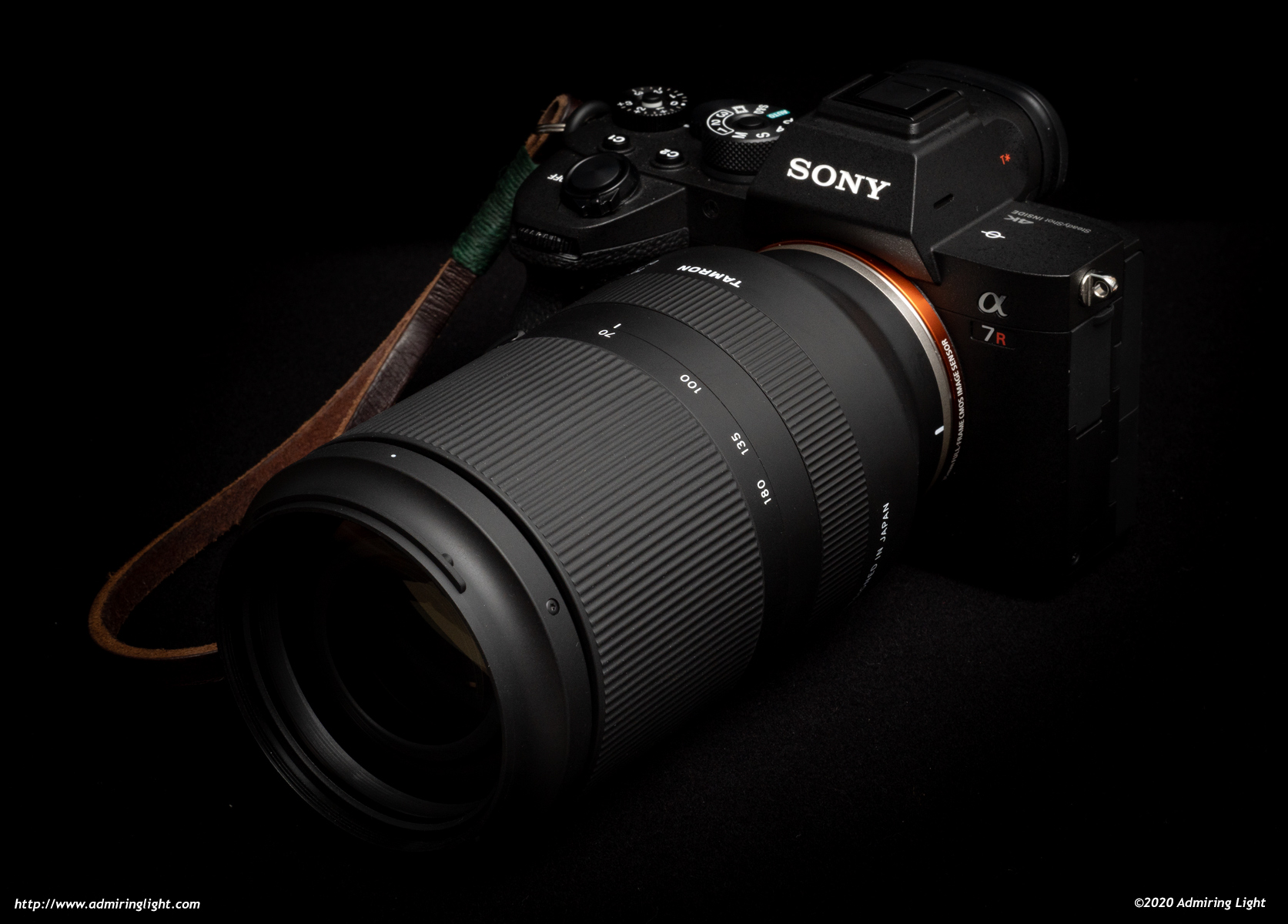 In the Hand
The Tamron 70-180mm f/2.8 is a unique lens.  Like the other two f/2.8 zooms, the focal range is a bit different than what has become to be standard in the photography world, and sacrifices a little bit of reach at the long end to maintain its small size.  I believe the main motivator behind the slightly shorter telephoto end is to keep the filter size at 67mm, thus a single set of filters can be shared by all three f/2.8 Tamron zooms.  The lens is a little beefy in diameter, a consequence of the constant f/2.8 aperture, but in all other ways, it's amazingly compact.  The lens is several inches shorter than the standard 70-200mm zoom lens, and they've kept the weight down as well, with the 70-180mm coming in at a rather svelte 810g.  Compared to the main competition, the Sony 70-200mm f/2.8 GM, the Tamron is almost half the weight.  The Sony GM is comparable in size and weight to other f/2.8 telezooms, and weighs in at 1480g.  The slower 70-200mm f/4 is even slightly heavier than the Tamron at 840g.  To have a constant f/2.8 telezoom that weighs less than a competitor's f/4 version is rather remarkable.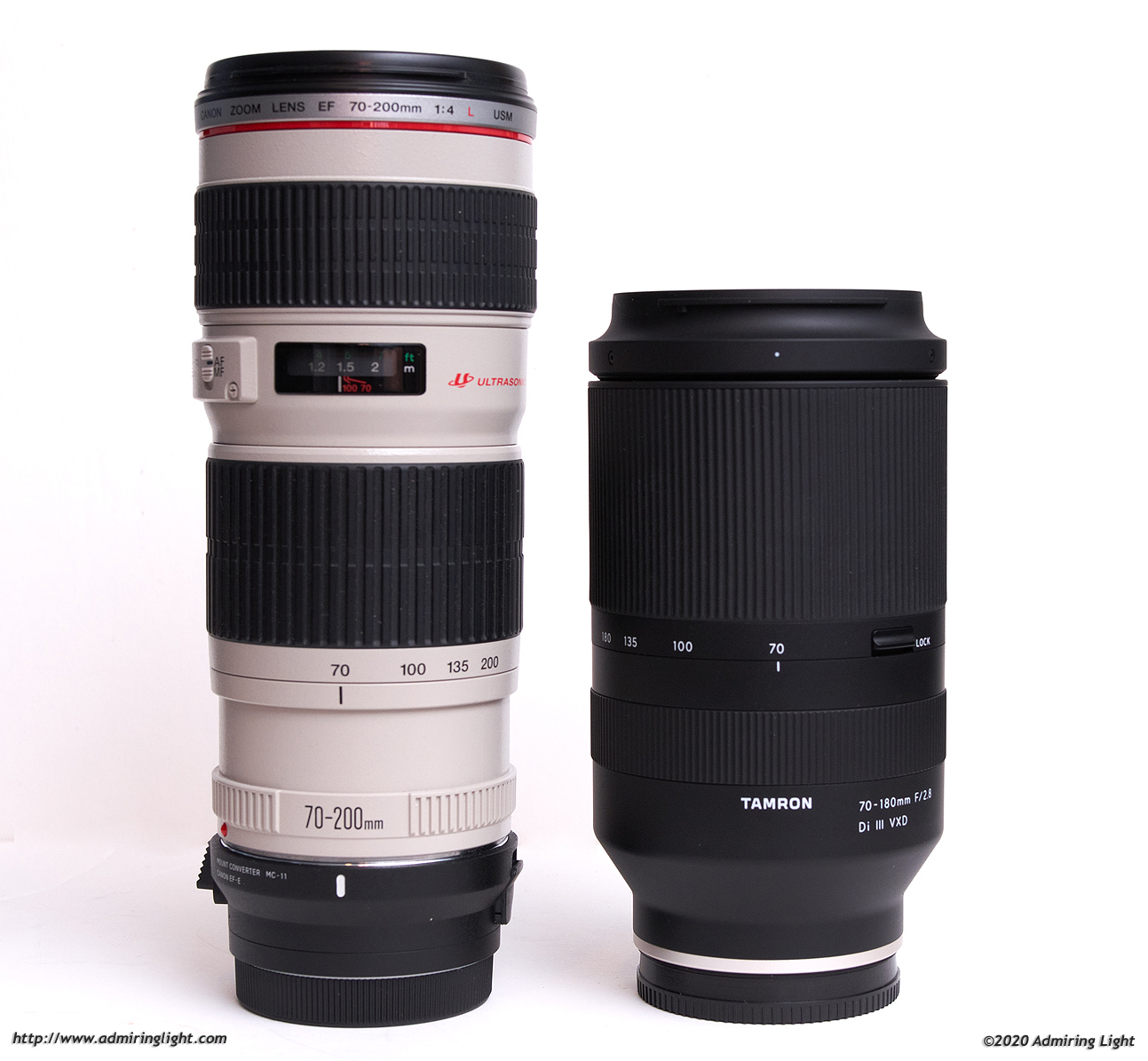 In the hand, the Tamron 70-180mm feels the same as 17-28mm and 28-75mm f/2.8 zooms for Sony, with a polycarbonate exterior construction, with no frills: just a zoom ring and focus ring.  The zoom ring turns smoothly and I haven't noticed any zoom creep, though Tamron provides a locking switch to prevent it while walking about. It's not that satisfying solid metal construction of the GM, but Tamron's lenses have generally held up very well for me, and they have a 6 year US warranty to give some peace of mind.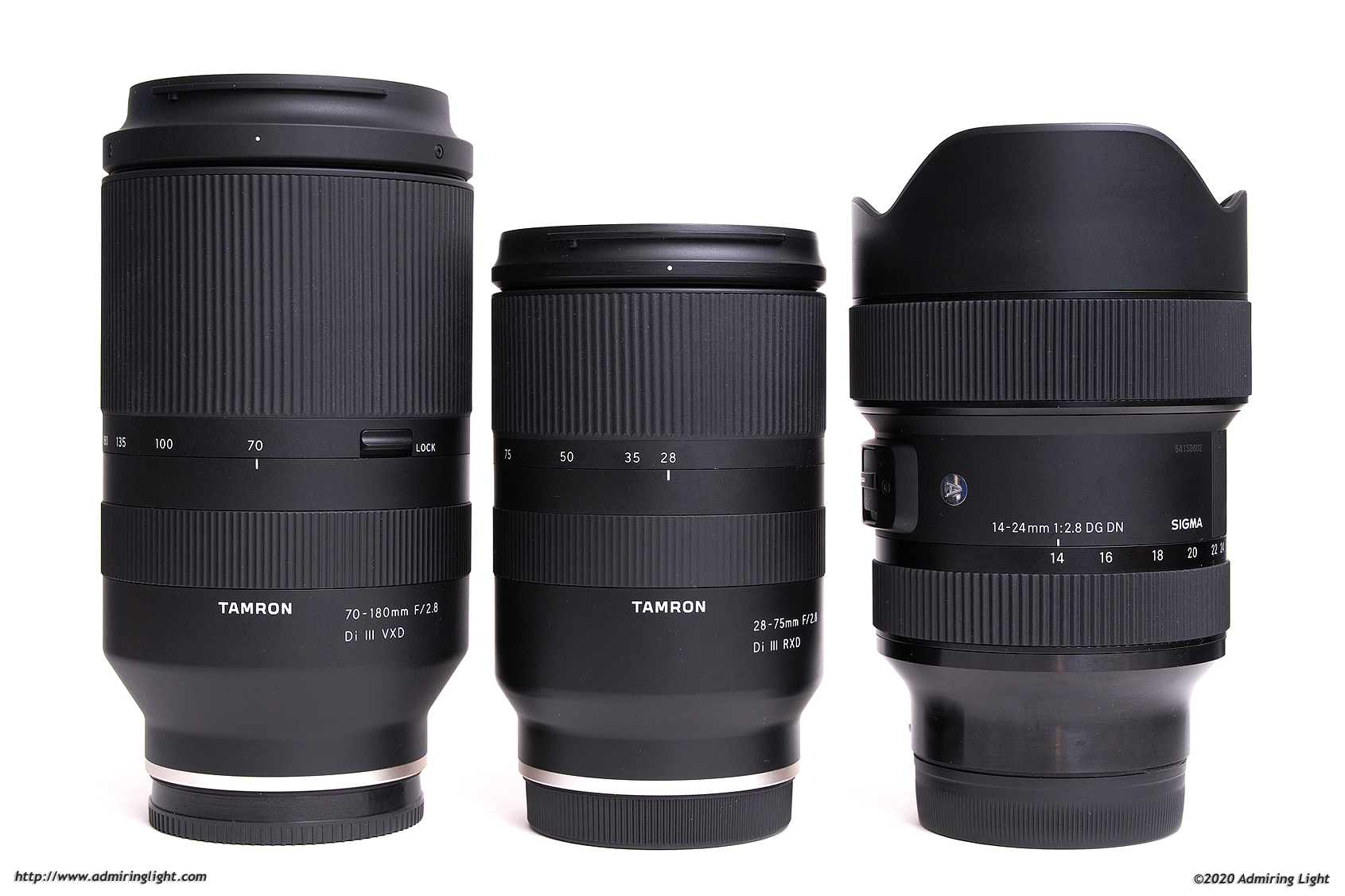 The size of the lens is fantastic, and it fits in bags that larger, longer zooms won't fit.  I can easily fit it into my shoulder bag while mounted to the camera body, and it even fits in my smaller bag I use for my a6400 kit. It's a lens that will not weigh you down, and it's largely its biggest selling point. Well, that and the price: at $1,199, it's $300 cheaper than the Sony f/4 zoom and $1,300 cheaper than the 70-200mm f/2.8 GM.  Of course none of that means anything if the lens doesn't perform well.
Autofocus
I've only had limited time with the lens so far, but my first impression of the autofocus is amazement.  This lens focuses exceptionally quickly.  It may be the fastest overall focusing lens I've ever used.  In good light, focus acquisition is for all intents and purposes instantaneous. The lens is in focus seemingly at the exact moment your finger finishes the half press to lock focus. In dimmer light, it's still very fast, but becomes more deliberate as light levels continue to fall. The only time focus speed seems to drop significantly at all is if you are focusing on very close subjects.  In my short time with the lens, focus has been quite accurate too.  I need to test tracking AF thoroughly, so I'll cover that in my full review.  One area where I have had some issues is when shooting very distant subjects (from about 60 feet to infinity) using AF-S mode at around 180mm.  in this mode, I have seen a tendency for the lens to front-focus, making the distant subject just slightly out of focus…enough to make the image rather soft.  Using AF-C, focus has been accurate under these conditions.
Image Quality
This will need far more testing for me to get an idea of how the lens performs in a wide variety of situations, but my first impressions are again very positive.  The lens at moderate focus distances (say 1m to 5m) is exceptionally sharp throughout the focal range, with outstanding sharpness right from f/2.8.  The test shot below is at 180mm and f/2.8. Below is the full frame: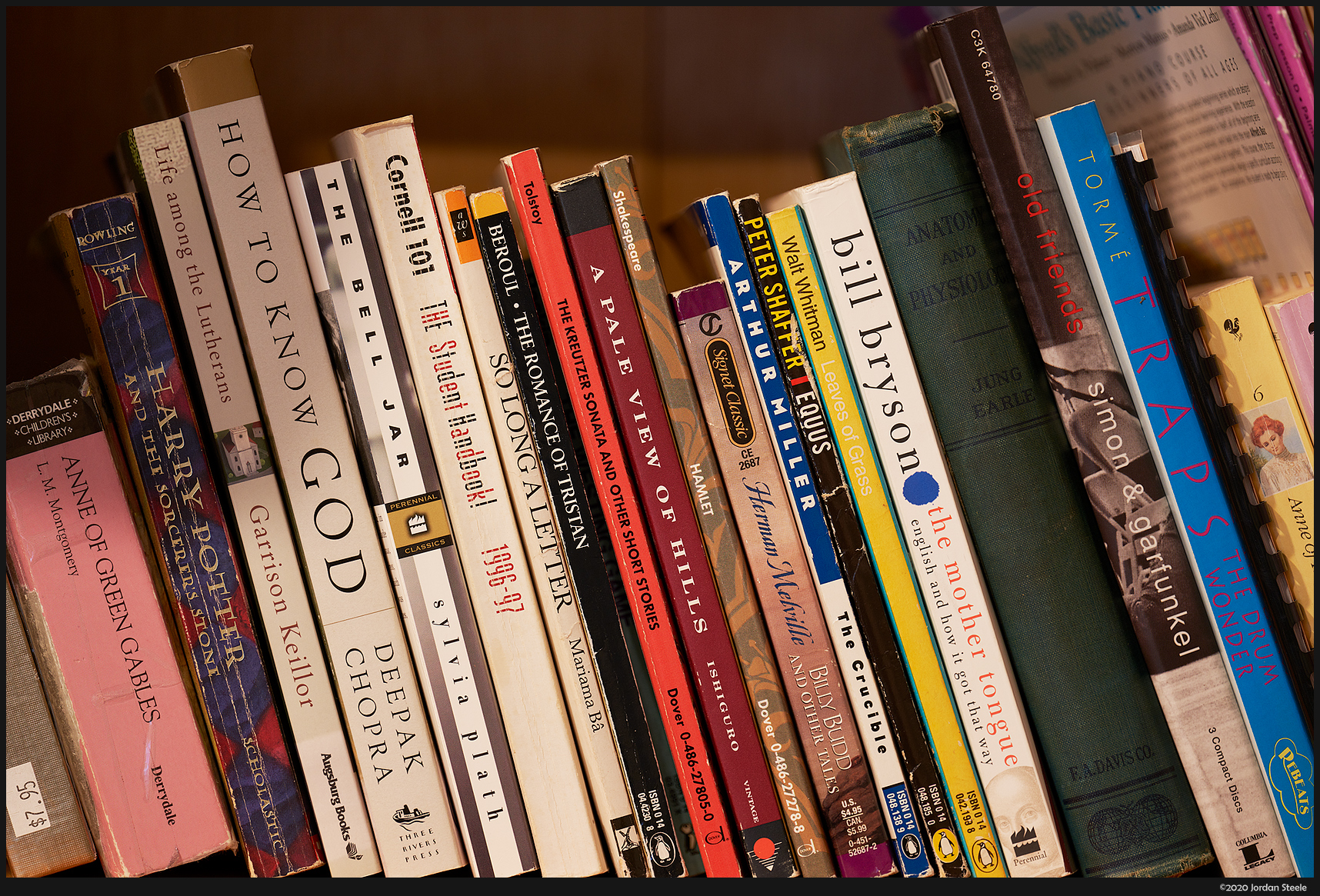 Now let's take a look at the crops.  First, a 100% crop of the center of the image:
And now let's look at the extreme corner: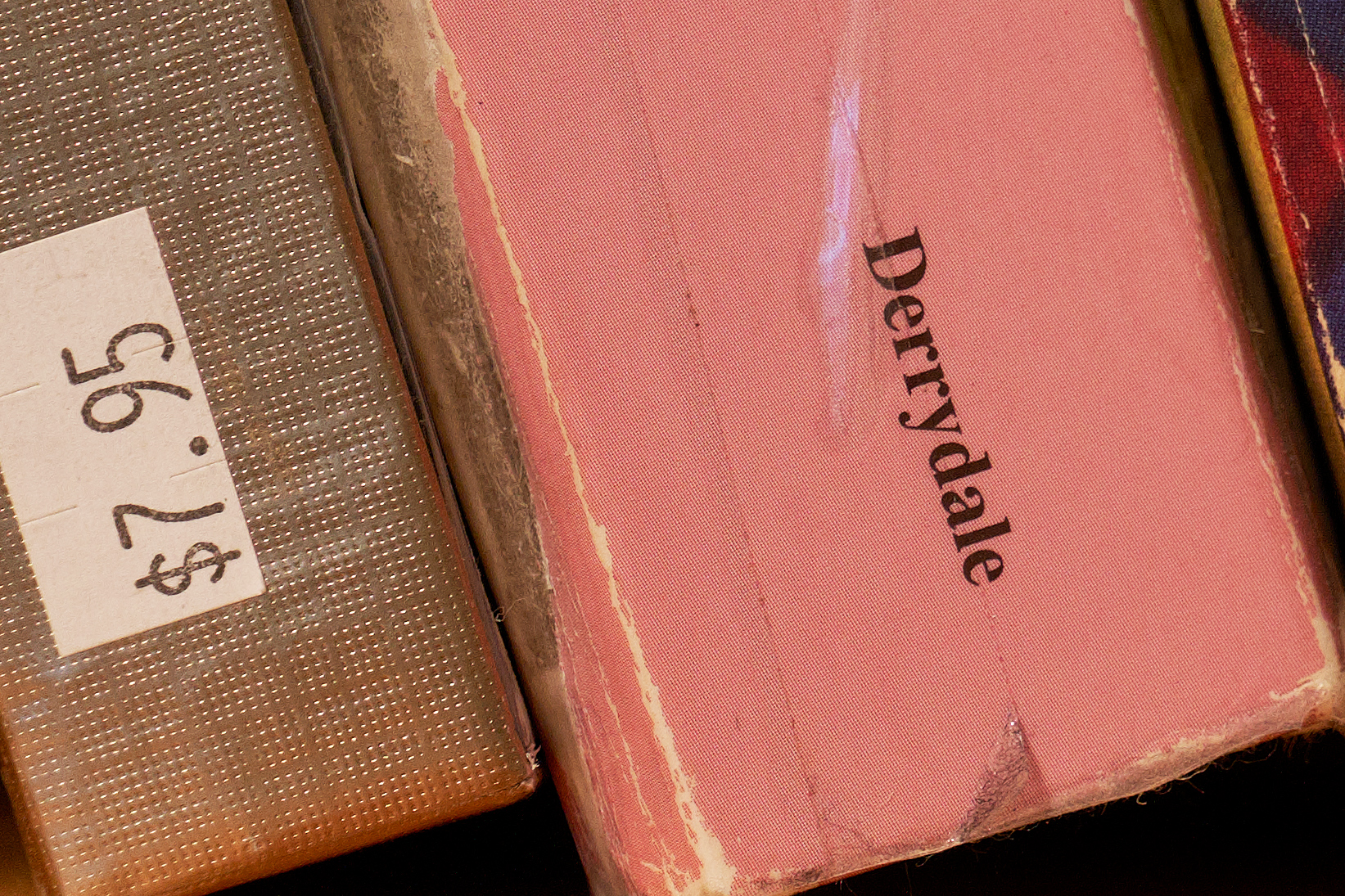 In my opinion, that's rather remarkable.  Sharpness continues like this throughout the zoom range at these distances.  However, things change a little when using the lens for shooting distant subjects.  When focused at infinity, performance from what I have seen so far does fall off a little bit at the long end of the zoom range, but overall quality is good, provided the image is focused properly.
Bokeh from the lens looks to be quite good in most situations, and a notable improvement from the Tamron 28-75mm f/2.8.  Bokeh is largely smooth and quite pleasing.  Color and contrast also appear to be pretty darn good, and chromatic aberration is fairly well controlled, though I've seen a bit of lateral CA in a few images that is easily corrected.
The one big optical flaw is with distortion, with the lens showing fairly significant pincushion distortion at the long end of the zoom, which will definitely require correction if shooting things with straight lines.  Thankfully, profiles for this lens are built into both Capture One Pro and Adobe Lightroom right now.  Adobe was certainly on top of it this time with this lens, as the 17-28mm took months before a profile was available.
Overall, I really like what I'm seeing from this lens. It's amazingly small for what it offers, reasonably affordable and performance looks very strong in my first batch of images.  I'll be giving the lens a thorough test over the next week or two and will post my full review shortly thereafter.