Mirrorless has Arrived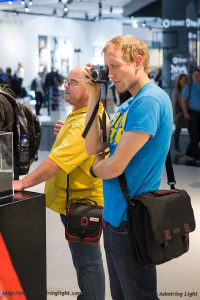 Not for the industry as a whole, but in the enthusiast consumer space: mirrorless has arrived.  Photokina visitors, by their nature, tend to be photography enthusiasts.  You have to be into this stuff in order to spend money and time to go to Cologne and walk around the enormous sprawling complex that is the Koelnmesse.
One thing that was very apparent to me, is that many of these enthusiasts have switched to mirrorless.  Now, they may still own DSLRs…I didn't interview all the visitors obviously, but I saw a tremendous number of mirrorless cameras around people's necks at Photokina.  While DLSRs still made up the majority, I'd estimate that around 30% of Photokina visitors were carrying a mirrorless camera.
I saw dozens of Sony A7s, oodles of Panasonic G bodies, a handful of Samsung NX cameras, at least ten or fifteen Fuji X-T1s and X-Pro 1s, along with a huge number of the X100 series cameras.  I lost track of how many Olympus OM-D E-M5s and E-M1s I saw.  I even saw at least 6 or 7 people carrying Leica M series bodies (including one with a 50mm f/0.95 Noctilux).
These are the enthusiasts, and they are using the mirrorless bodies.  I wouldn't be shocked at all if they made up a majority of cameras carried around Photokina 2016.  Even the press (myself included) was seen with tons of mirrorless bodies, perhaps at even a greater percentage than the patrons.
This space will simply continue to grow, despite the global downturn in camera sales as more and more casual shooters turn to their phones as their only photographic device.
Experiencing Photokina
Finally, I just want to talk about my experience in covering Photokina this year.  This was my first time covering a major photographic trade show, and I learned quite a lot, both in how to cover a show as well as what not to do.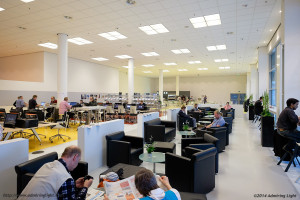 Covering a show like this is both extremely fun and exciting, as well as incredibly grueling. The show is enormous, spanning nearly a mile end to end, and that's straight line through one hallway.  There are over 1000 booths, a mind-blowing number of things to see and try, and not much time in which to do it.  I found I would spend two to three hours on the show floor, before having to head back to the press center to start writing the articles for the day.  In covering the show, in order to provide good coherent discussion on what I had seen and tried, I needed to limit what I actually did on the show floor each day.  Too much seen means too much to write, and too little time to write it, all while keeping your impressions fresh in your head.
I usually got to the show around 9:30, ate breakfast in the press center, then headed out to the show floor.  Around 1:00, I'd head back, eat lunch, begin writing, then head back to my hotel room to offload images and insert them into my articles.  I usually finished around 6:30 in the evening, and was generally quite spent.  However, this is fun work, and meeting some great people and interacting with so many great representatives from the camera manufacturers was new and exciting.  I hope for the reader, you got something out of my articles and were able to experience a bit of the show for yourselves. Ultimately, I tried to test things that my readers would enjoy learning about, so I hope I was successful in that regard.
Now we'll return to your regularly scheduled writing.  I hope to get review samples of many of the things I briefly tried out at the show, including the NX1, Sony 16-35mm, Olympus 40-150mm f/2.8, Fuji X100T and 50-140mm f/2.8 and the Panasonic LX100.  I also have upcoming reviews of the Fuji vertical grip for the X-T1 and the Sigma 19mm f/2.8 for Sony E-Mount, which should be coming along shortly.
One last thing: It's only been two weeks and I'm already missing Germany again.  I lived in Germany for over three years between 2002 and 2006, and it's a wonderful place to visit.  There is so much history and culture, with friendly people and beautiful landscapes.  If you get a chance to visit, I highly recommend you do so.  I was fortunate enough to get a bit of time for sightseeing, including a quick day trip to Aachen, which I had always wanted to see when I lived in Germany, but  I never made it out there until this week.  Hopefully I'll be back for Photokina 2016!