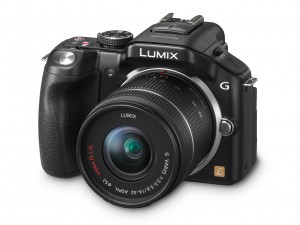 Pansonic today announced a bunch of new cameras…a small sensor superzoom with f/2.8 aperture (which is pretty cool, frankly), a new 'premium' compact in the LX7, and their latest Micro 4/3 camera, the Lumix DMC-G5.
Panasonic Lumix G5
The G5 is the successor to the G3, and uses a similar, but not quite the same, 16 megapixel imaging sensor.  It returns to a form factor similar to the G1 and G2 by adding a deeper hand grip, and returns the missing eye sensor to automatically switch between the LCD and the EVF.  That EVF appears to be the same 1.44 million dot sequential field viewfinder, though the LCD gets a much needed bump to a 960k dot display.  The G5 also features 6 fps burst shooting, 1080/60p video recording and a new processing engine.  One of the cool features of the new processing engine is the new '3D' noise reduction, which detects areas of detail and uses lower noise reduction to retain detail, while removing noise from out of focus areas.  If it works well, this could be a very nice way to process the JPEG images.  I do this myself when processing high ISO images from RAW, manually, and it's neat to see it implemented automatically.
Other than that, there's not a whole lot that is particularly exciting about the G5.  Early tests indicate that it may have improved dynamic range at low ISO over the G3 and GX1, which would be a very nice thing to see.  We'll have to wait for further reports to confirm this, though.  Overall, the specs for the new G5 look good, and it's nice to see Panasonic not strip down this camera like they did the G3.  A nice return to form for Panasonic, and at $799, it slots in well for those who want a more fully featured body, but don't want to shell out the $999 required to get an Olympus OM-D E-M5.
Panasonic Lumix 45-150mm f/4-5.6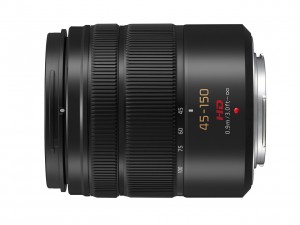 As nice as the G5 looks, the 45-150mm lens announced alongside the G5 is a completely baffling decision, in my opinion.  I am assuming it is meant to replace the aging and rather large 45-200mm lens from Panasonic's lineup, but one thing that Micro 4/3 does NOT need is yet another slow, consumer grade telephoto zoom.  The system already has the Panasonic 45-200mm f/4-5.6, the Pansonic 45-175mm f/4-5.6 X Power Zoom, the Olympus 40-150mm f/4-5.6 and now the Panasonic 45-150mm f/4-5.6.  Do we really need FOUR slow telephoto zooms covering the same range?  The good news is the lens is quite compact, but it's not like the 45-175mm lens is big, and it has the added bonus of being an internally zooming lens.  I'm also not counting the slow 100-300mm-ish lenses and the 14-150mm-ish lenses from Panasonic and Olympus.
Olympus seems to be on the right track, releasing high quality primes to fill the system out.  Panasonic isn't totally asleep at the wheel, with their recent 12-35mm f/2.8 and the not-quite-official 35-100mm f/2.8, which will likely be released at Photokina, but the release of another slow telephoto zoom is just a complete snoozer.  Wouldn't the R&D have been better spent on something like a 200mm f/2.8?  Or how about a 60mm f/1.4?  What about a 50-150mm f/2.8-3.5 or something?  Mildly put, I think this portion of their grand announcement flat out stinks.