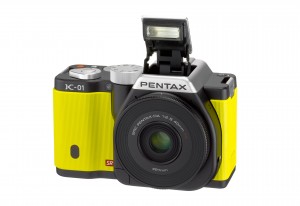 Today, Pentax announced their large sensor entry into the mirrorless camera market.  The camera has a 16 MP APS-C sized sensor, and that should be great. I'm sure image quality in this camera will be excellent.  Where Pentax both succeeded and failed was with making the camera use the K-mount.  The K-mount is the Pentax SLR mount, and it's use in a mirrorless body is highly suspect.  On the bright side, it allows instant compatibility with the whole range of Pentax lenses.   This means the system is already large and varied.  Of course, the whole point of a mirrorless body is to reduce the size of the system, so in this case, you have the exact same lens size as with Pentax DSLRs.  And, because the registration distance for the lens mount is made for SLRs, you gain no advantage in body size over an APS-C Pentax DSLR.  Additionally, you lose the ability to adapt small manual focus lenses, such as Leica M or M39 screw mount lenses, and even a good number of adaptable SLR lenses like Canon FD.  This is one of the reasons I love Micro 4/3 (and Sony's NEX has the same ability).  I can adapt nearly any manual focus lens for any camera ever made.  It's allowed the use of some excellent lenses for very little money.
DPReview has the press release and some comparison images with the Pentax K-5 DSLR.  The K-01 is nearly the exact same size, but with a worse grip and no viewfinder.  Plus, because it uses contrast detect autofocus, the lens AF will be slower than on their DSLRs.  Now, contrast detect autofocus has made amazing strides.  Panasonic and Olympus cameras using it have achieved focus speeds faster than any DSLR on the planet, at least in single shot focus.  However, using lenses designed for phase detect AF with a body designed for contrast-detect has always meant slower autofocus.  You can use regular 4/3 lenses on Micro 4/3 bodies with autofocus via an adapter.  However, focus speed is significantly slower than on a DSLR and much slower than a native mirrorless lens.
The aesthetics are not to my taste generally, though there is something to the boxy minimalist design.  I don't like it on first blush, but it's something I could see growing on me.  I'm sure this will be very dependent on the person…they'll either love it or hate it.  Still, even if I loved the industrial design, it can't make me overlook its flaws.
This whole thing makes me wonder what Pentax engineers are thinking.  First they release the Pentax Q, an interchangeable lens camera that uses a small compact camera sensor, thereby offering little to no advantage over a point and shoot.  Now they release a mirrorless camera that has NONE of the advantages of other mirrorless cameras (great EVF, fast CDAF, compact size, small lenses), yet has significant disadvantages when compared against the similarly sized K-5 DSLR (no viewfinder, slower focus, worse handling due to non-existent grip).
One area where Pentax does know what they're doing, though, is in compact lens design.  The new 40mm f/2.8 is a marvel of engineering, being barely larger than a body cap.  Still, it's not too much smaller than the existing Pentax 40mm f/2.8 pancake, which you can easily plop on a K-5.  It remains to be seen whether the new 40mm can be used on their DSLRs.  It shares the same mount, but it appears the lens protrudes into the body a fair amount, which may interfere with a mirror. I will still watch this camera to see how it tests in real life, but from where I sit now, it looks like a failure to me.