Fuji's hard work at fleshing out their X series lineup continues at a frantic pace. Today I review the brand new XF 90mm f/2 R LM WR, a lens that has the field of view of the classic 135mm long-portrait lens that has been a staple of many systems over the years. The 90mm f/2 completes Fuji's standard prime kit, and has been highly anticipated. Early reports point to this lens being simply stunning, so I was eager to get my hands on it. Let's dive in.
If you're not familiar with my reviews, I review from a real world shooting perspective. You won't find lens charts or resolution numbers here. There are plenty of other sites that cover those. I review products on how they act for me as a photographic tool.
Construction and Handling
If you already own a few Fuji X-series prime lenses, then you have a good idea of the construction of the 90mm f/2. The 90mm f/2 has an all-metal exterior construction with a broad focus ring and a dedicated aperture ring. The lens is solidly constructed with no creaks or wobbles and feels like a very high-end piece of kit. The only thing that gives pause is the floating focus element, which is held in place by electromagnets. As such, when there is no power to the lens, the focus element is free to move in the lens body. If you tilt the lens when it's detached from the camera, you can hear an audible thunk as the element moves inside the lens body.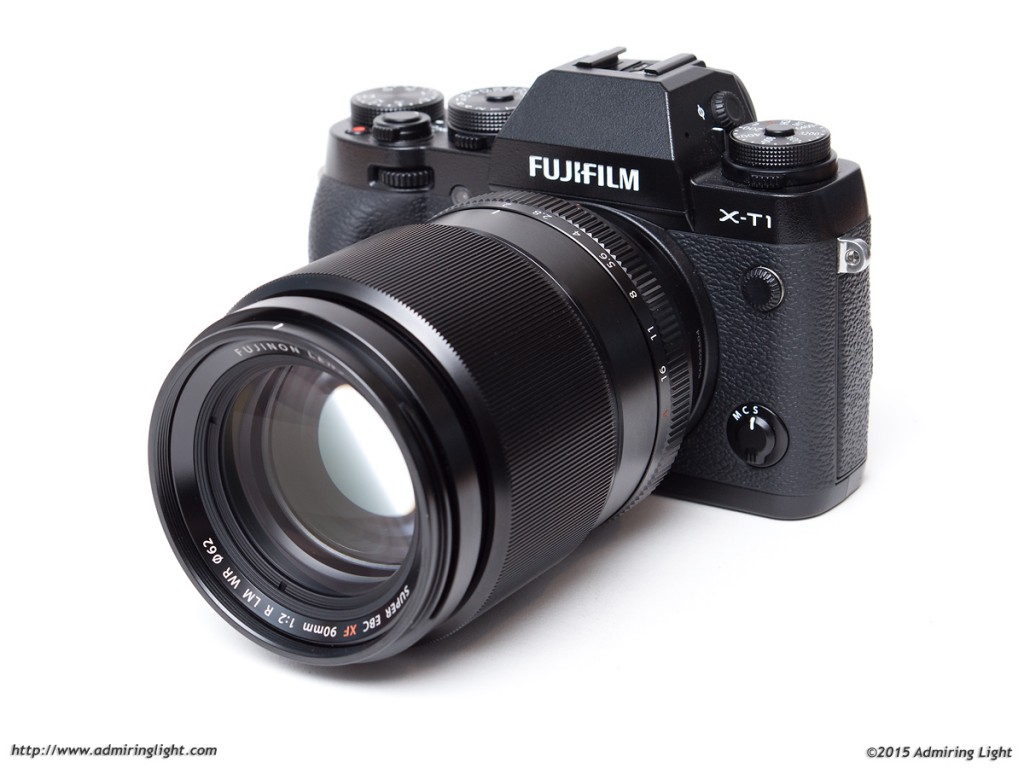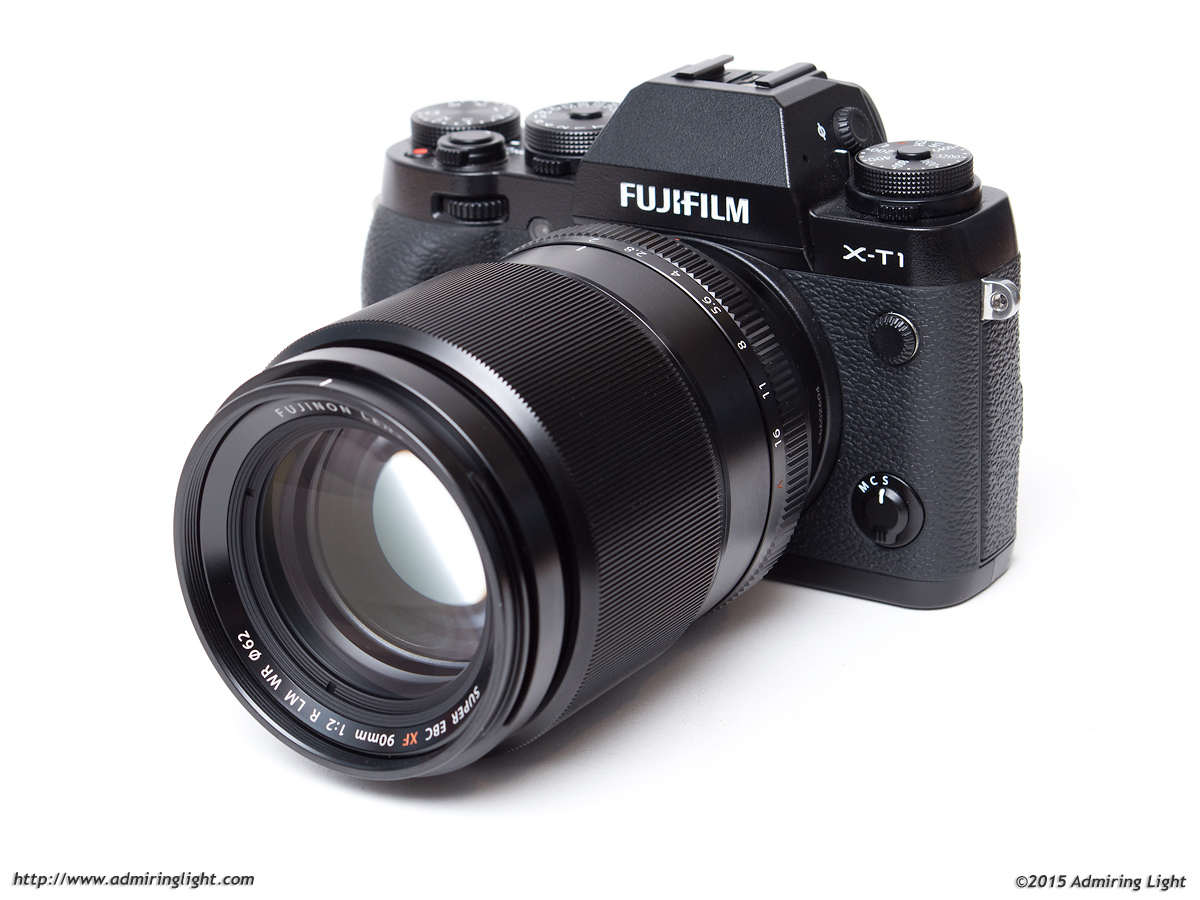 The focus ring on the XF 90mm is very broad and has excellent damping. Like all Fuji X lenses, focus is by wire, but the feel of the ring is excellent and manual focus is a breeze with this lens. The aperture ring on the XF 90 is similarly excellent. In what feels like a great Fuji Aperture Ring Lottery, the 90mm hits the jackpot, with a beautifully firm and clicky ring that is difficult to accidentally knock out of place. I'm unsure why there is such variance in the stiffness of Fuji aperture rings, but it would be great if they made all of them like the one on the 90mm.
The 90mm f/2 is the second Fuji prime to come with the WR designation for weather resistance. The typical gasketing found on all Fuji's WR lenses is found here, with a lens mount gasket and what I assume are tighter tolerances around the edges. I didn't get a chance to shoot in inclement weather during my time with the lens, but with my experience with other WR lenses, I'd feel comfortable shooting for short periods during light rain, but would make sure to add a rain cover if shooting in a downpour or for an extended time in wet locations.
The 90mm f/2 comes with a deep lens hood that reverses close to the lens body, adding minimal width in the bag. I do have to say that the 90mm isn't a small lens. It's a bit shorter and a bit lighter than the XF 55-200mm, and as such it'll take up some space in the bag. I did feel it handled fairly well in the field however, and felt better on the camera than it appears when handling just the lens by itself. This is definitely a lens that you'll want to use on a camera that has a decent grip, however. Handling on the X-T1 or X-E2 with the add-on grip feels nice and at home, while a bare X-E2 or the smaller X-M and X-A bodies will feel a bit lopsided.
I have to say, though, I'm very glad that the exterior design was changed from what I first saw at Photokina last September. The mockup presented there was a bit shorter than this final design, but significantly fatter, which would have caused much larger issues in fitting into camera bags and handling on cameras with narrower grips.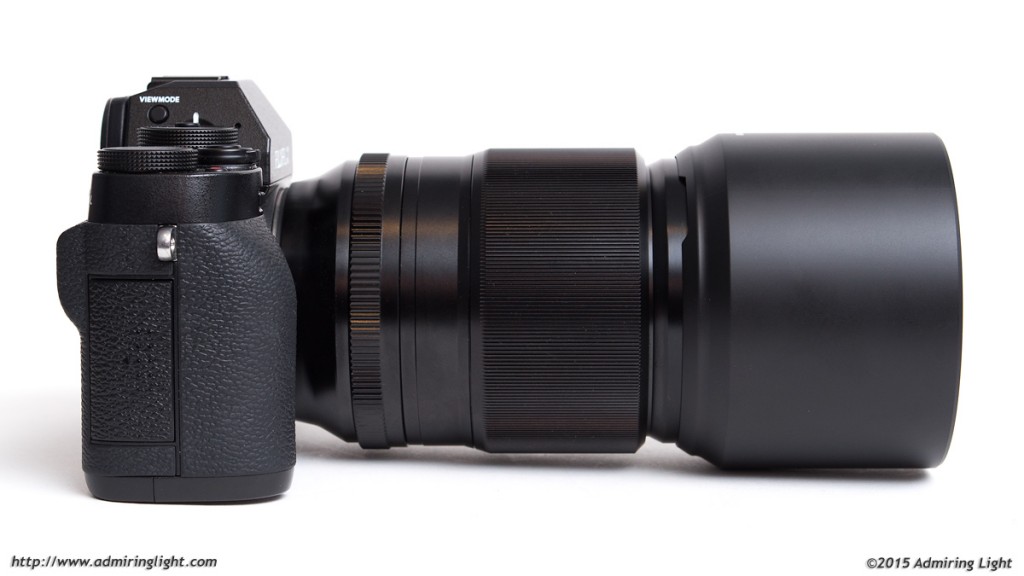 Autofocus
The XF 90mm f/2 is the first Fuji X prime lens to receive Fuji's fast and silent linear motor system, and it performs very well indeed. Focus locks quickly and accurately in good light, and only slows down a bit in lower light. I experienced very minimal hunting of focus during my shooting with the lens, and as you'd expect, the operation is essentially noiseless. One great thing about the 90mm is its close-focus abilities. The lens can focus to 0.6m, which provides an image with 0.2x magnification, making it an excellent lens for shooting pictures of flowers and other closeups. While it's not a macro lens, the close-focus abilities give the 90mm some extra versatility lacking in many portrait primes.
I tested the lens on my X-T1 with firmware v. 4.0 and found the lens very capable at keeping up in continuous autofocus functions as well. I took several test runs with my daughter running full blast at close range to me, and achieved a very high success rate of in-focus shots. Most surprising to me was the fact that the lens didn't really slow down the burst rate much when shooting in CAF, as can often happen with slower focusing lenses. The shot below was taken after my daughter ran at full speed to kick the ball at me. Almost every shot leading up to the kick, including this one, was in focus.
While the lens is weathersealed with an excellent fast and quiet focus motor, there is one Fuji letter designation I'd have liked to have seen on the lens: OIS. Because the 90mm f/2 has a fairly narrow field of view, higher shutter speeds are required to handhold the lens and maintain sharp shots. For me, I found that around 1/160s was what I felt comfortable using to get consistently sharp results. With the f/2 aperture, this generally meant shooting at ISO 3200 or higher indoors. OIS would have been great to let me shoot at around 1/60s or lower and keep the ISO down a bit. I also found that the 135mm effective field of view was long enough that my own vibration was a bit distracting in the viewfinder after using so many stabilized longer lenses over the years.