It's here.  The long awaited full-frame mirrorless camera.  Photographers have been waiting with bated breath for a company to release a full-frame mirrorless camera and Sony has delivered with not one but two new cameras to satisfy those who are looking to reduce size a bit while keeping the ultimate in image quality.  The A7 and A7r are very similar bodies, differing predominantly by the sensor used, with the A7 having a 24 megapixel full-frame sensor with phase detection pixels and the A7r featuring a 36 megapixel sensor without phase detection.  There are some other small differences, but overall they are remarkably similar.  Today I review the A7.  Let's take a look at this camera and see if the wait and the hype have been worth it.
If you're not familiar with my reviews, I review from a real world shooting perspective. You won't find lens charts or resolution numbers here. There are plenty of other sites that cover those. I review products on how they act for me as a photographic tool. I am not a videographer, so my reviews concentrate on the still imaging capabilities of a camera.
Body and Ergonomics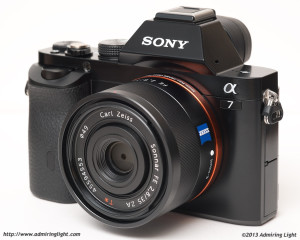 The A7 is a solidly constructed, relatively compact mirrorless camera.  While larger than something like the NEX-7 or even the Fuji X-E2, it also contains a full-frame sensor and a large viewfinder. The A7 is constructed of magnesium alloy and high-quality plastics and has no flex or wobbles anywhere.  The camera is tightly assembled and feels solid and comfortable in the hand. The large grip has a wonderfully sculpted finger indentation as well as a very comfortable formation for your thumb on the back.  As one who did not find the NEX-7 grip to be comfortable at all, this was a great relief.  The A7 feels wonderful to hold and shoot and is big enough to handle well and small enough to be a worthwhile venture away from a DSLR.
The camera features dual control dials in easy reach, along with a smattering of buttons across the back and top.  Most of these are easy to reach, but I found the C2 button to be frustrating to press, especially since it is used for zooming during playback, and the menu button on the opposite side requires the left hand to operate.  Since it's the only left hand button, it feels quite alone out there, and is somewhat annoying that changing menu options requires both hands.
Viewfinder and Rear Screen
The A7 features a 2.3 million dot electronic viewfinder (EVF) at a generous 0.71x magnification.  As a result, the EVF is large and clear.  There is good color and contrast and low lag and noise.  The viewfinder refresh can slow down in very dim light with a slower lens, but these situations are relatively infrequent.  Overall, it's probably the second best EVF I've used on a camera, next to the tremendous finder in the Olympus OM-D E-M1.  The image of the viewfinder can be magnified by tapping on the C1 button twice, and then magnification can be adjusted using a control wheel. This works well, though I wish it didn't require a double button press.  With the image magnified, manually focusing is incredibly easy to perform, even when using very fast lenses.
The A7 also features a gorgeous tilting rear display.  The 3.0″, 1.2 million dot rear LCD can tilt down or up to aid in taking images low to the ground or above your head.  It is limited to about a 45 degree angle when tilting down; I'd have preferred a steeper angle here.  The screen itself is clear, contrasty and has excellent color, making image review a pleasure and composing with the rear LCD easy.
On the down side, the rear screen is not touch sensitive, and it's a feature that the A7 could use, as moving focus points is more difficult than I'd prefer with the buttons.  The menu system also seems like it could use a touch interface well, with clearly denoted tabs that beg to be touched. The A7 screen also seems to lack an oleophobic coating, as fingerprints and smears are extremely visible.