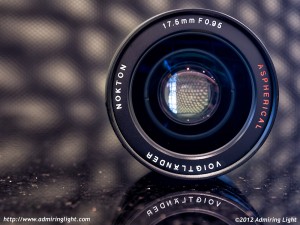 There are fast lenses, and then there are FAST lenses.  The Voigtländer Nokton 17.5mm f/0.95 definitely falls into the latter category.  In fact, at f/0.95, it ties with a few other lenses, including its 25mm Micro 4/3 brother, as the fastest lens currently produced for an interchangeable lens camera.  Faster lenses have been made, but they have been extremely rare and usually restricted to enlargers or extremely specialized video rigs.   The other f/0.95 baddies include a few new lenses made by SLR Magic, and the legendary Leica Noctilux 50mm f/0.95, which runs just shy of $11,000.    This beauty comes in at a little more reasonable price of $1249 US.
If you're not familiar with my reviews, I review from a real world shooting perspective.  You won't find lens charts or resolution numbers here.  There are plenty of other sites that cover those.  I review products on how they act for me as a photographic tool.  Also, I would like to thank my friends at LensRentals.com for providing the sample for this review.  Please visit them whenever you need a lens for that once in a lifetime shoot, or just if you want to try a lens out without having to buy it first.
So, how fast is f/0.95?
If you aren't all that familiar with aperture numbers, seeing an aperture listed like f/0.95 seems a little odd.  How fast is it?  Well, it's over one full stop faster than an f/1.4 lens, and over three full stops faster than the only other 17mm prime for Micro 4/3, the Olympus 17mm f/2.8.  That means in dim light, you can shoot with this Voigtlander at ISO 200, while the Olympus 17mm will need at least ISO 1600 and the Olympus 12-50 kit zoom would need ISO 4000 (at f/4.3 and 17mm) to get the same shutter speed.  Then there's the ability to separate a subject from the background.  This lens is equivalent in field of view to a 35mm lens on a full frame camera.  On full frame, one of the great things is the ability to use a fast 35mm such as a 35mm f/1.4 to get great subject separation in an environmental portrait.  The Voigtländer's great speed brings this capability to Micro 4/3, provided it can perform well wide open.  Generally, lenses at f/1.2 and faster are only OK wide open, with a few notable exceptions.  Let's find out how the Voigtländer stacks up.
Build Quality, Construction and Handling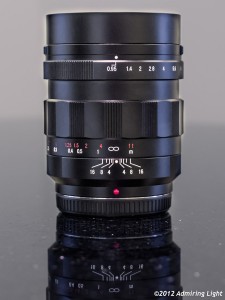 The first thing you notice about the Voigtländer 17.5mm f/0.95 is that it is a serious chunk of glass and metal.  It's relatively large for a Micro 4/3 lens, and quite hefty too at 19 oz.  The weight comes from the large glass elements for the ultra-wide aperture as well as the solid metal construction.  This lens is built like those solid lenses from the 60s.  It's absolutely rock solid construction with a beautifully damped, metal ribbed focus ring and an aperture ring out front that has nice satisfying indents that are sure, but not difficult to maneuver past.  The lens is a native Micro 4/3 mount lens, but features no electrical contacts, so the lens acts as if it's an adapted lens.  You'll be using all manual focus and manual aperture for this lens.  As I've had plenty of practice using adapted lenses on both Micro 4/3 and Canon DSLRs, I felt pretty at home with this lens, though if you've only ever used autofocus cameras, there will be a learning curve.
As I mentioned earlier, the wide focus ring rotates beautifully smoothly and has a very long focus throw from minimum focus distance (MFD) to infinity.  While this may sound less than desirable, the majority of this focus rotation is at the VERY close focus distances.  This lens can focus all the way down to 6″ from the sensor, which gives excellent magnification and makes semi-macro shots possible.  With the wide aperture, it allows for photos that are frankly extremely difficult to get on any other format with any other lens.  I found focus on closer objects to be quite easy to obtain through the OM-D's EVF, though further subjects required a quick magnification of the viewfinder to nail focus at wider apertures.  Due to it's ultra-thin depth of field, this is a lens you will want to use with an EVF.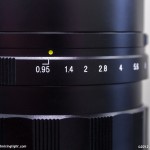 If you have a Panasonic GX1 or GF series camera without the external viewfinder, or an Olympus Pen without a viewfinder, it will make focusing this lens much more challenging, though of course still possible on the rear LCD.
The Nokton 17.5mm has a very neat little trick up its sleeve for video users.  There is a slim ring just above the aperture ring that can be pulled towards the lens mount and rotated 180 degrees.  This takes the aperture half stops away, and allows for completely fluid and stopless aperture adjustment.  Just glide the aperture ring along to change the aperture to anything between f/0.95 and f/16 silently.
The lens includes a small, screw-in type metal lens hood that provides a little bit of protection for that big front element and a little help with flare, though it's not big enough to really shield all that well.  The biggest problem with this hood design is that it can't reverse for stowing (which is true of all screw in type hoods).  Voigtländer does provide a 'hood cap' to use on the end of the lens so you can leave the hood in place.  I did not have access to this cap, so I can't comment on how well it stays in place going in and out of your bag.
On a camera with a substantial hand grip, such as the Panasonic G and GH series (except for the G3), and the Olympus E-M5 with the optional grip attached, the lens handles beautifully.  It's heavy, but balances well and feels great on the camera.  When walking around with the above combo, the lens was a joy to use, though it did add a little noticeable weight to my bag.  I wouldn't recommend this lens for shooting with one of the rangefinder styled Micro 4/3 cameras…it's just too awkward to hold for long periods of time without a decent grip.
Next: Image Quality