I've reviewed a lot of gear on this site, but I've never strayed too far from traditional photography, with a focus on camera bodies, lenses, etc. I've focused on the process of some things, my recent foray back into film shooting, and more. But I've never become a pilot to get a shot, until recently, with the DJI Air 2S. In this review, I'm going to discuss the features of the Air 2S, with a focus on the photographic features. As this is the only drone I've had the pleasure to fly, I can't really compare the flight characteristics to any competitors, but will discuss my experiences in operation and flight, in addition to the camera features.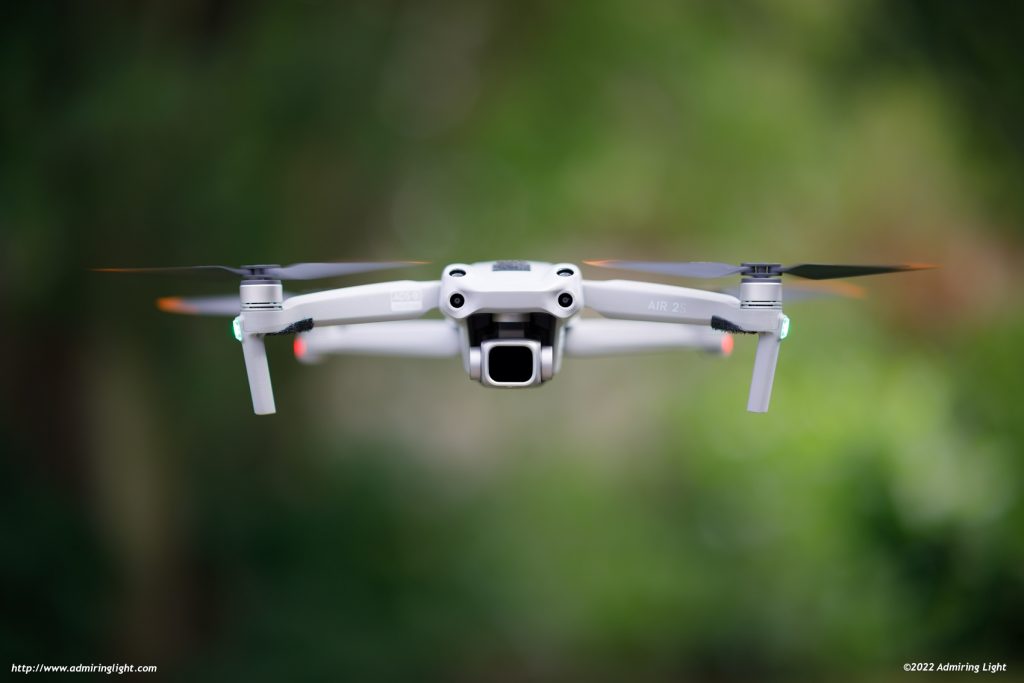 Intro
Camera drones have been available for the consumer for nearly 10 years now, and over that time, capabilities have improved, software has improved, cameras have improved, and prices have come down. I've thought for years about picking up a drone for my photography, but when I picked one up, I wanted to make sure it was going to usable as an actual photographic tool, and not just for snapshots. When DJI released the Mavic 2 Pro in 2018, I was very close to purchasing one. They were the first really obtainable and compact drones that had a 1″ camera sensor – the same type used in Sony's excellent RX100 premium compact series. This sensor size was really my bottom limit in something I was going to put my hard earned money into.
But something held me back, and part of it may have been the price, as the vehicle launched at $1,500 for just the drone, which quickly rose to $1,750 after about a year. Add in spare batteries and accessories, and suddenly it's over $2,000.
The new Mavic 3 and Mavic 3 Classic are the true successors to the Mavic 2 Pro, but are still in the $2,000+ category when paired with the necessary accessories (though notably with an even larger 4/3 sized sensor). However, it's no longer necessary to go to that upper echelon to get a 1″ sensor in a DJI drone. In April 2021, DJI released the Air 2S: a mid-range folding drone with a 22mm equivalent 1″ sensor camera, and an impressive list of features. It's a drone that is arguably superior to the Mavic 2 Pro in nearly every way, but at a starting cost of just $999 for the drone, or $1,299 for the Fly More combo. Well, this summer I finally felt compelled to pull the trigger, so I sold a couple of lenses that I wasn't using much, and the Air 2S made its way into my kit.
My first thought? I should have done this long ago.
The Equipment
The DJI Air 2S is a compact, lightweight camera drone that sits above the Mavic 3 Mini Pro, and below the flagship Mavic 3 and Mavic 3 Classic. The Air 2S weighs in at a relatively lightweight 595g, and is just 3″x7″x3.8″ in size when folded. As a result, the controller, drone, some spare batteries and propellers, and a few other accessories can easily fit into a small bag or case, and be carried with ease.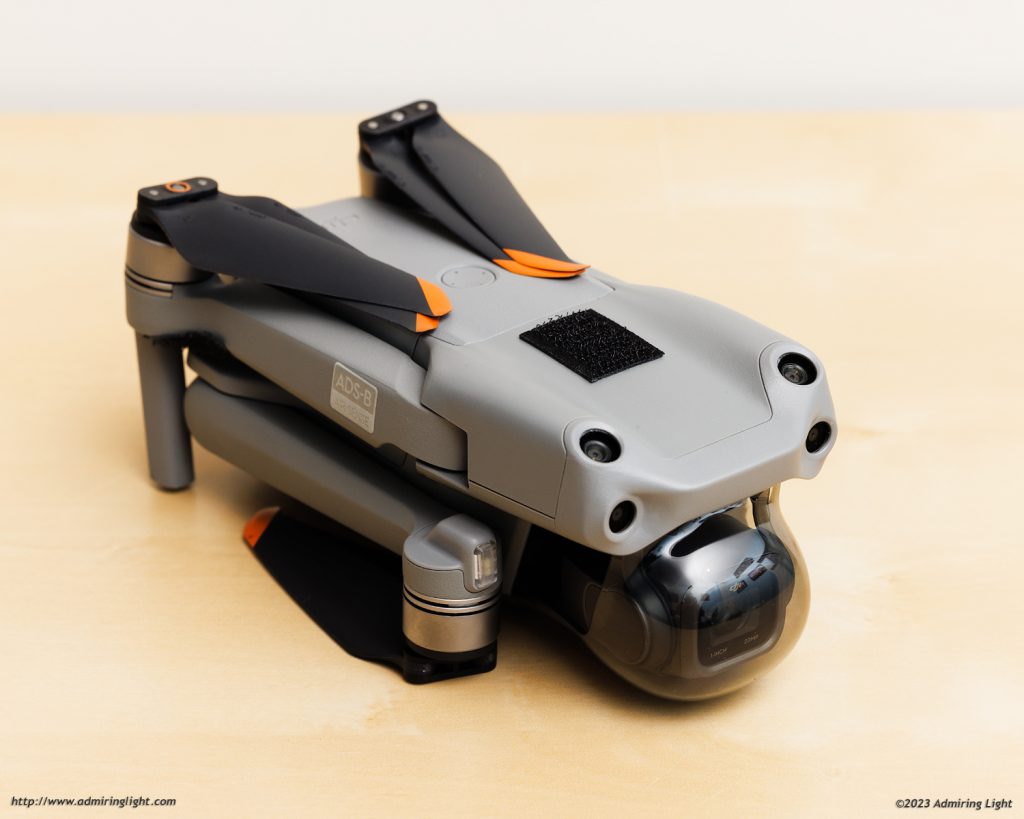 The aircraft, like all DJI drones, uses GPS to allow for exceptionally stable positioning in flight or hovering. The Air 2S can fly at speeds of up to 42 miles per hour, and can operate at altitudes of over 16,000 feet (useful for flying in mountainous areas, not for flying the drone 3 miles above your location). The Air 2S has a listed maximum range of 7.5 miles while still maintaining control and the video feed to the controller, though this is in perfectly ideal conditions. The range is something that is nice to know about, but is something that pilots will rarely take full advantage of, if they are following the law. While drone laws differ around the world, in the United States, recreational flyers are limited to an altitude of 400 feet above the ground where you are, and are required to keep the drone in their visual line of site while flying.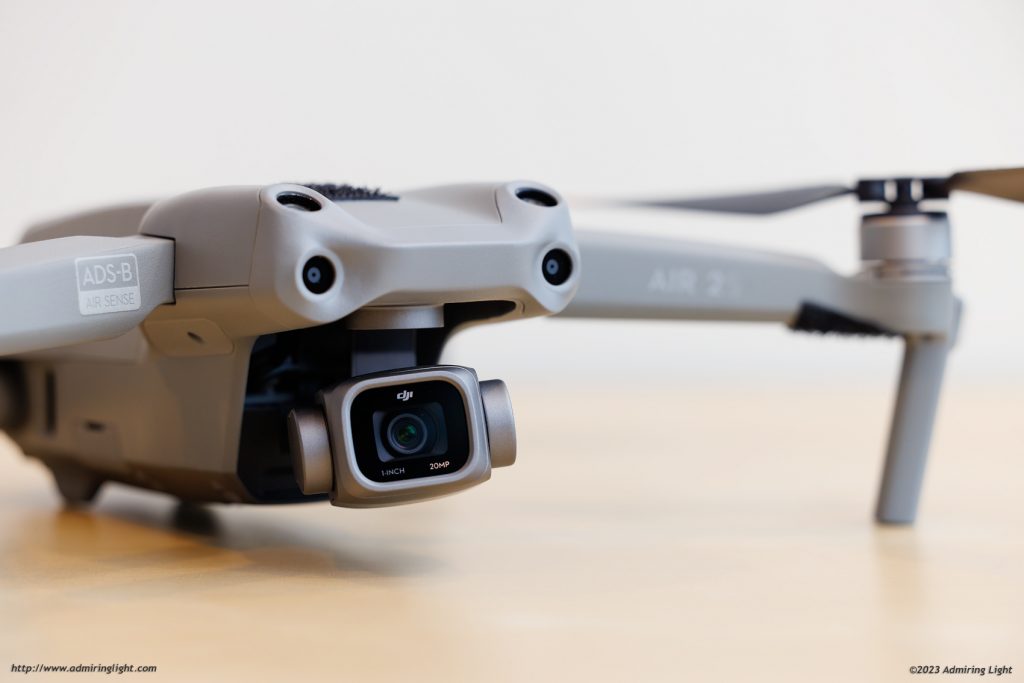 The camera system features a 20 megapixel 1″ sensor with an 8.38mm f/2.8 lens (equivalent field of view to a 22mm on 35mm format). Video users can take advantage of full-width 5.4k at 24p or 30p, full width 4k at 24p and 30p, or cropped 4k at 60p. For slow motion capture, the Air 2S can shoot at 1080p at 120 fps. The whole thing is mounted on a 3-axis gimbal that provides outstanding stabilization capabilities. Even in moderately windy conditions, video footage remains as smooth as glass, and stills can be taken at exposure times of up to 8 seconds, though for sharp shots, you should really look to limit things to 4s at the absolute maximum. In windier conditions, you'll need to adjust your shutter speed to be a bit shorter, though I've still managed to get some sharp shots approaching 2 seconds of exposure in 15-20 mph winds.
The Air 2S has an array of sensors to provide the drone with obstacle detection, ground detection and so on, allowing the software to help keep the aircraft airborne and away from collisions. The Air 2S has the ability to detect obstacles to the front, top, rear and below, but unfortunately lacks the ability to detect obstacles to the side. Even with the advanced systems of the aircraft, it's still up to the pilot to be aware of their surroundings, and ensure that you're not going to have your drone clip branches or wires, and to keep it away from animals like birds, which have been known to attack drones when they invade their territory.
Fly More Combo
I've mentioned the Fly More Combo a few times already, and it's the package that I feel essentially all buyers of the Air 2S should pick up. The Fly More Combo includes the aircraft, controller, three batteries, twelve propellers (so an initial and two full replacement sets), a triple battery charger, a set of ND filters and a carrying case. The case works fine to fit most of the accessories and such, but it's not the best case for protection and ease of getting the drone in and out for shooting. However, everything else is fairly critical stuff.
The combo costs $300 more than the drone itself, and when you look at the included items, this does save you some cash at the outset. Spare batteries are $115 retail (though can be had for $100). The ND Filter set is $100. Just the spare batteries and ND filters therefore get you that $300, and most everyone will want to pick up those items. Then you get 8 spare propellers (which retail for $44 for four pairs), the multi-battery charger ($45) and the case ($66) for free. It's not a massive savings, but any savings is good when these items are things you will almost certainly want to buy anyway.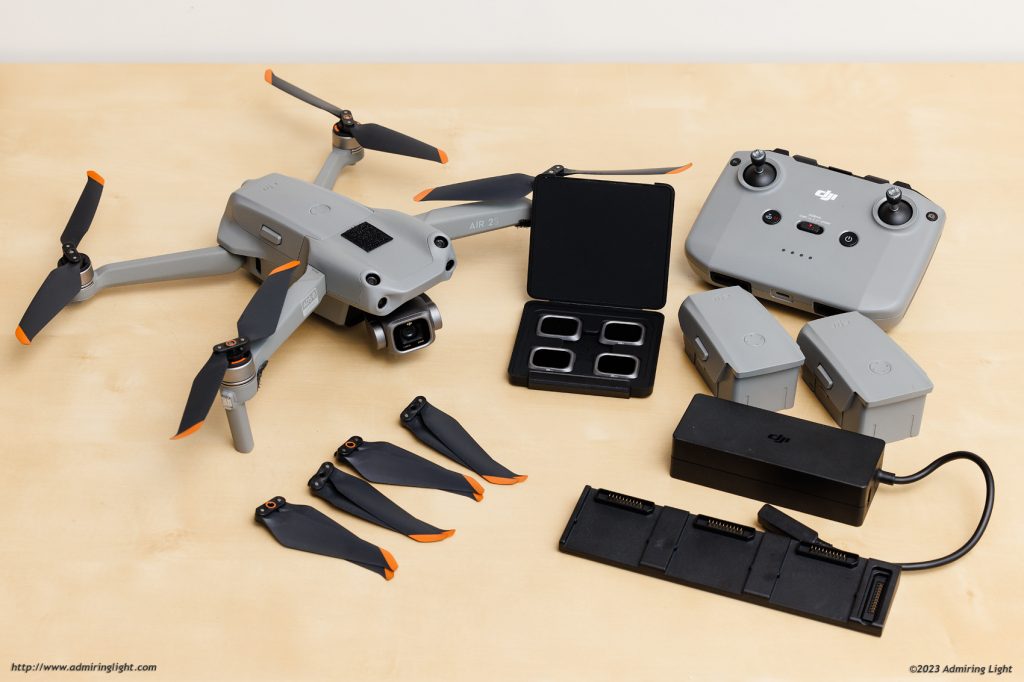 You will definitely want more than one battery if you fly with any regularity. The batteries on the Air 2S last fairly long for a compact drone, with a rated life of around 30 minutes, though in real-world usage, I typically get about 25 minutes of flight time. Due to safety margins, I will try to land with about 25% of battery remaining, which results in flights of around 18 minutes or so. Then if I move to a new location, I'll often want to swap to a fresh battery to make sure I'm not going to run out or cut the flight short. Three batteries should be enough for most shooters / flyers, though I've contemplated picking up a fourth.
The ND Filters I feel are a critical item to have, especially if shooting video. The included filters twist on to the Air 2S's camera module and come in densities from 2 to 5 stops, allowing you to slow your shutter speed for smoother video work (matching the 180 degree rule), or for things like longer exposures at night or for blurring water. Also, if taking bracketed photos for later merging to HDR, the fixed f/2.8 aperture and 1/4000s maximum shutter speed means that you will blow out some bright portions of sky with the sun in or near the frame without an ND filter. I have started leaving my 2 stop ND on the drone as a default, unless I'm shooting at night.
In all, these accessories are essentially must-have items, so you might as well get them at the outset and save a few dollars. I use everything in the set, save for the case.
Additional Items
While the Fly More Combo gives one everything they need to get started, there are a few other things that one should consider as well. As I mentioned above, I don't use the included soft case. I purchased a third party hard case that provides good protection (and some water resistance), and very neatly organizes everything. It's been fantastic to use, and I'm really happy with it. Below is my case and how I have it laid out.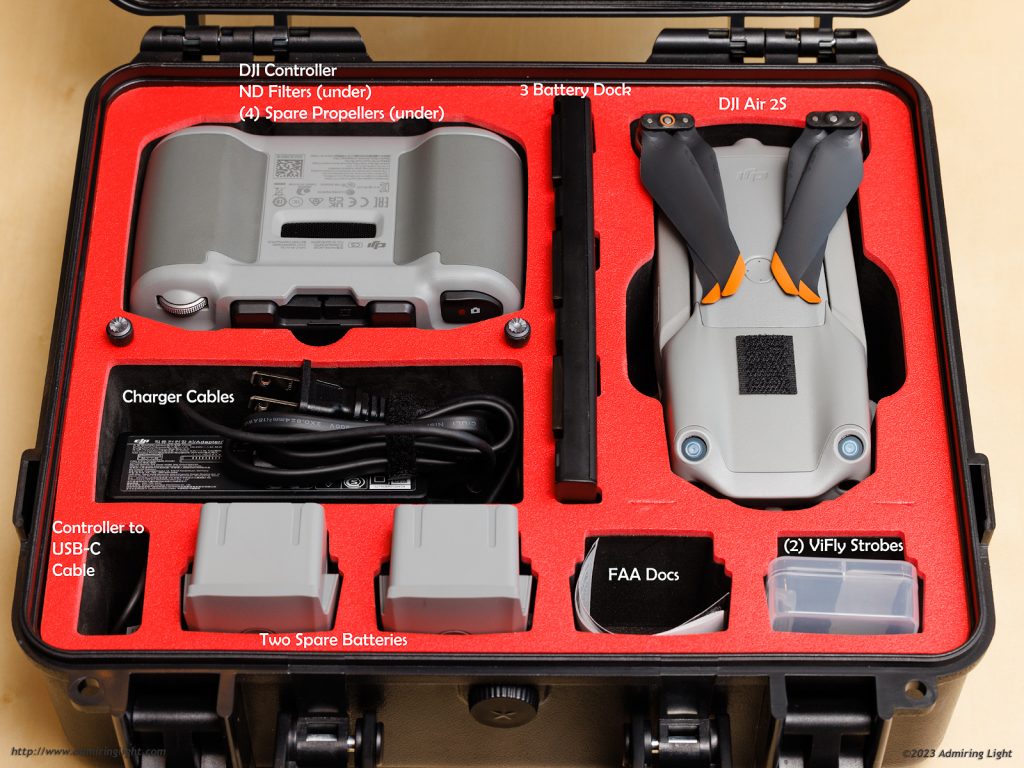 If you are planning on flying at night at all, you must equip your drone with aircraft visibility strobes by law. The requirement in the US is that there must be a white strobe on top of the aircraft that must be visible from a distance of 3 statute miles. Thankfully, there are quite a lot of small, lightweight and very bright strobe lights that can be purchased for a relatively low cost. I use the ViFly strobes, which are incredibly small, and extremely bright. I simply secure them to my drone using velcro (thus the reason why velcro patches are shown on my Air 2S in all the images).
The ViFly strobes charge with USB-C, last several hours, and have several operating modes, including white, red, and green lights, which can be set to strobe, flash (slightly less intense, and slower), or stay on continuously (at again, slightly lower output). The strobe setting for all three colors is extremely bright, with the white strobe being brightest of all by a significant margin. In addition to affixing one of these strobes to the top of the drone for night flying, I also will sometimes attach two of them to the underside of the propeller arms, set to flashing, which provides increased visibility of the drone during daytime operations. This is important due to the legal requirement to maintain eyes on your drone at all times, flying only within visual line of site from your controlling location.