Fujifilm X-E2: A bigger upgrade than meets the eye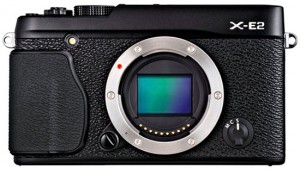 Fujifilm announced the update to their well received X-E1 yesterday, with the new X-E2. If you go by the looks, you'd think all they did was enlarge the rear screen and slap a new number on the camera. The body of the X-E2 is virtually unchanged from the X-E1 with the exception of a larger 3″ LCD with 1 million dot resolution. The insides, however, have received more of a significant upgrade.
The X-E2 still features a 16 megapixel X-Trans sensor, but the X-E2 inherits the upgraded version of this sensor that first debuted in the X100s. The X-Trans II sensor has phase detection pixels on the sensor, which, combined with better contrast detect algorithms, should drastically improve autofocus speed for all lenses. The PDAF sensors should also allow for continuous autofocus that is also much improved. Manual focus has been enhanced by allowing for Fuji's unique digital split prism focusing aid and better implemented focus peaking. With the newer image processor on board, the X-E2 is also a significantly more responsive camera, and will write to the card and process images quicker than its predecessor. This increased processing power also allowed Fuji to bump up the burst rate on the camera to a respectable 7 frames per second.
While the X-E1's electronic viewfinder was beautifully detailed and clear, it had significant lag in low light. With the X-E2, the refresh rate in low light has been tripled and early reports show essentially zero lag in low light. Exposure compensation has also been increased to allow +/- 3 stops. WiFi capability has been added and several early previews point to small refinements throughout the interface and operation as well.
While none of these improvements are drastic or revolutionary, they address nearly every single thing that I viewed as negative with the X-E1. They've taken what was a good, but slightly flawed camera, and fixed nearly everything. The result should be an extremely polished mirrorless camera. I will have a full review of the X-E2 shortly after public release.
Summary
It's an exciting time in the mirrorless industry.  Fuji's getting stronger and more capable cameras to leverage their excellent lenses, Panasonic pushing the limits of size for interchangeable lens cameras, and Sony is packing in giant full frame sensors in a tiny package.  While all of these systems have strengths and weaknesses, they also are all capable of creating great images with a good photographer behind them.  What is best for you will depend largely on your specific needs.  In any case, it's a fascinating time in the industry.