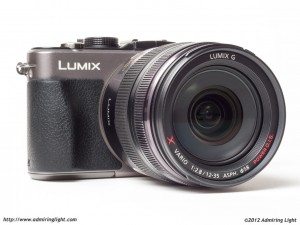 Panasonic Goes Pro
When the Panasonic Lumix 12-35mm f/2.8 X lens was first shown off as a 'concept lens' with its still yet to be announced 35-100mm brother (reviewed here) in August of last year, serious photographers who used the Micro 4/3 system started to lick their chops. It took a while, but the lens was officially announced as a final product in May. Now the lens is finally shipping, and those clamoring for a fast standard zoom on a mirrorless camera can have their wish for the somewhat steep price of $1,299. It's certainly priced to be a pro grade lens, and features a field of view equivalent to the classic 24-70mm lens on full frame, with a constant f/2.8 aperture. I've been testing the 12-35mm f/2.8 over the past few days. Does it live up to the long awaited expectations?
If you haven't read my reviews before, I do not generally perform resolution tests or make charts to track quality measures. I take a real world approach to my reviews and evaluate how a lens or camera handles and works in regular use. A special thanks goes to LensRentals.com for the review sample used for this review.
Around the Lens – Build Quality
With the Panasonic 12-35mm f/2.8, Panasonic is targeting the advanced amateur and the smattering of professionals who use Micro 4/3, or have been tempted to switch or add a smaller system, but have been waiting for a true pro-grade standard zoom to hang their hat on. So does it feel like a professional grade lens? In my opinion, yes. The lens is small for a 24-70 equivalent lens, though considerably larger than the host of slow variable aperture kit zooms that are available for Micro 4/3. It's just shy of three inches long and weighs in at a modest 305g. This is less than half the weight of the equivalent 24-70mm Canon lens for full frame, though with the larger format and same aperture, that lens is capable of shallower depth of field. While the lens is constructed of plastic, it's definitely built with very tight tolerances. The 12-35 is solid as a rock, with a beautifully smooth zoom action with just the right amount of resistance. The lens extends while zooming, but the inner lens tube doesn't wobble at all when extended. The lens has a glossy gunmetal colored finish that is tough and looks fantastic. There's a very slight purple tinge to the lens in certain light, but it looks and feels great. The wide zoom ring has a ribbed soft rubber covering, and feels wonderful, though the soft rubber does tend to collect dust rather easily. The focus ring is well damped and feels nice in the hand. I'd say that the construction feels about on par with something like the Canon 24-105mm f/4L. Well built and solid.
There is a very small rubber gasket around the lens mount that you'd be hard pressed to see when you look at the lens, though you can tell it's there when you affix the rear cap, as the cap fits a little more snugly than on other lenses. I didn't test the weather resistance of the lens for obvious reasons, but I did have a few drops from overhead trees after a rainstorm fall onto the lens barrel and my OM-D during shooting with no effect.
As mentioned earlier, the lens extends when zooming. You can see the relative size of the lens, mounted to my Olympus E-M5 below:
Autofocus and Handling
The Panasonic 12-35mm focuses very quickly and absolutely silently. While I didn't hold the lens directly to my ear, I can say I didn't once hear a single sound from the AF motor. This isn't particularly surprising, as both Panasonic and Olympus' latest lenses have all had excellent autofocus speed with low noise levels. Autofocus was accurate and sure. One nice thing about the lens is it's relatively close minimum focus distance of 0.25m throughout the range. While you won't confuse it for a macro lens, you can definitely obtain good closeups at 35mm near the minimum focus distance.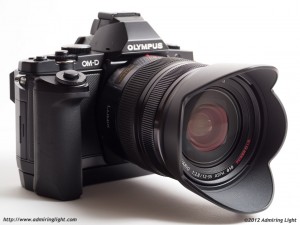 The lens handles best on an SLR style Micro 4/3 camera due to it's relatively large size and weight for a Micro 4/3 lens. Don't get me wrong…the lens is small for it's range and aperture, but compared to something like the Olympus 12mm f/2, it's huge. I shot primarily with the horizontal grip mounted on my Olympus OM-D E-M5, and it felt right at home. The lens is well balanced on this style of camera, and was a joy to shoot with.
I also used the lens on my tiny Panasonic Lumix GX1, and with that camera, it's a bit large. While using the lens during shooting was just fine, as the lens was supported by my left hand, and my right hand was there mainly to guide the camera and operate controls, as soon as I began walking around with the 12-35 on the GX1, it was not comfortable. I use a wrist strap in lieu of a neck strap on my Micro 4/3 cameras, so a good grip is needed when carrying a camera with a lens of this size. If you use a neck strap, this won't be a problem for you regardless of the size of the camera. So be warned…if you use a camera like the GX1 or Olympus E-P3 or even something as small as the E-PM1, you may find it awkward in the field.
Image Stabilization
The Panasonic 12-35mm f/2.8 features the newer updated version of the company's optical image stabilizer, dubbed 'Power O.I.S.' In field use on my GX1, the OIS system performed very well. I would say that the stabilizer is good for a solid three stops of extra handholdability in the field. This translates into usable images regularly at 1/3 to 1/4 second at 12mm and about 1/8 second at 35mm. The lens features a switch to turn the OIS on and off, located on the left side of the lens. While shooting with the Olympus E-M5, I turned off the OIS and let Olympus' excellent 5-axis in-body IS take over. Shooting with IBIS and OIS on at the same time leads to blurry images, as the two systems will fight each other. Overall, this implementation of OIS is the best I've seen on a Panasonic lens. It's about a stop more effective than the stabilizer in the 45-200mm or 45-175mm lenses. I didn't have any issues at all with image doubling at medium shutter speeds with this lens, as has been found from time to time with some other implementations of the Power OIS system.