Panasonic and Olympus have been very busy the past few years, filling out their lens lineups for Micro 4/3, and while there have been some consumer grade lenses released in this time frame, both Olympus and Panasonic have really targeted the high-end enthusiast and professional with their recent lens offerings.  At first, Micro 4/3 had a bunch of slow consumer grade zoom lenses, and some mediocre primes, with a few gems like the Panasonic 7-14 thrown in.  After a good start with some very nice lenses, Olympus has released a flurry of truly outstanding prime lenses, while Panasonic has filled the void with much needed high-end zoom lenses.  The latest, Panasonic's 35-100mm f/2.8 X OIS, fills one of the last major needs in the Micro 4/3 system: A fast telephoto zoom.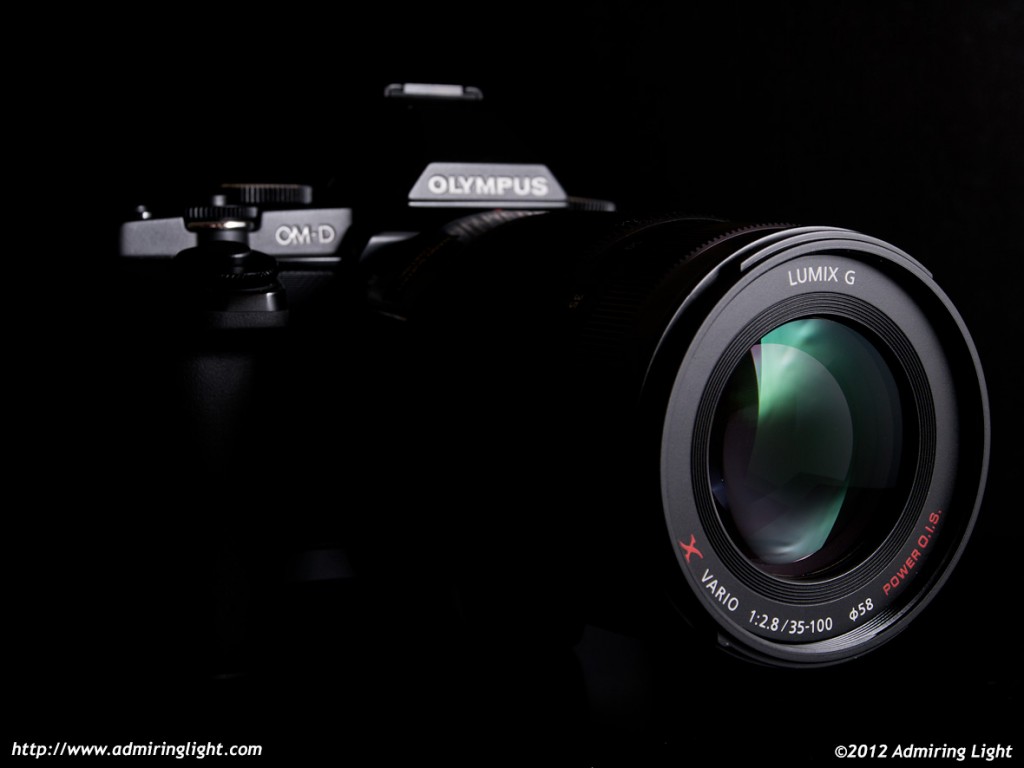 If you're not familiar with my reviews, I review from a real world shooting perspective.  You won't find lens charts or resolution numbers here.  There are plenty of other sites that cover those.  I review products on how they act for me as a photographic tool.
Around the Lens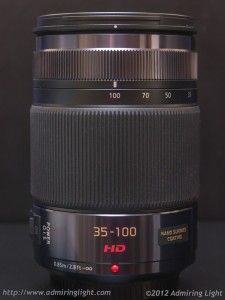 The Panasonic 35-100mm f/2.8 is the first high-grade telephoto zoom for the Micro 4/3 system.  It has the same field of view as the standard 70-200mm zooms for full frame cameras and features a constant f/2.8 aperture throughout the range.  This type of lens is a stalwart in any camera system, and it's great to finally have it for Micro 4/3.  The lens features a solid, well constructed body built predominantly of metal, but with some high-grade plastics as well.  The base and focus rings are metal (thin-walled, likely aluminum), while the broad zoom ring is plastic covered in grippy rubber.
Like it's companion 12-35mm f/2.8 brother (reviewed here), the 35-100mm f/2.8 features weathersealing against dust and water, so there is a rubber gasket surrounding the metal lens mount.  When used with a weathersealed body like the Olympus OM-D E-M5 or the Panasonic GH3, you'll have a high grade set to shoot when the weather gets nasty.
The lens is relatively large for a Micro 4/3 lens, but positively tiny for an f/2.8 lens with a field of view like a 70-200mm lens on full frame.  It's half the length and one quarter the weight of Canon's 70-200mm f/2.8L IS II.  It ends up being slightly longer and fatter than Panasonic's compact 45-175mm f/4-5.6.  Like that zoom and all pro-grade 70-200 lenses on the DSLR systems, the Panasonic 35-100mm f/2.8 OIS zooms and focuses internally, so the lens stays at a constant length regardless of settings.
Now, the effective depth of field will be similar to an f/5.6 on full frame, but if you want that super shallow depth of field, then a Full Frame DSLR is your thing.  Me?  I'm happy to have the f/2.8 aperture for use in low light, and to get a little extra subject separation while using a zoom lens, and I'll take the enormous weight and size savings, thank you.
Unlike Olympus, which charges an arm and a leg for the hoods for its high grade lenses, Panasonic is kind enough to include both the lens hood and a lens pouch for the 35-100mm f/2.8. The hood is made of high quality plastic, is reversible for storage, and is nice and deep to protect the front element and shield it from flare.
Autofocus, OIS and Handling
The 35-100mm f/2.8 carries Panasonic's HD designation, which means it features virtually silent operation, both in autofocus and in the optical stabilizer.  Autofocus with the 35-100mm lens is very fast, silent and quite accurate.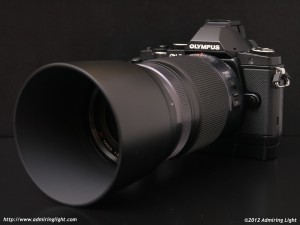 Despite it's slightly large size compared to other Micro 4/3 lenses, I've found it to handle very well.  It's well balanced on a gripped body, and even handles decently on something like the GX1, though it's not as balanced.  The zoom ring feels wonderful, and it has that damped, almost heavy feeling that is very similar to the feel of a DSLR 70-200 zoom.  Frankly, it's that detail that truly makes it feel like a high grade lens.  The focus ring is passable, but isn't particularly damped, and so doesn't quite match the very high end feel of the zoom ring, but I'm OK with that.
The optical image stabilizer (OIS) in the Panasonic is the newer 'Power-OIS' variant that is supposed to be the best.  While certainly better than nothing, the OIS on this lens isn't up to the level of Canon's recent IS implementations, or even the outstanding IBIS in the Olympus OM-D.  The OIS can be switched on or off via the hard switch on the side of the lens.  In my use, I've found the OIS to be good for a little more than two stops of extra handholdability.  I was able to get sharp shots at about 1/40s consistently at 100mm.  With the OM-D's IBIS, I was able to go all the way down to 1/15s.
There is one other quirk with the OIS I discovered.  At very high shutter speeds, (1/3200 and 1/4000s), there seems to be some feedback that causes blurring.  Switching the OIS off at these speeds is recommended.