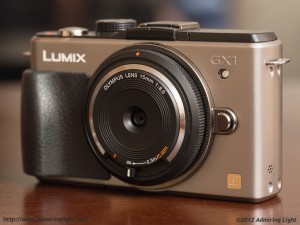 Earlier this year, Olympus announced one of the odder lenses for Micro 4/3.  A $49 'lens' that doubles as a body cap: The 15mm f/8 Body Cap Lens  This is what you could call an 'ultra-pancake'.  And, like it's name implies, it's roughly the same size as a standard Micro 4/3 body cap.  The lens is completely manual, if you want to call it that.  It has a slow fixed f/8 aperture and the focusing is limited to a little lever on the bottom with a detent at the hyperfocal distance.  When focused here, roughly everything from 5 feet to infinity will essentially be in focus.  You can focus closer or slightly more towards infinity if you like, and it can focus as close as 0.3m.  Using the magnified view of your camera, you can accurately place the focus for close ups.  For medium and long distance stuff, just set it on the dot and shoot.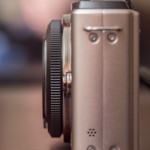 As you might expect for a super-tiny and ultra-cheap lens, the 15mm f/8 doesn't exactly ooze optical quality.  However, it is surprisingly sharp in the center for such a lens, though only over about half the frame.  It then fades in to more general softness at the edges and corners.  Still, it's sort of a unique look and lends itself to black and white street shooting or kind of a Lomo look.  At web size, images are sharp enough for sure, and I think you could probably print to 8×10 or 11×14 before the edge softness would be really noticeable.  Large prints are pretty much off limits unless you use that softness as part of your composition.
The lens suits itself well to the smaller Micro 4/3 bodies like the E-PM2 or the Panasonic GX1.  However, due to the slow aperture, the E-M5's 5-axis IS can come in handy.  I haven't shot a lot with it yet, but here's an image I took today on the OM-D.