Conclusion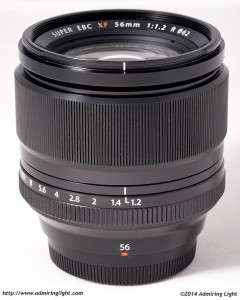 Pros
Well constructed lens with a full metal body with good tolerances
Well damped focus ring that feels nice to use
Quite sharp right from f/1.2 across the frame and blisteringly sharp corner to corner when stopped down a bit
Very pleasing bokeh and excellent subject separation
Outstanding color  while providing smooth contrasts at wide apertures and biting contrast at smaller apertures
Works very well against backlighting, maintaining good image contrast in bright light situations
No distortion and relatively low vignetting for an ultra-fast lens
Autofocus is accurate and decently fast for most situations, including in continuous AF
Price
Cons
Aperture ring is a little looser than I'd like
Some longitudinal CA can create fringing in the bokeh at wide apertures
Some spherical aberration at f/1.2 can show as a glow around high contrast objects like text
One thing you may notice and be confused about is that I have listed 'price' as a Pro above.  This may be confusing because the 56mm f/1.2 is, as of this writing, the most expensive X-Series lens in the lineup.  However, given the performance and ultra-fast maximum aperture this lens offers, I view the $999 asking price as a bargain. Other very high-grade lenses in this range tend to cost significantly more than this lens, and the performance puts the XF 56mm into elite status.  This is one of the finest fast lenses I've ever used and is worth every penny of the asking price.
Fuji has crafted a gorgeous lens that provides excellent subject separation, nice bokeh, fantastic sharpness, outstanding color and contrast and a beautiful response at wide apertures for portrait use, while providing enough resolution and detail to punch it up if needed.  At smaller apertures, the lens is essentially flawless: tack sharp from corner to corner with great contrast and color while still maintaining good bokeh.
It's a lens that has quickly become one of my 'go-to' lenses, and will almost assuredly keep a place in my bag for years to come.  Fuji has made one heck of a lens lineup in the two years since the X-Series debuted, and the XF 56mm is one of its crown jewels.  This is a truly outstanding prime that should be on the short list for any Fuji shooter's bag.
Image Samples
(Click to enlarge)