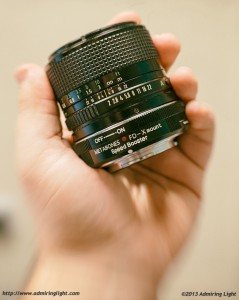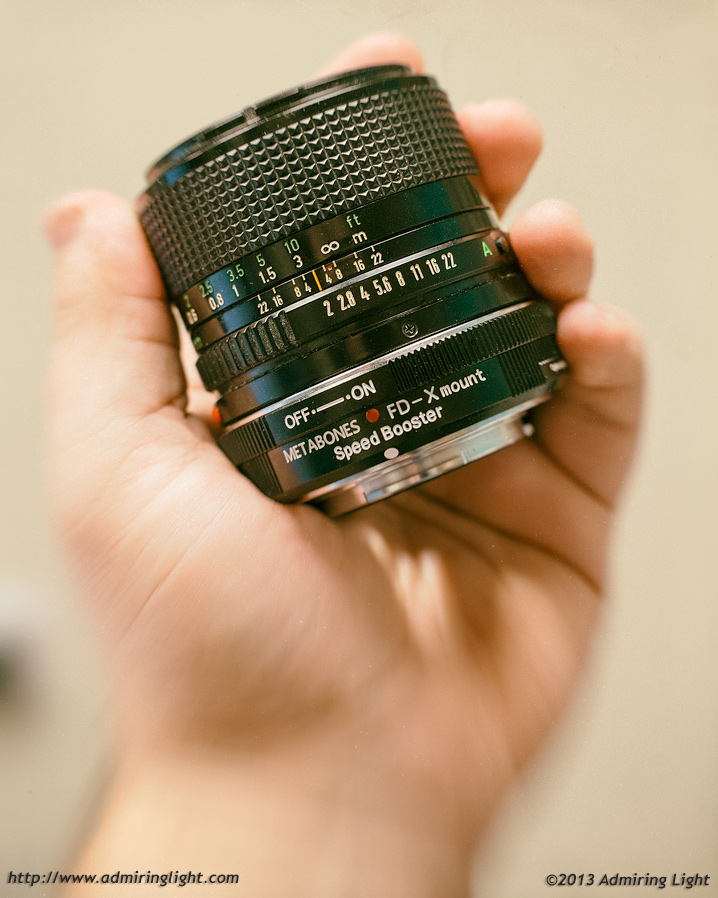 After what was for many an excruciating wait, Metabones has released their generally well-regarded Speed Booster in Canon FD and Minolta MD mounts.  As someone with a rather extensive stable of FD lenses (thanks partly to my father), I was extremely excited by this news.  If you're a frequent visitor to the site, you may have ready my review of the Zhongyi Lens Turbo, a Speed Booster clone, in which I lamented the lack of an FD Speed Booster.  You may also remember that while the Lens Turbo works well with some lenses, it can be quite poor with other lenses.
Enter the original.  Metabones released their first Speed Boosters back in January of this year, and they've been quite a success.  Let's take a look at how this new FD mount Speed Booster works in real world application, and if it truly is worth the significantly higher price tag over the cheaper Zhongyi knockoff.
What does the Speed Booster do?
If you've not seen one of these before, it can be rather confusing. Teleconverters have been around for a very long time, and most photographers know they are a nice way to gain some extra length on their lenses without having to carry around a separate lens.  On the down side, teleconverters generally decrease image quality a little, and you lose one stop of light on a 1.4x teleconverter, and two stops of light on a 2x teleconverter.
The Speed Booster does exactly the opposite.  It is a 0.71x wide-converter, and you will actually gain image sharpness (in theory), while gaining a full stop of light.  When used on an APS-C camera, this allows a lens to be used and have almost exactly its full frame field of view when used on an APS-C camera.  So, for instance, a 50mm f/1.4 lens will be turned into a 35mm f/1.0 lens.  With APS-C sensor, this 35mm combination gives you the field of view of a 53mm lens on full frame – very close to the lens' original field of view on full-frame.  And, because the lens speed is also increased by a stop, the depth of field and background blur the lens produces will also be extremely similar to how the lens performs on a full frame camera.  The long and short of it is, the Speed Booster allows you to take full frame SLR lenses and use them on an APS-C camera with the optical properties of using them on a full-frame camera.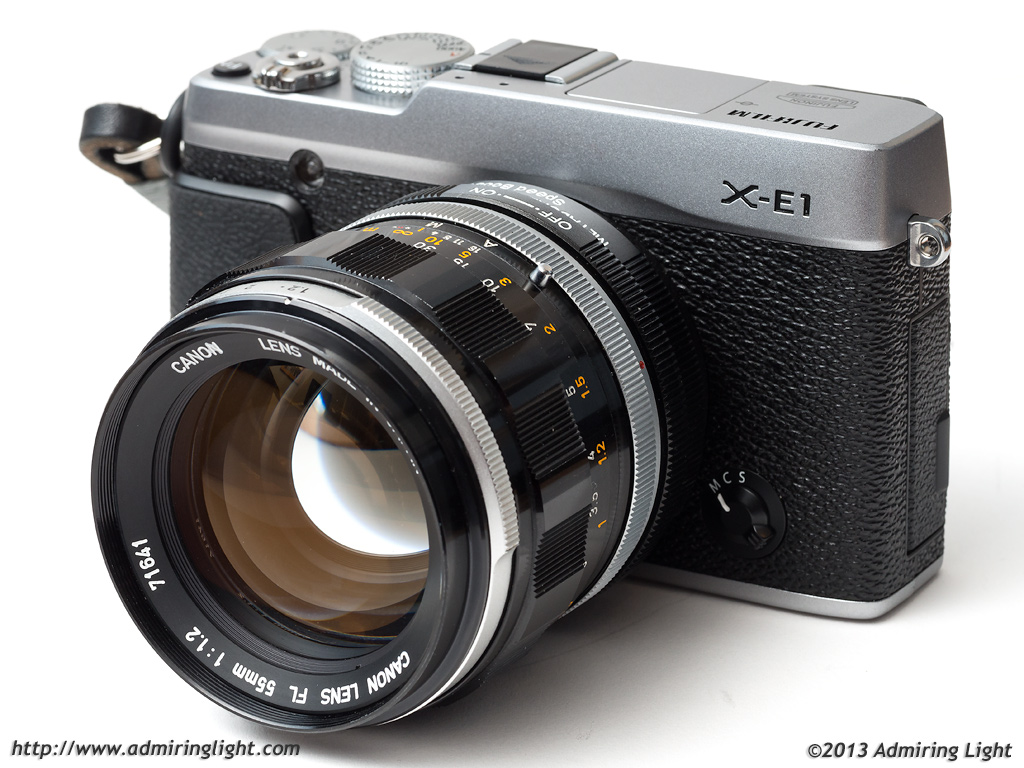 This is a great boon to APS-C shooters who may sometimes want that full-frame shallow depth of field look, but don't otherwise want to carry around larger lenses for the most part.  Or, if you have a large stable of manual focus lenses and want to use them at their original field of view, this will allow you to do that.
The Speed Booster is available for Sony E-mount, Fuji X-mount and Micro 4/3 (though Micro 4/3 users won't get the 'full frame' look, but rather closer to APS-C).  Metabones currently makes Speed Boosters compatible with Alpa, Contax/Yashica, Canon EF (E-mount only), Leica R, Contarex, Nikon G, Sony A (E-Mount only), and now Canon FD and Minolta MD.  They retail for $399 for the simple mechanical versions and $599 for the Canon EF to Sony E-Mount version, which has electronics to allow for autofocus and auto-aperture control.  The Nikon G version is $429, as it contains a separate aperture diaphragm for use with G lenses.
Build Quality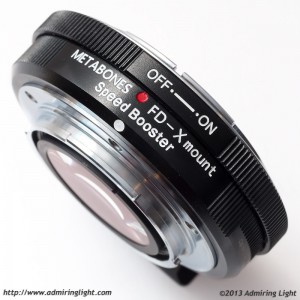 The Metabones Speed Booster is a very well constructed piece of kit.  It is solid metal throughout, with chromium-plated brass mount plates for both the mount to the camera and to the lens.  The FD version has a rotating ring with an ON/OFF designation, which is used to activate the aperture lever, allowing the lens aperture to be changed.  This is needed on the FD mount speed booster, because the Canon FD mount is a breech-lock style mount. Therefore, the mounting surfaces between the camera and lens do not move against each other when mounting the lens.  You must turn the ring to OFF before mounting a lens, then switch it to ON to enable aperture control.
The Metabones also includes an Arca-Swiss compatible tripod foot mount that is integral to the adapter.  If you are using the Speed Booster with heavier lenses that lack their own tripod collar, this can be helpful to relieve stress on the camera mount.  As almost all lenses that I will be using with the Speed Booster are relatively small, I removed the tripod mount upon opening the Speed Booster.  Metabones provides the allen wrench needed to remove the tripod foot as well as two plastic plugs to insert into the screw holes once it's removed.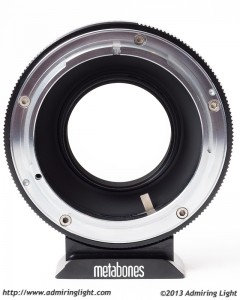 The optical elements on the Speed Booster are very prominent, and they seem to float in the center of the adapter.  Care must be taken when mounting an FD lens due to the long aperture lever.  While I didn't try to see if the adapter is built-in a way that prevented you from scraping the lever against the optics, it certainly looks possible to do if you are careless, so pay attention when mounting your lenses.
Overall, the Speed Booster is a solid, well machined adapter that feels quite premium. It also has a fair bit of heft to it.  One nice thing that Metabones allows is infinity adjustment.  While they adjust it at the factory to enable infinity focus if the lens is perfectly calibrated, they do allow you to adjust if your infinity stop is off on your lenses.  Indeed, my lenses predominantly focused to infinity just fine with the exception of my FD 35mm f/2, which couldn't quite get there, though stopping down to f/8 or so would bring that into focus.  If I planned on shooting with this lens regularly at infinity, I can simply loosen the optic set screw, rotate the optics and re-set until infinity focus was achieved.  As I will be using that lens mostly for environmental portraiture, I felt no need to adjust the infinity stop.