Macro lenses are one of the staple primes of any lens system, and almost all of them are very good optically. Nikon's latest for their Z-mount mirrorless cameras, the MC 105mm f/2.8 VR S, is a pretty standard lens when you look at the specifications. It's got an approximately 100mm focal length, with an f/2.8 aperture, focuses to provied 1:1 magnification, and has an optical stabilizer. All of those are quite normal for this type of lens. But are the optics normal too, or does Nikon have something special up its sleeve?
If you're not familiar with my reviews, I review from a real world shooting perspective. You won't find lens charts or resolution numbers here. There are plenty of other sites that cover those. I review products on how they act for me as a photographic tool.
The Nikkor Z MC 105mm f/2.8 VR S has a lot of letters in its name. Before diving into the review, let me take a short tangent to break things down: The S stands for S-Line, Nikon's new designation for top-end lenses in the mirrorless lineup. VR is Nikon's optical stabilizer, or "Vibration Reduction." And MC is a new one. Nikon has for years and years called their macro lenses 'micro' lenses, despite being essentially the only manufacturer to do so. It seems for the mirrorless Z mount, they have finally ditched the Micro wording, but to perhaps not jump fully on-board the macro train, they have adopted the 'MC' designation for Z-mount macro lenses. They even call it a macro lens on the website! Progress!
Construction and Handling
Like most 100mm-ish macro lenses, the MC 105mm is a somewhat large prime lens, measuring around 140mm in length and 85mm in diameter, though the filter thread is a rather tiny 62mm. The lens, like all S-line lenses, is very solidly constructed of a mix of metal and high-quality polycarbonate. The rear inch or so of the lens is made of metal, and has "Nikkor MC 105/2.8 S" engraved in the barrel. Further forward the lens transitions to their new rough matte black finish. The two main rings I'll discuss in a moment, but the lens also has what appears to be a third textured rubber ring at the very end of the lens, but this does not actually move, and is only there for decoration and perhaps a bit of grip when mounting the lens.
The MC 105mm f/2.8 is fairly light weight for its size, coming in at just 630g. This is a little less than Canon's RF 100mm f/2.8L Macro, and just barely more than Sony's excellent 90mm macro. The 105mm f/2.8 S is weathersealed against dust and moisture, like all S-line lenses. The overall package feels great in the hands and handles well on any Z series full frame body. The MC 105mm is an internally focusing lens, so you'll have no external changes at any settings. The lens comes with a deep plastic lens hood with the same matte black finish as the main portion of the lens. The hood locks in place and reverses for storage.
The lens has two main control rings, with the broad rubberized focus ring being the most promeinent, and a knurled metallic control ring closer to the lens mount. This control ring can be set to change aperture, ISO or exposure compensation, but as it turns smoothly and moves through options a bit too quickly for my taste, I have this turned off to avoid accidental settings changes. The focus ring turns very smoothly and with a nice damping. The focus throw can be adjusted with a custom function in the camera (setting f9). Some people may like some extreme focus precision for their macro lenses, but if you set it to 'max' you'll end up turning the focus ring for days. I've got mine set to 180 degrees, which provides plenty of precision for my needs without taking forever to go through the range.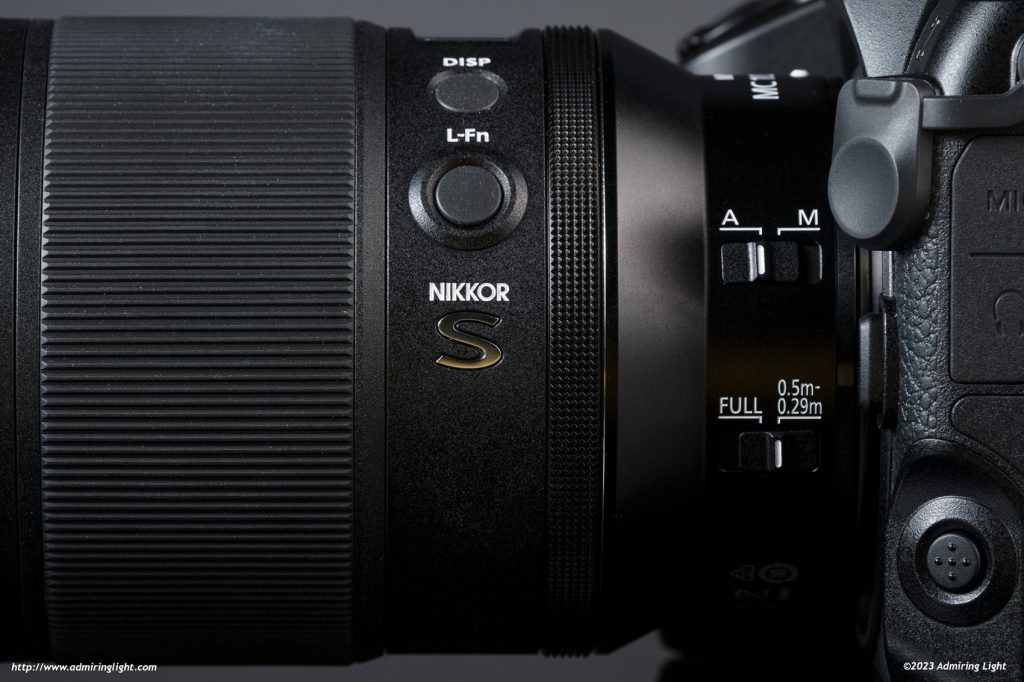 At the rear of the lens, there is the standard A/M switch for changing between autofocus and manual focus, as well as a focus limiter. I do wish the 100mm MC had a three position limiter, with the ability to lock out the macro range, but this limiter has two positions: Full and 0.5m-0.29m. The macro limited range correlates to between roughly 1:3.3 and 1:1 magnification. The Z 100mm f/2.8 S also has the features reserved for the 'crown jewel' lenses in the Nikon S-Line, including a digital display and its associated DISP button, along with a programmable L-Fn button that can be set to any number of things.
The digital display can be used to show the currently selected aperture, a traditional focus scale (which includes depth of field lines that expand at the bottom of the display as you change aperture), or a depiction of the current magnification. I tend to leave my display on the latter, as I like knowing what the magnification is when I'm shooting macro. I'd imagine those who use the control ring for aperture would prefer the aperture display. The display will also notify you of changes made to either of the two switches.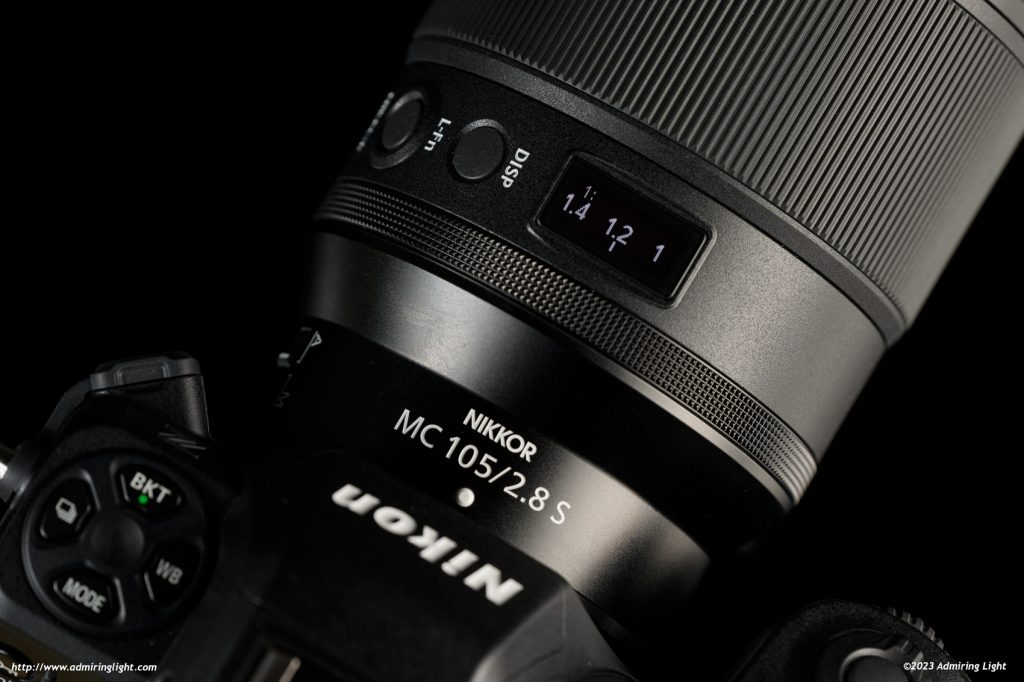 The display is bright, though not particularly high in resolution, though that's fine. You can adjust the brightness of the display as well. The only real negative about the display is that it doesn't stay on for all that long, and it doesn't reactivate when using the control ring or focus ring. As such, if you want to see it, you need to press the DISP button to turn it on. Nikon should really update firmware to allow these displays to re-activate when a control is changed.
Almost all macro lenses lose light and effective aperture when focusing very close to the subject. The vast majority of manufacturers simply leave that light loss as an unknown quantity and display the selected aperture, maintaining the same opening of the actual aperture diaphragm. Nikon, however, updates the display of the aperture to the current effective aperture as you focus closer. It can be a bit odd at first to be shooting wide open, focus closer, and suddenly see 'f/3.5' in the viewfinder, but after using the lens for a while, I quite like it. The chart below is from the lens manual, and shows how the effective aperture changes with focus distance. As such, the 105mm f/2.8 has a maximum aperture of f/4.5 when focused at 1:1 magnification.
What's nice about this is that it really helps with estimating how much diffraction will affect your final image. A lot of macro lenses really start to hit a diffraction wall beyond about f/8, and that's because in reality, they may be closer to f/16 or so when f/8 is displayed. You don't need to worry about that with this lens, as shots at f/11 will have about the same level of softening due to diffraction at f/11 no matter where you're focused. It's nice to be able to shoot macro at f/16 and know you'll still get decently sharp images.
Autofocus and Image Stabilization
The Z MC 105mm f/2.8 VR S uses a stepping motor for autofocus, like most of the Z lenses, and for the most part it works fairly well. In the non-macro range, the lens focuses quite quickly, and will lock on to your subject with excellent accuracy. When focused more closely, autofocus slows down as you'd expect. Accuracy is still outstanding in the macro range, but it does take a bit of time to move from macro to normal distances. While Nikon touts the quietness of the focus motors in this lens, they are not silent. The MC 105mm makes a slight whirring noise when focusing, especially in the macro range, and this can be heard in quiet environments.
The lens also features optical Vibration Reduction (VR), which Nikon claims is good for 4.5 stops of extra handholdability. Like all stabilization claims, this is slightly optimistic, but I was able to regularly get around 4 stops of handholdability within the normal focus range, which is excellent. When shooting macro photos, the effectiveness of the stabilizer drops as it does in any macro lens. In my testing, the 105mm f/2.8 S still manages a solid 2-2.5 stops of stabilization at macro distances, which is still reasonably good.