The normal prime lens space in the Micro 4/3 system has recently become a bit more crowded, as Olympus has finally released their fast normal prime lens, the 25mm f/1.8.  Panasonic has had their excellent Leica 25mm f/1.4 for several years now, and Olympus has decided to concentrate on creating an extremely compact high quality lens, while sacrificing a bit of lens speed.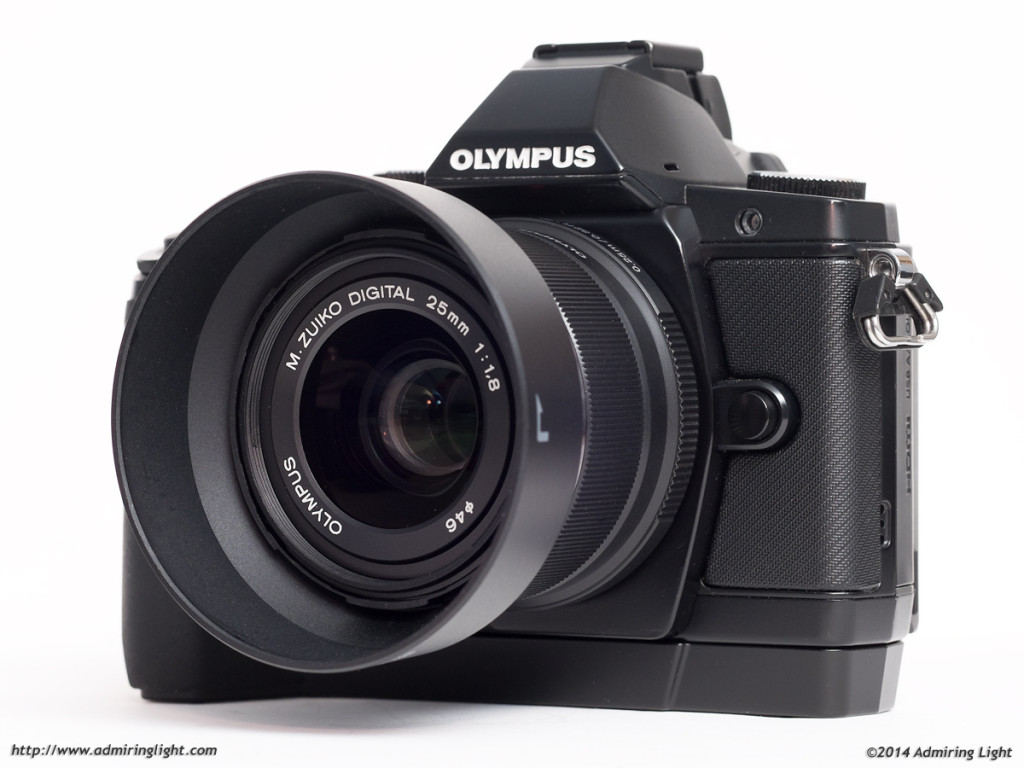 If you're not familiar with my reviews, I review from a real world shooting perspective.  You won't find lens charts or resolution numbers here.  There are plenty of other sites that cover those.  I review products on how they act for me as a photographic tool in real-world shooting. 
Build Quality and Handling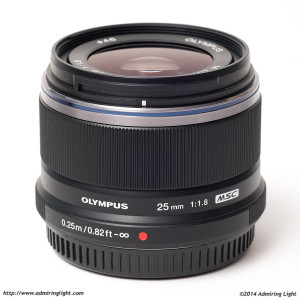 It's clear from the moment you first look at the Olympus 25mm f/1.8 that Olympus prioritized lens size for this release. The 25mm f/1.8 is a very small lens constructed predominantly of high quality plastics an a metal mount.  The lens is relatively solidly put together and there are no creaks or wobbles anywhere.  The broad focus ring that makes up the majority of the lens body is smooth to turn, and ribbed just like its older brother, the 45mm f/1.8.  It also inherits a bit of that cheaper feeling of that focus ring.  The plastic simply feels thin here.
Because of the very compact size and light weight, the 25mm f/1.8 will handle beautifully on any Micro 4/3 body.  This is a lens that you can pop in a shirt pocket or most anywhere to take with you.  In a first for Olympus, outside of their 'Pro' line, they finally include a lens hood with the package.  It only took 5 years, but Olympus has finally gotten the message that simple plastic accessories like lens hoods should be included with the lens, rather than priced absurdly and sold after the fact.
The hood is a simple, small plastic hood that mounts via the bayonet mount on the end of the lens.  The hood is reversible for storage, and does add some width to the whole package, but it's still extremely small.
Focus Performance
The Olympus 25mm f/1.8 features a silent and fast AF motor that allows for very quick acquisition of focus and excellent accuracy.  While the lens is certainly fast, I did notice it tended to hunt a bit more than the typical Olympus lens when in dimmer light, though it usually wasn't an issue.
One very nice feature of the Olympus 25mm f/1.8 is its close focus ability.  While not capable of substitution as a macro lens, it focuses as close as 0.25m, which is about twice as close as a full frame 50mm lens will allow you to focus.  This allows the lens to be used for shots of smaller things like flowers, or very tight portraits.  Chances are, in normal use, you won't often run up against the minimum focus distance. There's not a lot more to say about the focus performance, so let's take a look at the optics: