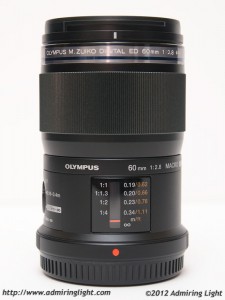 Quite a while back, Olympus hinted at their first true macro lens for Micro 4/3…the 60mm f/2.8.  It's taken a while to come to market, but it finally saw official release this past September.  I was lucky enough to pick one up shortly thereafter.  Olympus priced this lens competitively, at $499, coming in well under the asking price for the other native macro lens for Micro 4/3, the Panasonic Leica 45mm f/2.8 OIS.  With a longer focal range, with equivalent field of view like that of a 120mm lens on full frame, the Olympus 60mm Macro will allow for a little longer working distance, which can be most welcome when shooting insects.  So how does the new Olympus stack up?
If you're not familiar with my reviews, I review from a real world shooting perspective.  You won't find lens charts or resolution numbers here.  There are plenty of other sites that cover those.  I review products on how they act for me as a photographic tool.
Around the Lens – Build Quality
Olympus has released a number of very high end prime lenses over the past two years, though construction between them is somewhat schizophrenic.  You have the high end silver/champagne all metal construction of the 12mm f/2 and 75mm f/1.8, the still silver, but plastic construction of the 45mm f/1.8, and now the still plastic, but black finished body of the 60mm f/2.8 Macro.  The lens is long and skinny, roughly the same size as the M.Zuiko 12-50mm zoom, but thinner.  The lens is relatively lightweight, and feels great in the hand.  Despite its plastic build, the lens is solidly constructed.  There is zero flex anywhere on the lens body, and everything is tightly constructed.  The wide manual focus ring is well damped and feels really wonderful in the hand – probably the best of any of the Micro 4/3 lenses.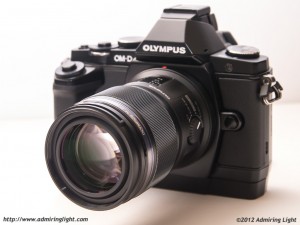 The lens is only the second Olympus lens to have weather sealing, allowing for inclement weather shooting when used with a camera like the Olympus OM-D E-M5 or the Panasonic GH3.  The lens uses internal focusing, so the length of the lens does not change during focusing, nor does the front element rotate.  This is a great feature to have in a macro lens.
There is an interesting focus scale that appears as a moving orange line in a clear window on top of the lens (when mounted).  This scale is really only useful in the macro range, as beyond 0.4m, the line stays pegged on infinity.  Still, it's a handy way to note the current magnification when shooting macro.
Again, however, I must chastise Olympus about the lack of an included lens hood.   Why Olympus insists on gouging the customer by making them pay extra for a hood is beyond me.  Panasonic includes hoods on all of their lenses, and at least Canon includes them on their high end glass.  Olympus doesn't include them on ANY Micro 4/3 lens.  The hood for the 60mm macro is a unique sliding design, but right now it's not available from any retailer I've seen as of November 2012.  When available, it'll set you back $50.
Autofocus and Handling
The Olympus 60mm Macro features Olympus' MSC autofocus motor, which allows for very quick and silent autofocus operation.
Along the side of the lens is a focus limiter switch allowing you to select the macro range from 0.19m (1:1 magnification) to 0.4m, the whole focusing range from 1:1 to infinity, or the more 'normal' focus range from 0.4m to infinity. There is one more setting, which is spring loaded, marked "1:1."  Flipping the dial to this will immediately bring focus to the 1:1 position, and then resettle in the 0.19m to 0.4m setting.  This is a great feature, allowing you to quickly go to 1:1 and then switch to manual focus, rather than rotating the manual focus ring many times to get to 1:1 magnification.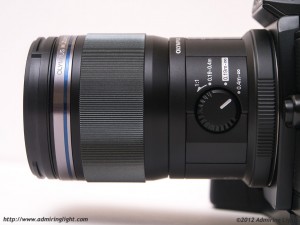 When using the lens with the focus limiter set to engage the entire range, autofocus operations can slow down a bit, as the lens takes a fair bit of time to go through the entire range.  However, if your desired point of focus is close to where the lens is focused, the AF will lock on quickly.  However, I strongly recommend using the focus limiting switches, which drastically speed up AF operation on normal subject distances.  The 'break point' of 0.4m is also really nice, as you generally can shoot in 0.4m to infinity setting for almost all shooting except very close up work.
As mentioned earlier, the manual focus ring is beautifully damped, and fine-tuning focus with manual focus engaged is very precise.  However, in the macro range, it can often take MANY turns of the focus ring to move from, say, 1m to 1:1.  This is where that little 1:1 toggle switch comes in very handy.