Image Quality – Sharpness
Image sharpness is a quality in a Macro lens that is more or less a foregone conclusion.  The vast majority of macro lenses are pretty sharp.  And in this realm, the Olympus doesn't disappoint.  In the macro range, the lens is extremely sharp from corner to corner, and even maintains that blistering sharpness throughout most of the focus range, making it fantastic for a wide range of photographic pursuits.  Compared to the Panasonic Leica 45mm f/2.8 Macro, I did some head-to-head comparisons about a month ago, and the Olympus 60mm f/2.8 outclassed the PanaLeica in the sharpness department.
However, at infinity focus, the jury is still out for me, as my copy of the lens seems to possibly have a slight decentering problem that only shows up on more distant subjects.  At longer distances, if focused with the focus point on the center or right side, the left side of the image is a little soft, even if focusing on a flat field.  It's not terribly bad, and I honestly only noticed it in some test shots I was doing, rather than my daily shooting (as I tend to use this lens for macro and portrait work, so it was flawless in this situation).  It acts almost like a left edge field curvature, as the left side will sharpen up just fine if I focus with the focus point on the left side.  I will likely send my lens to Olympus to have this corrected at some point, but for the time being it doesn't affect my use of the lens due to the subjects I shoot with it, and the limited cases it is visible.  I will update the review with my notes on this after the lens has been looked at.
Image Quality – Bokeh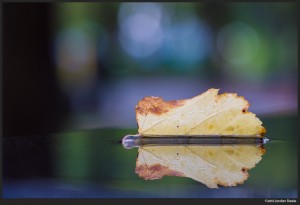 Since macro shooting involves relatively shallow depth of field, and the other major use for a telephoto macro lens is portraiture, the quality of the out of focus areas is a rather important thing to note.  The Olympus 60mm f/2.8 Macro doesn't disappoint here.  It renders out of focus areas smoothly and evenly, with smooth flat specular highlights and practically zero chromatic aberration in the bokeh.  I have absolutely no complaints about the bokeh  of this lens.
The lens has an aperture that maintains a constant f/2.8 throughout the focusing range, and the blades will actually close a little to maintain that due to the internal focus design.  As such, you are shooting with partially closed aperture blades even wide open through most of the focusing range.  While this does make the specular highlights slightly less than perfectly circular, the curved blades means any out of focus highlights will remain generally circular throughout most of the aperture range as well.
Image Quality – Color, Contrast, Chromatic Aberration and Distortion
To sum up the other qualities of this lens in a word: outstanding.  The Olympus 60mm Macro has very rich and vibrant color response and relatively high contrast, though not too high.  I think it hits my personal sweet spot in this respect.  There is extremely low chromatic aberration, with essentially zero lateral CA and only the very slightest hint of longitudinal (or bokeh) CA.  In most shooting, it's invisible, though you can see a very slight magenta cast in front of a focus point and a very slight green cast behind if you're shooting something like black text on white paper.  Otherwise, it's invisible.
There is no noticeable distortion, either in the macro range or in more general field use.