Image Quality: Sharpness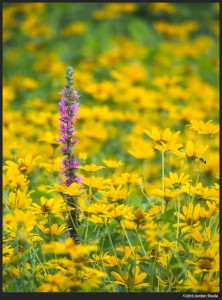 The Olympus 75-300mm II is limited in maximum aperture, being about a half-stop slower than the typical telephoto zoom lens at f/4.8-6.7.  As such, I think that image sharpness at the widest apertures is rather important, as you won't want to stop down all that often with this lens, except in the case of some telephoto landscapes.  The 75-300mm II does rather well for the most part in sharpness.  Wide open, the lens is very sharp from 75mm to about 220mm, where sharpness drops off a bit as you get longer.  At 300mm, sharpness is acceptable, and in some cases even quite good, though there is some softening of fine details.  However, use of this lens in the 75-200mm range is really exceptional.
You can get a little extra sharpness at the long end by stopping down a bit, though beyond f/8, diffraction starts to set in and there's little benefit to stopping down beyond any needed extra depth of field.
The image to the right was taken at 300mm and f/6.7 at 1/500s handheld with in-body IS on with the OM-D E-M5.  A 100% crop is below.  Here you can see that the lens is capable of fairly sharp results when you do your job correctly.  A super-telephoto view like this requires good technique when shooting handheld, and your results with this lens, even when using a body with built-in IS, will depend quite a lot on your own long-lens shooting skill.
Image Quality: Bokeh
Bokeh from the 75-300mm is generally neutral, with even specular highlights and a nice smooth character, though it falls short of being truly 'creamy.'  Overall, I was quite pleased by the out of focus rendering from a relatively slow lens, though at 300mm and f/6.7 you are still quite capable of blurring out the background nicely.
Bokeh looks consistent throughout the zoom range as well, with the only real difference being the ability to provide more blur at the longer end of the zoom.  Good performance here.
Image Quality: Color, Contrast, Chromatic Aberration, and Flare
The Olympus 75-300mm f/4.8-6.7 II produces images with medium contrast throughout most of the zoom range, and relatively low microcontrast.  As a result, there isn't that biting crispness that some other lenses can produce.  Color is nice, though not anything particularly special.  There's a little less saturation out of the 75-300mm shots compared to some other Olympus Micro 4/3 lenses, though a lot of this can be corrected in post.  While the 75-300mm is quite resistant to flare, it does show a some lateral chromatic aberration, seen as a cyan and magenta highlight along object edges.  I have found that Adobe Lightroom's Chromatic Aberration removal tool is able to quickly eliminate almost all of the lateral CA with a single click, but it's a step you will want to perform to get the most out of this lens.