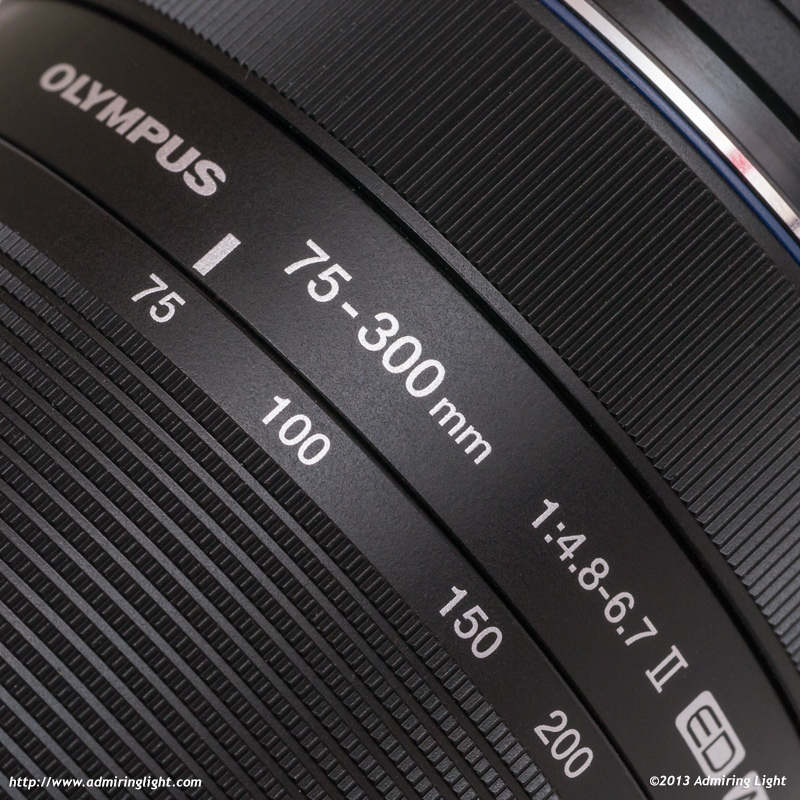 Today I take an in-depth look at the refresh of a lens that has been part of the Micro 4/3 system for a rather long time.  Olympus first announced the original 75-300mm lens for Micro 4/3 in September of 2010.  That lens was priced at a rather insane $900, significantly more than the competing Panasonic 100-300mm lens, but without optical stabilization.  After a time, Olympus has seen fit to replace the original version with a new version, while reducing the price significantly to $549.  Optically, the new M.Zuiko 75-300mm f/4.8-6.7 II shares the same design as the original lens, though there is some debate as to whether there have been improvements in coatings or refinement in the design.  The biggest change is the new exterior, which is a much more pleasing all-black shell with a fine double ridged zoom ring grip that goes quite well with the newer Olympus cameras and lenses and looks particularly good on the OM-D E-M5.  Let's see if this lens is worth the now lower price of entry.
If you haven't read my reviews before, I do not generally perform resolution tests or make charts to track quality measures. I take a real world approach to my reviews and evaluate how a lens or camera handles and works in regular use.
Around the Lens: Build Quality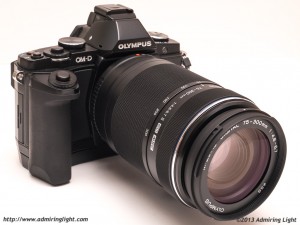 The new Olympus 75-300mm II is a nice looking lens.  I mention this primarily because its predecessor was probably the ugliest lens in the Micro 4/3 system and looked incredibly cheap.  While version II is still predominantly constructed of plastic, the aesthetics lend a much more sophisticated and higher end look to the lens body.  Despite having a mostly plastic barrel, the 75-300mm II is a well constructed lens, with tight tolerances, a very smooth zoom action, no wobbles on the extending portion of the lens and a nice (though not very damped) feel on the focus ring.  The lens has a metal mount and a metal ring around the end of the non-extending portion of the lens, just above the focus ring.
While one of the largest lenses for Micro 4/3, the 75-300 II is actually quite compact and lightweight for a lens with its focal range.  Considering the smaller Micro 4/3 sensor, it's extremely compact for a lens with its field of view, which is equivalent to a 150-600mm lens on a full-frame camera.  This is some serious reach in a relatively small package.
Like all of Olympus' lenses, the 75-300mm II doesn't come with a lens hood, though one is available to purchase separately.  As I've mentioned in all my Olympus lens reviews, I find this practice of not including lens hoods rather ridiculous, as even many bargain lenses from other manufacturers come with hoods.
The lens features a standard external zooming mechanism, so the barrel extends while zooming towards the longer end.  When fully extended, the 75-300mm gains about 2 inches in length.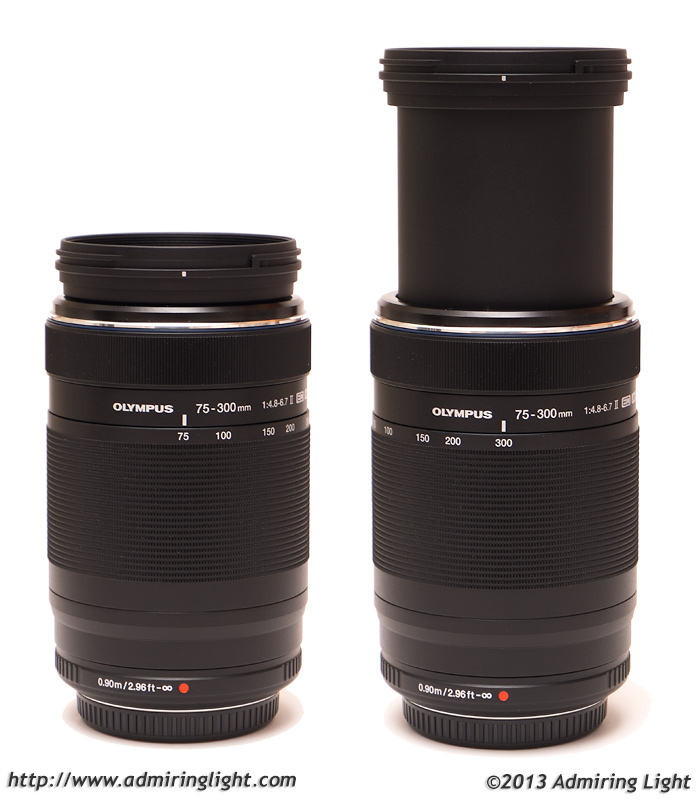 Around the Lens: Handling, Operation and Autofocus
Being a larger lens, the 75-300mm II handles best on a camera with some sort of grip, whether that be one of the Panasonic G series cameras or the Olympus OM-D E-M5 with extra grip.  When used with one of those cameras, the 75-300mm handles very well.  It's relatively lightweight and the zoom action is very nice and even, without any points that stick or stutter.
Since the 75-300mm lacks any sort of optical stabilizer, you will need good light for handholding on a Panasonic body, and I've found even with the excellent in-body IS of the E-M5, you need pretty good light even using Olympus bodies.  One thing that appears to be an issue with the 75-300mm II is that is succeptible to shutter-shock with the OM-D E-M5.  That is, in mid range shutter speeds of 1/100s to 1/300s or so with this lens, there is some shake induced upon shutter release.  This can be predominantly solved by setting the camera's 'anti-shock' setting to 1/8 second, which will introduce a minimal delay when shooting (feels like a slower exposure), but eliminates the shake issue with the lens.  Otherwise, I found the E-M5's in-body IS to work quite well with this lens, down as slow as 1/50 second at 300mm.
The autofocus of the 75-300mm is essentially silent and very quick.  Generally, when shooting at closer subjects, say 10 feet and closer, the autofocus is very accurate.  I have noticed that it does struggle for precise autofocus at times on longer range targets, especially of smaller subjects.   It's one of the few Micro 4/3 lenses where I will have a handful of out of focus shots when I offload my card after a shoot.