As the Micro 4/3 lens lineup becomes more mature, there are fewer and fewer gaps left.  While there are several good Micro 4/3 lens options in the short telephoto range, one thing that has been missing a bit is a high-speed 85mm equivalent lens with autofocus.  Voigtländer released the excellent 42.5mm f/0.95 last year, satisfying the super shallow depth of field niche, though it's a fully manual lens, and therefore more difficult to use for certain types of photography.  Panasonic has responded by creating the Leica-branded 42.5mm f/1.2 DG Nocticron OIS. This super-fast lens has a premium build and premium optics, but can it rise to legendary status, or is it all bluster?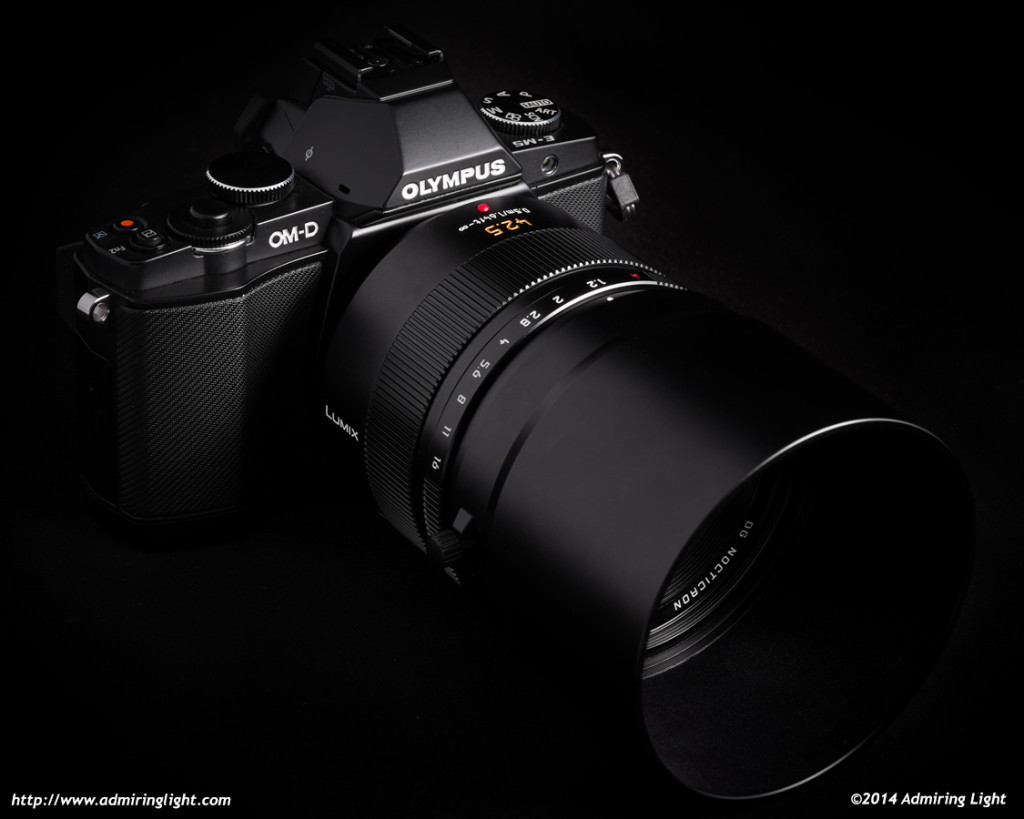 If you're not familiar with my reviews, I review from a real world shooting perspective.  You won't find lens charts or resolution numbers here.  There are plenty of other sites that cover those.  I review products on how they act for me as a photographic tool in real-world shooting. 
Build Quality and Handling
When you see the Leica name inscribed on a lens, you think premium, and unlike the other plastic bodied Panasoinc Leica lenses for Micro 4/3 (the excellent 25mm f/1.4 and 45mm f/2.8 Macro), this lens truly feels Leica-like.  The lens body is solid metal with a gorgeous matte black paint finish.  It truly looks and feels premium.
The aperture ring has nice ribbed grips along the side and very positive clicks.  Given the position of the ring and the firmness of it, it is difficult to accidentally dislodge.  The detent at f/1.2 is very solid, making it nearly impossible to accidentally switch the aperture to the 'A' setting.  Unfortunately, the aperture ring is only functional on Panasonic bodies.  Olympus bodies do not have firmware that enables use of the ring at all, so using this lens on an Olympus camera makes the aperture ring simply a decoration.  While I love aperture rings on lenses, I really don't see a need for one on this lens, since it only works on half of Micro 4/3 cameras and it changes how you typically operate your camera.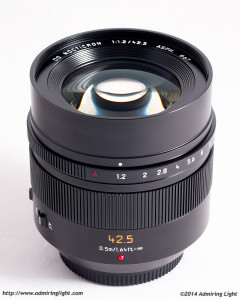 The focus ring is beautifully smooth and reasonably well damped.  It feels excellent to use.  The switches for AF/MF mode and toggling the optical image stabilizer on or off are minimalist and easy to operate but hard to move inadvertently.  Overall, there is absolutely nothing in the construction of the lens I would change.
Panasonic includes a very well made and quite attractive solid metal hood with the same black finish as the lens.  The hood attaches with a screw clamp and reverses for storage.  While the hood is gorgeous and works very well, you need to be really careful with a metal hood on a metal body when reversing it for storage, as metal on metal can scrape the finish off the lens.
However, the sheer size of the lens does pose some problems.  It is quite large for a Micro 4/3 prime, and moderately heavy, though I found the balance was just fine to handle.  The reason the size poses a problem is simply because of the girth of the lens.  At 74mm in diameter, it's currently the fattest Micro 4/3 lens in the system.  This normally wouldn't cause that big of a problem, except for the fact that many Micro 4/3 camera bodies weren't really designed for lenses this large in diameter.  As such, the lens actually causes some handling issues with certain cameras – in my case, the OM-D E-M5.  With the Nocticron mounted, I can't use the horizontal accessory grip that essentially lives on that camera. With the grip mounted, there is not enough room between the grip and the lens body to fit my fingers, unless I painfully wedge them into the small gap.  As such, I had to use the lens with my horizontal grip off the entire time, which affected handling a bit given the larger size and weight of the lens.
Focus and Stabilizer Performance
The hangup with a lot of fast lenses is in autofocus performance, but the Nocticron is an exception to the rule.  Focus is extremely fast and exceedingly accurate.  In most lighting conditions, focus locked on nearly instantly, and I can't say I ever had the lens misfocus during the testing period, unless it was due to fault of my own.  A truly outstanding performance here.  The 42.5mm f/1.2 also focuses as close as 0.5m, which is very close for an 85mm equivalent lens.  The result is the ability to capture extremely tight portraits and allows the lens to be useful for capturing shallow depth of field close-ups of things like flowers.
The Nocticron is also unique in that it is an f/1.2 lens with a built-in image stabilizer.  To my knowledge, it is the fastest stabilized lens in the world.  The optical image stabilization works relatively well.  I was able to consistently get sharp shots at around 1/20 second, and a reasonable number at 1/15 second.  This equates to approximately an extra 2 to 3 stops of handholdability.  Having recently acquired a Fuji 56mm f/1.2, I've been shooting a lot of shallow depth of field portraits in natural light over the past few weeks, and I have to say, the stabilization came in very handy for quick shots, keeping camera shake out of the images.