After a quite long two-year wait, Panasonic has updated their flagship Micro 4/3 camera, and they've upgraded almost every single item on the camera. This fall, the new DMC-GH3 was announced and cameras first started becoming available a few months ago. Panasonic is positioning the GH3 as the ultimate top end Micro 4/3 body, with a redesigned weathersealed body made of magnesium alloy, ultra-high bit rate video and a new sensor that promises improved dynamic range and overall image quality. They've thrown in most any feature you could imagine and have priced it accordingly, targeting the prosumer market with a $1,299 price tag. Let's see how Panasonic's new king of the hill stacks up.
If you're not familiar with my reviews, I review from a real world shooting perspective. You won't find lens charts or resolution numbers here. There are plenty of other sites that cover those. I review products on how they act for me as a photographic tool. I am not a videographer, so my reviews concentrate on the still imaging capabilities of a camera. Also, I would like to thank my friends at LensRentals.com for providing the camera for this review. Please visit them whenever you need a lens for that once in a lifetime shoot, or just if you want to try a lens or camera out without having to buy it first.
Body and Ergonomics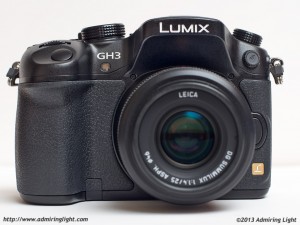 The first thing that strikes you about the Panasonic Lumix GH3 is the size. If you are a veteran mirrorless camera shooter, it will look and feel rather huge. If you are coming from DSLRs, you will wonder where all this wonderful size reduction is with Micro 4/3. The GH3 is roughly the same size as an entry-level APS-C DSLR. It's noticeably thicker, wider and heavier than something like the Olympus OM-D, and it absolutely dwarfs the small Micro 4/3 cameras like the Olympus Pen E-PM2.
Needless to say, it's not a body that you use if you want to slip a camera in your jacket pocket. However, the lenses you will use on the GH3 are still a fair bit smaller than their DSLR counterparts, so for a system, you still get the benefit of a smaller camera system. One big benefit to the DSLR size of the GH3 is that it handles a lot like a DSLR. Button layouts are reminiscent of more recent Canon DSLRs, with tons of switches that are a little more spaced out and comfortable to reach than they were on the GH2.
The grip on the GH3 is wonderful. It is extremely comfortable to hold with a nice soft rubber coating. It honestly felt like it had been sculpted from a mold of my hand. Larger Micro 4/3 lenses like the Panasonic 35-100mm f/2.8 OIS feel very well-balanced and well controlled on the GH3.
The build quality of the camera is on a very high level. While the GH2 was made with high quality plastics, it felt somewhat cheap when you first picked it up. There is no such feeling with the GH3. It feels extremely solid, much like prosumer DSLRs from Canon and Nikon, such as the 7D or D7000. The fit and finish are on a high level, with everything fitting and feeling as it should. Well done, Panasonic.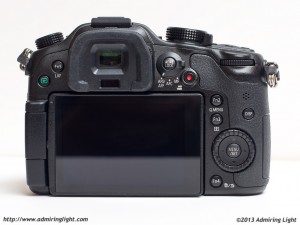 The front of the camera features the lens release button, flash sync port (a first for a Micro 4/3 camera), shutter button and front dial. Turn the camera around, or look on top, and you're met with an array of controls that will take a little time to get used to, but that are generally well laid out.
The rear of the camera is dominated by the 3″ capacitive touch display with 614,000 dots. This is an increase from previous Panasonic cameras, but still a little lower resolution then many other cameras. However, I thought the display was crisp, clear and had much better color and contrast than previous Panasonic rear displays. The rear panel can tilt and swivel to allow top down, bottom up or even self-portrait shooting. It's quite handy, and the switch from the resistive touch screens of previous Panasonic cameras to the new capacitive display is welcome.
An optional battery grip is available for the GH3 at a price of $299 to add a vertical grip and extra battery. This can aid in long portrait shooting sessions and add some balance for larger lenses.
One minor handling nitpick is that the speaker for the camera is positioned right next to the right ear when shooting, so if you have focus confirmation beeps on, even at the lowest level, it's annoyingly loud in your ear.
Viewfinder
The GH3 sports an all-new electronic viewfinder with a bump in resolution to 1.7 million dots and a switch to 16:9 aspect ratio. The viewfinder is sharp and clear and a visible improvement in resolution over previous Panasonic EVFs, but I don't think it looks quite as good as the one in the Olympus OM-D. While nice, for some reason I just didn't feel connected to the scene when using the EVF, while I do when shooting the OM-D. I think some of that has to do with the 16:9 aspect ratio.
Previous GH viewfinders were 3:2 aspect ratio, and this worked very well given the GH1 and GH2's multi-aspect sensor, which could shoot 3:2, 4:3 and 16:9 aspect ratios natively, without cropping. However, the GH3's sensor is a 4:3 aspect sensor, which is then cropped to 16:9 for movies and for other chosen aspect ratios for stills. As a result, when shooting stills at full resolution, there are black bars on either side of your view in the EVF. While the overall viewfinder magnification still provides a large view, the black bars reinforce the fact that you're looking at an electronic display, and if feels like you're viewing a TV rather than a live scene. When switching to movie view, the EVF shows the fully 16:9 image, which is frankly enormous in your field of vision (so much so that you need to move your eye around a bit to see it all), and this feels more natural than in stills mode. As I shoot a hundred times more still photographs than video, I was a little disappointed.