Viewfinder and Rear Screen
The NX1 features a relatively large and very detailed 2.36 million dot OLED electronic viewfinder (EVF). The EVF on the NX1 is one of the finest I've had the pleasure to work with, and in my opinion, it is the clearest viewfinder I've used. Looking through the finder in good light is gorgeous, with crisp clear images, excellent contrast and color and good brightness. It's really quite beautiful. In decent to good light, lag is essentially imperceptible and refresh is quick and clear.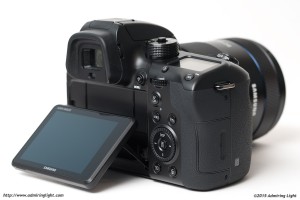 It is a prettier finder than the one in the Fuji X-T1 (which I consider the current top dog in EVFs). However, two things keep it from dethroning the X-T1 as the best EVF in mirrorless cameras. First, It's not quite as big, and the eye relief isn't fantastic for eyeglass wearers. I sometimes had to adjust my eye position to clearly see the whole finder, which could be a bit frustrating especially since it isn't any bigger than a lot of other viewfinders that have better eye relief. And second, when the light levels drop quite a bit, the viewfinder goes from being responsive and low lag to being extremely laggy and slow to refresh. It's a sharp cutoff too, so one second it's clear and smooth and when things get just a bit dimmer, the refresh rate drops dramatically. However, the high refresh is maintained in decent indoor light and all outdoor daylight shooting.
The rear 3" tilting touch screen is a 1 million dot rear screen that is equally as brilliant, clear and contrasty as the viewfinder. It's the best rear screen on any camera that I've used. Viewing angles are excellent, images are crisp and vibrant (without going over the top), and the touch panel is responsive and accurate. The only negative I could say is that it is a bit too glossy and reflective, but that's a very minor nitpick. In all, it's a phenomenal rear screen.
Autofocus and Performance
The NX1 is fashioned as an action camera, and for the most part it succeeds with distinction, at least compared to the competition in the mirrorless world. The NX1 is quick to start up, fast to operate, writes extremely quickly and has some serious processing power that ensures that you never wait on the camera. The camera also has the fastest full resolution frame rate of any mirrorless camera at 15 frames per second. The buffer is relatively large as well: I was able to rattle off around 20 RAW frames and over 70 JPEGs at the full 15 frame per second high speed burst rate. The buffer writes to the card quickly and can clear the roughly 600MB of data a full burst entails in less than 10 seconds with my 90MB/Sec UHS-I card.
The Firmware 1.2 update also has caused a bug with continuous Normal shooting, as in single shot or manual focus modes, continuous normal seeks to confirm focus after each shot, reducing the frame rate to around 1 frame per second.  While the continuous high mode can be adjusted down from 15 fps, let's hope this bug is fixed, so that two frame rates remain easily accessible in these focus modes.
The Autofocus system is a hybrid phase detect (PDAF) and contrast detect (CDAF) system with PDAF pixels spread across almost the entire sensor. Samsung has done a great job with the autofocus on the NX1. In good light, it's easily among the fastest focusing cameras in the industry, with near instant focus acquisition and equally excellent focus accuracy. As light levels drop, however, the NX1 slows down considerably, with average to slow single shot AF. It's still certainly usable speed, but it falls behind the low light focus abilities of the competition.
The trend continues for continuous autofocus, but here the NX1 does have its own claim to fame. While I found that the camera doesn't track focus well in dim light (doing worse on indoor motion than my Fuji X-T1 and my Sony a6000), in good light it sets a new bar for mirrorless cameras. The NX1 can accurately focus continuously on moving subjects during a full 15 frame per second burst, and can do so with great success. On cars moving towards me at approximately 45 miles per hour, the NX1 was able to achieve accurate focus on about 90% of shots at 15 fps. In good light, it's the best focusing mirrorless camera on the market.
Manual Focus
The NX1's viewfinder and rear screen are bright and clear, and that does help aid in manually focusing.  The NX1 also has focus peaking available to outline areas in focus, but I found it only activated on areas of high contrast.  The NX1 can also zoom the viewfinder during manual focus, but this is one area where Samsung dropped the ball.  For some reason, you can't reposition the enlarged window.  It only zooms to the center of the frame, and there's no way to move that enlarged area. While this doesn't pose too many problems for static shooting, it can be a real problem when shooting with adapted lenses with people, as often it's not practical to zoom to focus, then zoom out, recompose and take the photo before the subject moves.  This is something that really needs to be remedied with a firmware update.