With the introduction of Sony's A7 and A7r mirrorless cameras, the E-Mount gains new life, but also some new complications.  Existing E-Mount lenses are designed to cover an APS-C image circle, and as such, a new line of lenses is required to cover the full-frame image sensors in these new Sony flagships.  When the cameras were announced, Sony also announced five 'FE' lenses, as the full-frame E-Mount lenses are designated.  Three are designed by Carl Zeiss, AG and bear the Zeiss branding.  The first available Zeiss FE mount lens is the 35mm f/2.8 Sonnar.   While not stretching any boundaries with maximum aperture, it promises to be a very good lens.  Let's see if it meets the lofty expectations.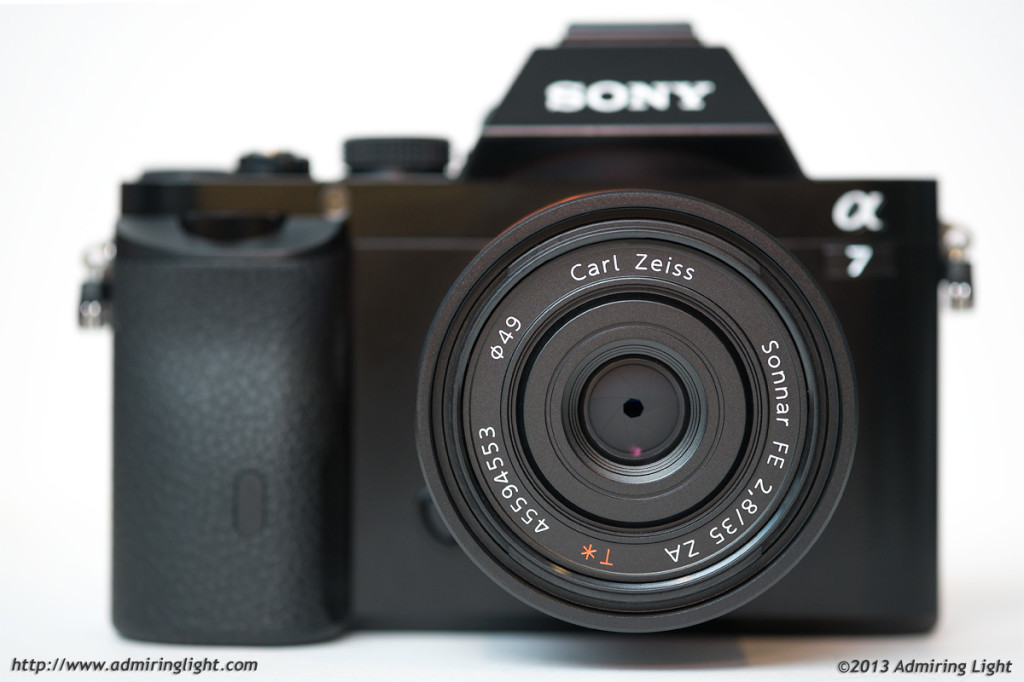 If you're not familiar with my reviews, I review from a real world shooting perspective.  You won't find lens charts or resolution numbers here.  There are plenty of other sites that cover those.  I review products on how they act for me as a photographic tool in real-world shooting.
Around the Lens: Build Quality and Handling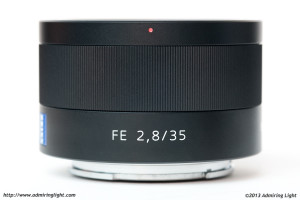 The 35mm f/2.8 is a small lens, and I think Sony really wanted to make a statement that small lenses could be made for their full frame camera.  The size does come at the expense of speed, as the f/2.8 maximum aperture is a little slower than I would like to see.  One of the advantages of full-frame cameras is the ability to better isolate subject from background, and yet the 35mm f/2.8 doesn't isolate the subject as much as something like the 23mm f/1.4 from Fuji or the Voigtländer 17.5mm f/0.95 for Micro 4/3.  In fact, it isn't a lot shallower than the 17mm f/1.8 for Micro 4/3.  Regardless of the aperture, however, they did build a very nicely constructed, small and lightweight lens.
The lens barrel is constructed of lightweight metals, and that extends to the focus ring.  The lens is tightly assembled and while not very dense, feels very solid in the hand.  Due to the light weight, it handles beautifully on the camera.
Included is a very small bayonet mount hood that has its own lens cap.  The hood is rather effective given its size, and because it is so incredibly small, it takes up essentially no extra space in the bag.  I wish more hoods were designed like this.
Focus Performance
The FE 35mm f/2.8 features a very quiet and quite quick autofocus motor.  When used on the A7, the lens was able to lock on to the subject with minimal delay in most lighting situations.  In very dim light it slowed down and could hunt a bit, but overall, I was quite impressed by the autofocus speed.  Accuracy was also excellent.
When manually focusing, the wide ribbed focus ring felt very good in the hand and has a very nice resistance to it.  While it doesn't conjure feelings of a good manual focus helicoid, it still feels nice to operate.  I'm very glad that Sony/Zeiss have chosen to continue with the fine ribbed metal focus rings vs. the smooth rubber focus rings that Zeiss is using on their Touit and Otus lines.  I find that while they offer better grip, the tactile feedback is nonexistent, and I never know how much I'm actually turning them.