As modern lenses become sharper, with fewer lens aberrations, one byproduct has been the explosion of lens size. These highly corrected optics require more and more elements, made with special glass types and molding processes. This is highly evident in the extremely large and heavy Sony/Zeiss FE 35mm f/1.4 and other recent full-frame f/1.4 wide angle primes. Voigtländer has eschewed that design philosophy with their latest 35mm lens: a 35mm f/1.4 that is exceptionally small. In doing so, they've kept some of those lens aberrations, but also created a lens that delivers a truly unique look. Let's dive deeper in to the Voigtländer 35mm f/1.4 Nokton Classic for full frame E-mount.
The 35mm f/1.4 Nokton is a very different sort of lens for a modern mirrorless system. It's an older symmetrical design, and intentionally leaves in several lens aberrations that give it a classic rendering compared to modern lens designs. There are two benefits to this design philosophy, and a few drawbacks as well. The first benefit is that vintage look, which you will either love or hate. The second benefit is size, as the Nokton Classic 35mm is the smallest fast 35mm available for E-mount. It's shorter and lighter than the one stop slower Loxia 35mm f/2, and is downright tiny compared to the monstrous beasts that are the Sony/Zeiss FE 35mm f/1.4 or Rokinon 35mm f/1.4, despite sharing the same large maximum aperture. We'll get to the drawbacks in due time….
This lens has been a bit divisive in early reviews. It's not going to be a lens for everyone, but I think you'll see that it is a lens that will be a great option for many Sony shooters. This has been a long intro, so let's get to the details.
Construction and Handling
The exterior design of the Voigtländer 35mm f/1.4 matches that of the company's previous mirrorless lenses, with an all-metal construction and a matte black finish. Everything is very tightly assembled and the lens feels extremely solid. The lens has a wide scalloped focus ring and an aperture ring at the front of the lens with click stops every 1/3 stop. Unlike some of their other lenses, the aperture ring can not be de-clicked, so this lens isn't really a great option for video work where changes to aperture occur during filming.
Included with the lens is a round metal lens hood that provides a small amount of protection for the front of the lens and might shade stray light a touch, but it's not the most effective hood. As you'll see when we get to flare control, that's not really a problem, however. The lens cap attaches to the hood inside, or to the filter threads of the lens proper. I really didn't use the hood very much, though, as it's easier to attach the lens cap without the hood.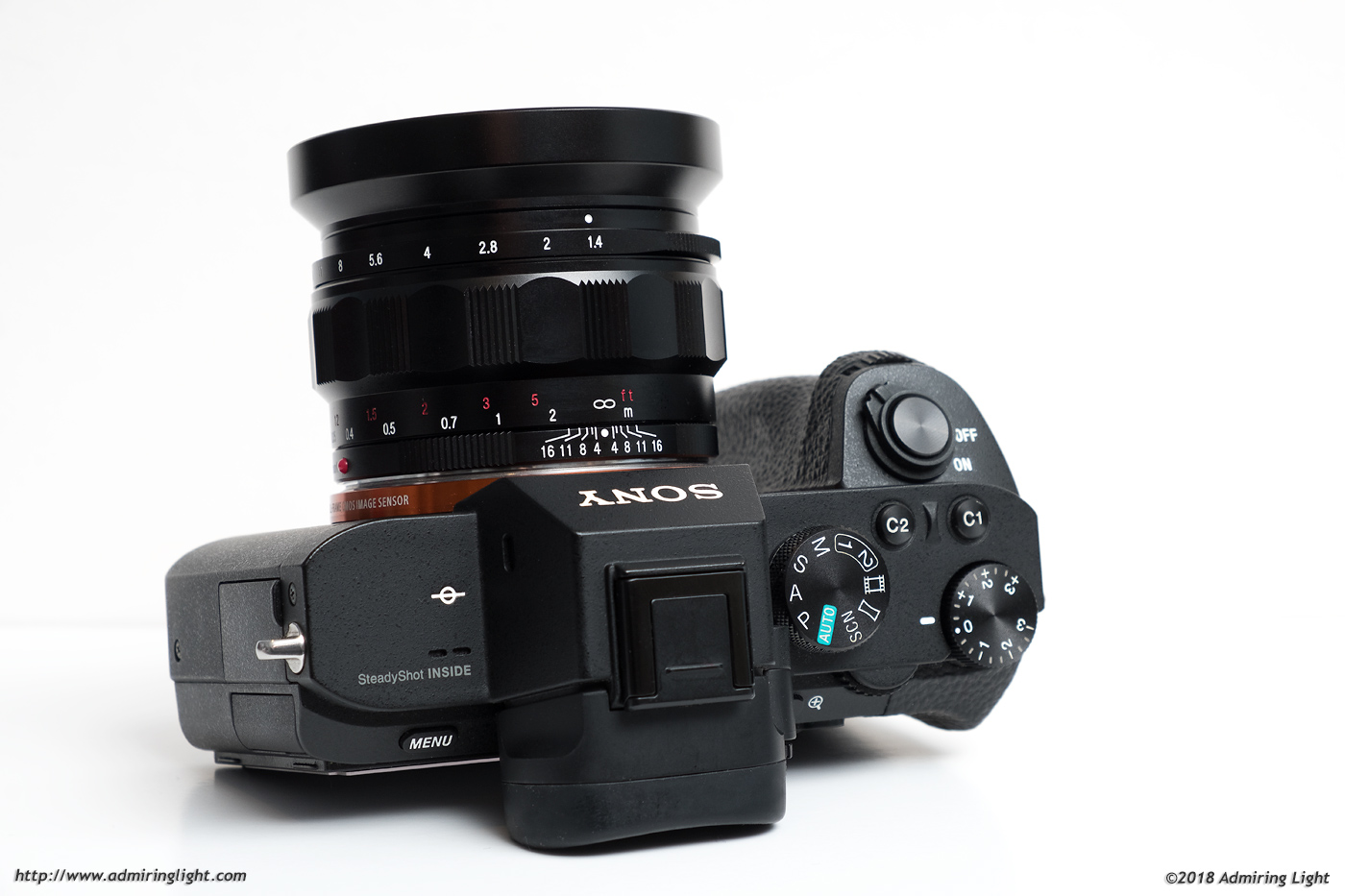 As mentioned earlier, the Voigtländer 35mm f/1.4 is a very compact lens, especially considering the extremely fast f/1.4 aperture. It's a mere 39.6mm long, with a 67mm diameter, while weighing a fairly svelte 262g. That's just a touch larger than the much slower Sony FE 35mm f/2.8, though the Nokton is a fair bit heavier due to the all-metal construction. The Sony/Zeiss FE 35mm f/1.4 shares the same maximum aperture, but absolutely dwarfs the Nokton, weighing nearly two and a half times heavier, and is notably wider and nearly three times longer. As a result of this small size, the Voigtländer handles beautifully on any Sony body, with great balance and relatively light weight. It's a joy to carry around. Below is an image of the 35mm f/1.4 next to the relatively small Sony FE 28mm f/2, as a means of size comparison.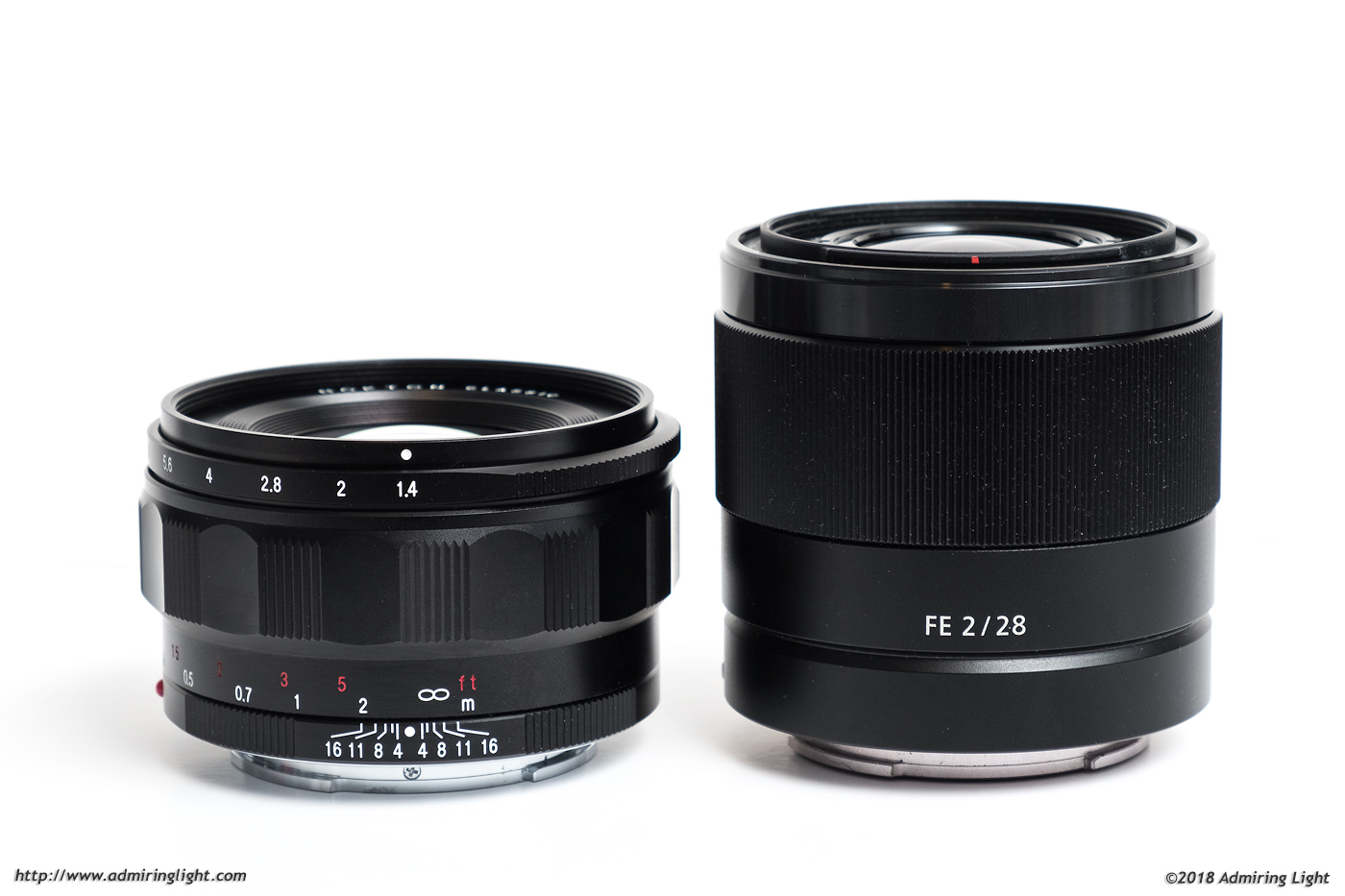 The lens is an all-manual affair, with manual focus and aperture control, but it does have electronics inside, which relay EXIF data including aperture information as well as focus position, which allows Sony's in-body image stabilization to fully operate in all 5 axes with this lens.
The focus ring has a throw of around 120 degrees, with most of the throw covering the closer focus distances, allowing for very precise placement of the focus plane. The focus ring is exceptionally smooth to operate and absolutely perfectly damped. It's one of those focus rings that you just want to twist in your spare time…it's that satisfying. I dare say it's perhaps the best feeling focus ring on any lens I've used, right up there with the old Pentax Takumar lenses, which have always been my personal high-water mark for focus ring feel.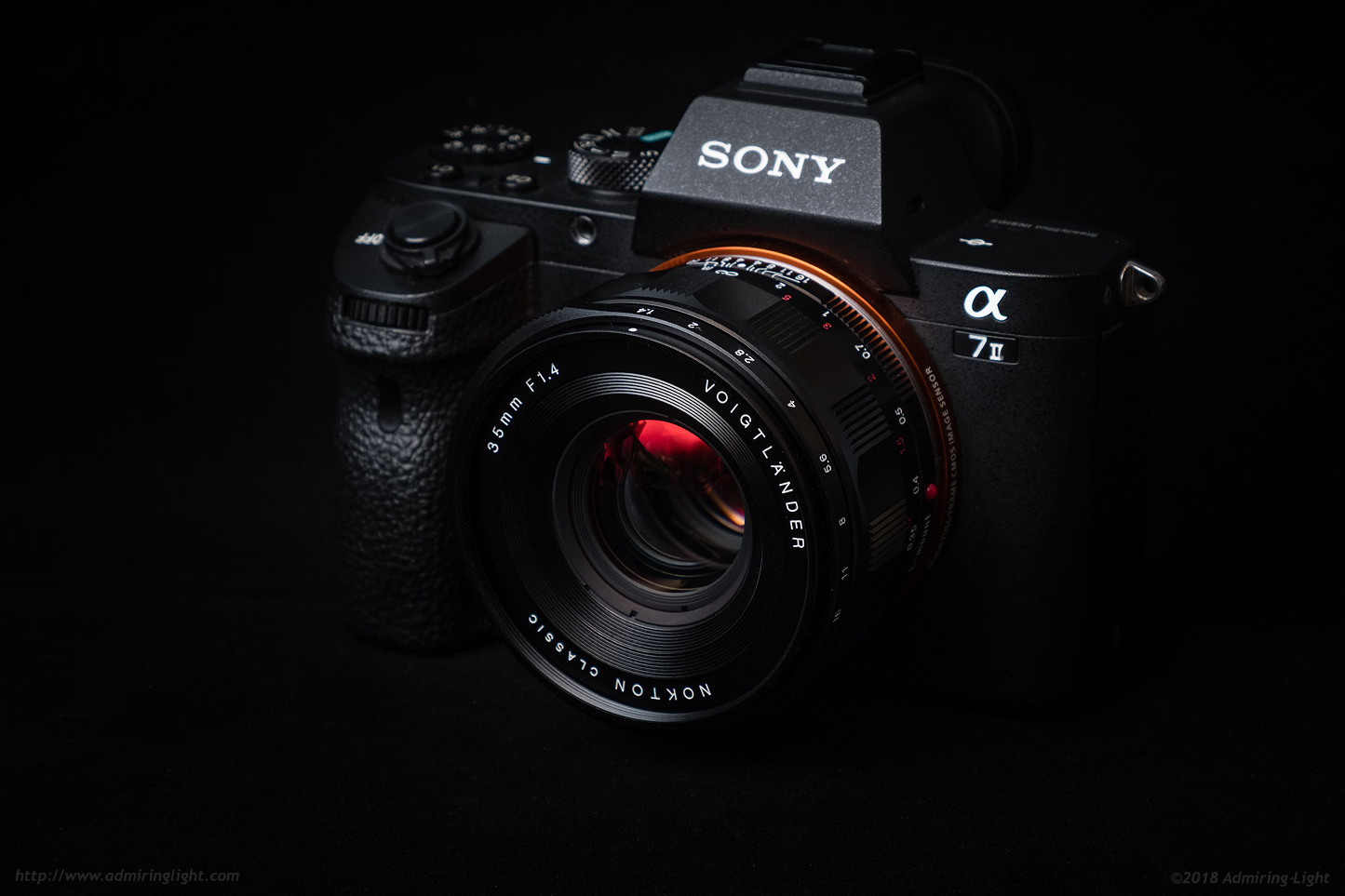 The focus ring transmits that it is moving to the camera, which enables auto-magnification of the selected focus area (provided you have MF Assist set to 'on' in the camera settings), which can ease precision focusing, especially at wide apertures.
The aperture ring's detents are nice and solid, without being difficult to change. It's quite easy to make changes and know exactly how far you've gone. They also resist accidental changing in most situations. In all, the lens feels truly premium.
Next we'll get into the Nokton's optical qualities.