If you've been following my site since around the time I started it up in 2012, you'll know I was a very early adopter of mirrorless cameras. When I first really got into photography around 2004, my first real high end camera was the Canon Digital Rebel – a 6 megapixel DSLR that brought high-end digital imaging to the masses. At that time, the 1Ds Mark II had also just recently been announced, and I lusted over its 16 megapixel full-frame sensor and amazing autofocus.
Year later, after also upgrading to the 30D, I purchased a used 1Ds Mark II and shot with it as my main camera for about a year and a half. It was the last DSLR I ever really shot with, as Micro 4/3 had started to take off a little, and the appeal of my tiny little Olympus E-P1 was strong over the large, bulky 1Ds II. Eventually, I found myself using that 1Ds II less and less before fully committing, selling all my Canon gear at the time and switching full-time to mirrorless, eventually gaining experience with most of the major players in the mirrorless industry, from Micro 4/3, Fuji X, Sony E and Canon RF.
I've long been a staunch proponent of the advantages mirrorless cameras offer over DSLRs. However, there are still some die-hard DSLR users out there, and in discussion with some recently, it was pointed out that my last experience with DSLRs was 13 years ago, and with a camera body that was nearly 20 years old. How could I even speak intelligently about the comparison between the two with such outdated experience with DSLRs?
It was a fair point. I had also been itching to take a look at some Nikon gear, as it's the one company that somehow I had never shot with, and I had always wondered about shooting with some of their excellent DSLRs, and so this discussion gave me the push to dive in. So I assembled a small, competent kit of used Nikon DSLR gear and have been revisiting the DSLR after 13 years of mirrorless use. What I've found through this process has been interesting, with some experiences being better than I expected, many being what I expected, and a few being even worse than I remembered. Let's dive in.
The DSLR Kit
So, when I set out to write this article and embark upon this adventure, I had to decide what to use. As I mentioned, I had settled on Nikon for this experiment. Due to budget constraints but a desire for quality, I limited myself to full-frame DSLRs from the generation prior to the current D6, D850 and D780. This narrowed things down to the D610, D750 and D810. After doing some research, I decided the D750 would be the perfect body as it has a high-end focusing system and it wasn't replaced until 2020. B&H Photo was even selling them new until just a few weeks ago.
While the camera may 9 years old from when it first released, it was a current DSLR as recently as 3.5 years ago. Also, it seems that while some minor improvements have been made to the AF system with the D780, almost all the major changes made from the last generation to the current one involve live view and video. The live view improvements are effectively mirrorless features, and every advantage from live view is inherently an advantage that mirrorless cameras also have.
For lenses, I wanted some glass with decent quality that wouldn't break the bank, and since this was my first foray into Nikon (aside from my Nikon F film body), I wanted to use lenses of all the types that still work seamlessly with their DSLRs. That meant at least one manual focus lens, at least one older AF lens that used the Nikon in-camera screw drive focus motor, and some newer lenses with AF-S . I settled on a rather competent kit of the AF-S 18-35mm f/3.5-4.5G, the AF-S 24-85mm f/3.5-4.5G VR, the AF 35mm f/2D, the AF-S 50mm f/1.8, the AI 135mm f/3.5 and AF 70-210mm f/4-5.6D. This gives me complete coverage from ultra-wide to telephoto, with good quality and low price. By seeking out deals at my local camera stores, MPB and KEH, the entire 6 lens kit and camera body were obtained for less than $1,500 total. I did also purchase an AI-S 180mm f/2.8 ED, which would bring the total to around $1,650, but it was really a lens I purchased outside this experiement for both this kit and to use adapted with all my cameras due to its excellent rendering.
Camera evolution and my initial perception from years of mirrorless use
When I first dumped my 1Ds II and dove into mirrorless, DSLRs still had a lot of major advantages over mirrorless cameras. At that time, there were no full-frame mirrorless bodies, and only a small selection of APS-C bodies. At first, mirrorless had the advantages of live exposure preview and small size. However, continuous autofocus, image quality, burst performance and so on lagged behind their DSLR brethren. EVFs had some nice advantages, but were also fairly low resolution at first, and paled to the clear bright viewfinder a DSLR offered. If you go back and read my early reviews on this site, you'll see a lot of my observations are extremely keen on the small size of everything mirrorless, and I consistently mention how continuous autofocus doesn't hold a candle to DSLRs.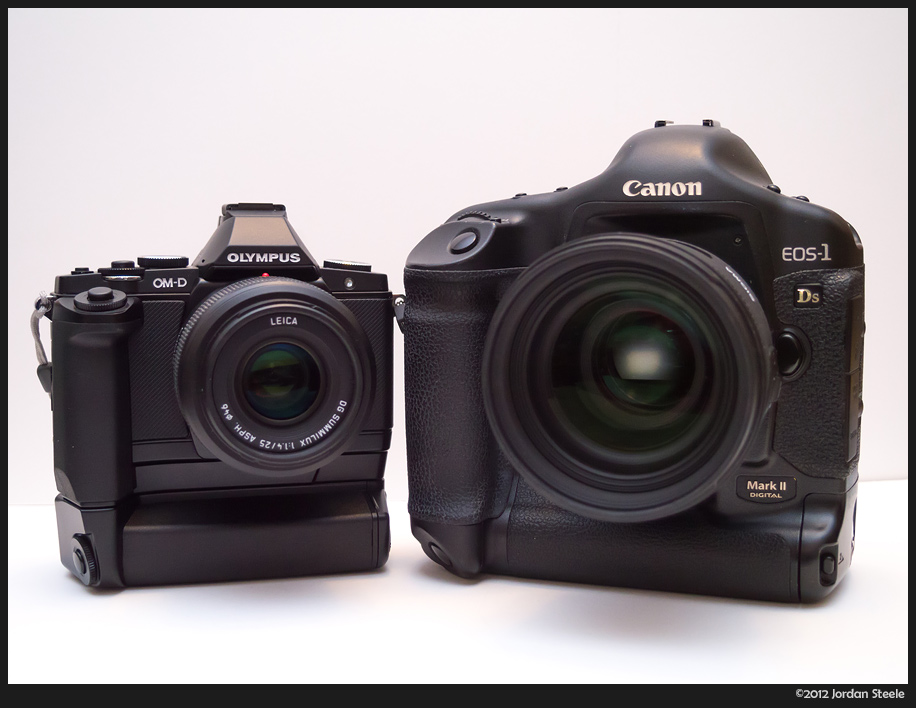 However, I also note one of the things I immediately loved about mirrorless: in single-shot autofocus, the cameras focused exceptionally accurately, with no worries about front or back focus. This has always been a strength. Over the years, camera makers solved a lot of those early autofocus troubles, incorporating phase detect photosites onto the sensor, and continuous AF got better and better. In the last 5 years, the face detect algorithms and other subject detection modes has greatly increased keepers, and have increased continuous focus accuracy to a point I never would have dreamed of on my DSLRs. EVFs have continued to improve and have become incredibly clear. When you add up the advantages and advancements, it was clear to me that mirrorless was superior for nearly everything I cared about.
That is where I was at when I started this experiment. Now that I've shot with the D750 for the past few weeks, have my thoughts changed?
The DSLR Experience in 2023 – Positives
First, let's talk about the positive points of my experience with my Nikon DSLR kit, and any areas where the DSLR still has advantages over mirrorless. We'll get to the disadvantages in the next section.
The viewfinder: in good light, the viewfinder is a joy, with a bright, clear view that allowed me to connect more intimately with the subject than I can with an EVF. While I predominantly shoot inanimate scenes, this is true even when walking around a city and shooting buildings or hiking and shooting landscapes. The optical finder is one of the things that DSLR shooters often cite as one of the big reasons they want to stick with them, and I do understand where they are coming from, because the experience here is quite nice.
Autofocus: As I will discuss later, overall I find modern mirrorless cameras to provide better autofocus capabilities, but the AF system on the D750 is still quite competent. The biggest positive was how incredibly sure the focus was in dim light on low contrast subjects, even with older or slower lenses. It's the one area where things were slightly improved with the DSLR over something like my R5 or R8. AF on moving subjects with a fast focusing lens was also quite accurate, with very good predictive AF that kept the focus on the subject.
Nikon Specific: being able to use lenses as far back as 1977 (when AI lenses were first introduced), over many generations, is fantastic. My AI 135mm f/3.5 was made sometime between 1977 and 1981, and it mounts perfectly. Once I enter the info into the camera, the camera knows the selected aperture values, and can allow for wide open focusing while stopping down during exposure, like any older F mount film camera. Manual focus lenses also have focus confirmation in the viewfinder and recording of EXIF data regarding lens and selected aperture.
Likewise, early Nikon AF lenses that use a screw-drive in the camera also work. When using my 35mm f/2 D or 70-210mm f/4-5.6D, both designs from the mid 90s, the screw-drive autofocus and aperture selection work perfectly. It surprised me how fast autofocus is on these lenses too. It's quite quick.
This generational interoperability is a pretty big selling point, and a lot of this is lost with the Nikon Z mirrorless bodies, as the FTZ adapter loses the aperture indexing for AI/AIS lenses, as well as turns all screw-drive AF lenses into manual focus lenses. While manual focus lenses will require stop down metering on the adapter, the screw drive AF lenses do still retain automatic aperture that can be set in camera, which is nice. Nikon could fix this, though, and release an FTZ adapter with a screw drive AF motor and the aperture sensing mechanism for manual focus glass.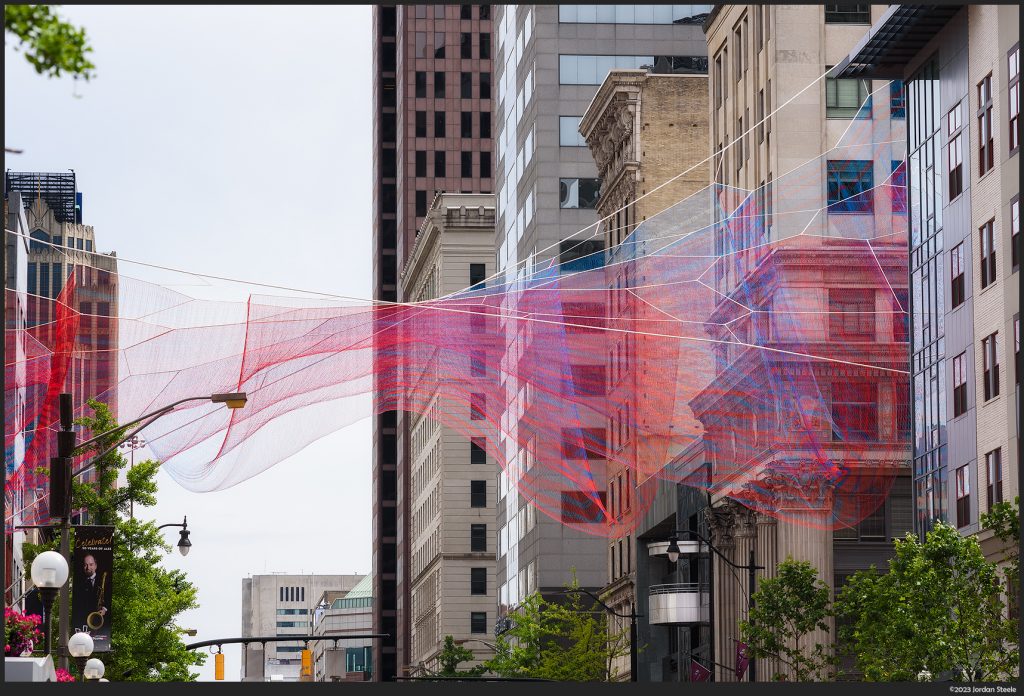 Value: This has really turned out to be the biggest positive overall. Because DSLRs have been fairly mature for some time, finding older, yet still very competent cameras and lenses is much easier than on the mirrorless side, where older less expensive gear often has notable compromises with regards to functionality. The fact I was able to put together a rather competent and versatile 6 lens full-frame DSLR kit with both zooms and primes, for under $1500, is very exciting. There are even some crazy used prices on seriously good glass too. For instance, the AF-S 70-200mm f/4G VR, which is a reasonably recent lens with excellent optics by all accounts, can be had for as little as $380 from major used retailers, with excellent copies going for around $450.
I'm going to go into the negatives now, but let me say one big thing: I've really enjoyed shooting with the D750. I like shooting with it a fair bit more than I expected to. It's a quality camera body with good ergonomics, once I got things set up to my liking and got comfortable with Nikon's brand specific quirks. Eventually it sort of melted into the background, save for a couple of the stickier points I'll mention in the negatives section. This allowed me to focus on the photography and enjoy the process. The D750 (and I'm sure any modern DSLR) is an extremely capable tool, with excellent quality, and can be used to get amazing photos.
The DSLR Experience in 2023 – The Negatives.
While there are certainly some nice things about shooting with DSLRs, this experience has also driven home some of the areas where DSLRs have really started to trail mirrorless cameras technologically.
Let's start with the autofocus. I'm not saying DSLR AF is bad…it's not…it can do a great job tracking motion, and the low contrast subjects I noted earlier are a definite positive, but there are a number of ways mirrorless has caught up and then surpassed what can be currently done in DSLRs. I also want to be specific here: These observations for autofocus are relative to recent Canon and Sony mirrorless cameras (A7 III, A7R IV, R5, R6, R8, etc) as well as the Nikon Z8 and Z9. Having also had recent experience with the Nikon Z5, which uses the older Nikon mirrorless AF system, the older Z cameras don't seem to quite live up to a lot of these points. Luckily, it seems Nikon has figured this out for the Z8 and Z9.
AF Precision: The number one letdown of the D750 over my R5, R8 and previous Sony bodies (and even my older Fujifilm and Micro 4/3 bodies), is focus precision. Can DSLRs focus accurately? Yes. Most of the time. But they are not as quite as consistent, not as precise, and have lens to lens variability. This is especially true when dealing with very shallow depth of field situations.
I had to perform AF micro adjust on three of my five autofocus lenses in order to correct for various degrees of backfocus. Once that was ironed out (which was a pain), focus was generally accurate and reliable. But it would miss occasionally, in situations where I wasn't used to my mirrorless cameras missing. Often, these were only slight misses, where the focus point was only a little bit in front of or behind the intended target, and others were a bit more egregious. For the record, this wasn't a crazy percentage of out of focus shots or anything: maybe 3-5% of shots in static situations. But compare that to the 'essentially never' of my R5 and R8, and it stands out. What I found myself doing was reverting to old behaviors I'd forgotten, including an increase in chimping to ensure that I had at least one shot of a certain framing in perfect focus. I haven't done that for years.
An example is the shot above, which I simply could not get the camera to focus on the right spot using the standard PDAF focusing…it always wanted to grab a part of the water behind the plants, or the rear-most plant. After four failed shots, switching to live view allowed me to get the shot.
Lack of subject and eye detection: I would imagine most people still arguing for DSLR autofocus over mirrorless haven't had a lot of experience in using more recent mirrorless cameras. This is because the precision of full sensor width Eye-AF and subject tracking is just a game changer compared to what a DSLR can do. The D750 has a fairly sophisticated AF system, and even has 3D tracking capabilities and some level of face detection using the high resolution metering sensor…and it works (kind of)! But it doesn't match the absolute crazy precision of recent mirrorless cameras. The D750 would generally focus on a person that happened to be in the AF point array…but that's where the precision ended. It would get focus on the face, or on a subject, but certainly wasn't finding eyes with supreme regularity, which is really where the focus needs to be nailed with precision. Also, because the AF points often don't cover many framings that you'd use for portraiture, composition is compromised.
The below shot was taken with my Canon R8, and would be a significant challenge for a DSLR. This was my son running towards me, and I was shooting with the 85mm f/1.2L at f/1.2 – exceptionally shallow depth of field here. Also, I was tracking him to keep his upper body in frame. At this positioning, the D750's focus points wouldn't be able to reach his eyes, and the ultra-shallow depth of field would pose issues with the precision needed. But with the excellent tracking and eye detection from the R8, the shot below is in absolutely perfect focus on the eyes of the subject.
Single point AF on the D750 is good, especially with the central cross-type AF points, but also requires constantly moving AF points around the frame, or using focus and recompose. This still lacked the precision to put focus on the iris of an eye with any sort of real consistency in a shallow depth of field situation, and accuracy is less consistent with the non cross-type AF points at the periphery. Compare this to a recent event I shot using my R5 and the RF 50mm f/1.2L and RF 85mm f/1.2L. Even with moving people, indoors, with exceptionally shallow depth of field, nearly every shot I took in a two hour event was in dead-on perfect focus on the nearest eye of the subject.
Full sensor focusing: The focus points of any DSLR are clustered around the center of the image frame. This is especially bad on full-frame DSLRs, as the AF sensor sits below the mirror box, and the size is somewhat limited by the mirror box depth. The 51 AF points of the D750 are clustered in an area taking up residence in the center of the frame. This area looks like reasonably decent coverage, and it is for a full-frame DSLR:
But how much area does that actually cover? Well, first you can disregard the lines surrounding the points. These denote the matrix metering area, and not focus points. If you move the focus points into a corner, you can see just how small an area this AF system covers…and it's one of the better DSLR systems for coverage! It amounts to just 15% of the area of the frame. Some higher end newer DSLRs do have a little more coverage than this, but even the dense D6 covers just 22% of the frame.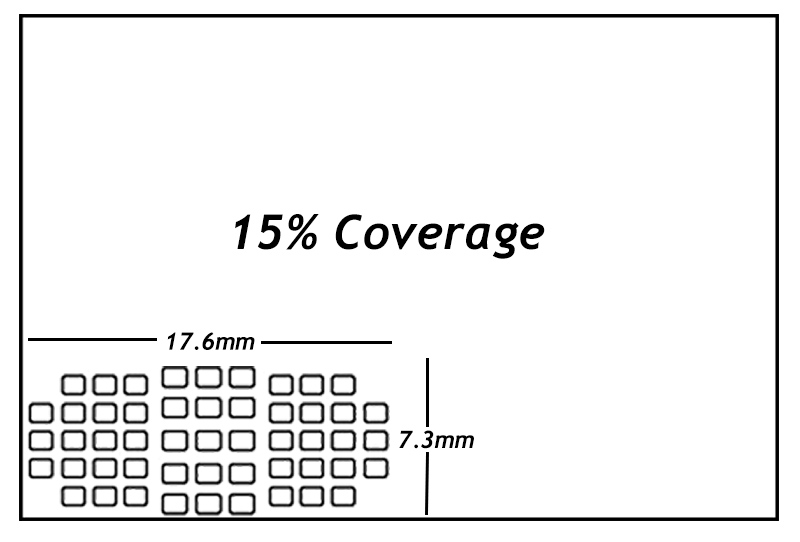 Meanwhile, modern mirrorless cameras can autofocus over the entire sensor, allowing you to place a focus point anywhere. In shooting with the D750, I found myself regularly wanting to focus outside the focus point coverage area, as the AF points never even reach the corners of the rule of thirds. This means focus and recompose, an inherently inaccurate method that, again, limits precision of focus. Mirrorless cameras' 100% coverage also means that any AF tracking algorithms also work across the entire sensor, massively increasing compositional flexibility when shooting action or portraiture, and ensuring that focus is maintained even if the subject moves rapidly in frame.
Viewfinder: But wait, you said the viewfinder was a positive! Yes, I did. When shooting in good light. And that's the only time the OVF is better in my opinion. In every other situation, and in every other way, modern EVFs are superior. First, DSLRs lack any sort of real-time exposure preview, which is simply a huge advantage of EVFs. An EVF makes it super fast and easy to make quick exposure adjustments, whether from the visible change in brightness, or having a live histogram superimposed in the frame. I had several instances where I had increased exposure compensation due to light colored subjects, and forgotten when switching to subjects in shadow, or with dark coloring, until checking the images a bit later and seeing them overexposed. Sure, this was ultimately due to carelessness on my part, but this process does slow you down in comparison to shooting with a mirrorless body.
Second, the view is significantly brighter and clearer on a mirrorless body when shooting in any sort of dim light, or with a slow lens. I had forgotten just how much dimmer the viewfinder gets on a DSLR when shooting with any lens slower than about f/2. The view through either of my f/3.5-4.5 lenses is quite dim indoors, and can even make it difficult to see where the selected focus point is.
I was curious as to how much of a difference it was between the D750 viewfinder and my R5's EVF, so I set up a test using the same lens. I mounted the AI 135mm f/3.5 to my R5 and set it on a tripod, focusing on some Lego characters in my study, which has moderate to low interior lighting. I then set my phone to manual exposure (using the Halide app), and dialed in the exposure to photograph what can be seen in the viewfinder. I then swapped to the D750, mounted the 135mm f/3.5, focused and then photographed the viewfinder with the same exposure settings. Well, I tried, but honestly, I couldn't find the image on screen, because it was so much darker. I had to tap and do auto exposure, take the image, lock focus, then re-set the exposure to the same as for the R5 to photograph it. The results are below.

From left to right, we have the R5's EVF (taken at f/1.78, 1/125s, ISO 100), the D750's viewfinder (f/1.78, 1/125s, ISO 100), and then the exposure adjusted image of the D750's viewfinder (taken at f/1.78, 1/20s, ISO 2500). Size is the same as well, noting the R5's larger magnification. Looking at the exposure parameters, the R5's finder is at least 7 stops brighter than the D750's indoors with an f/3.5 lens. Seven stops difference in brightness is simply massive, and it is clearly felt when shooting in dim lighting.
One other point regarding the viewfinder and focus. The D750's focus screen is actually quite good for manual focus. I find it better than the Canon DSLRs I owned in the past, and the camera even has focus confirmation. I was able to manually focus lenses in good light fairly accurately. However, it still pales in comparison to manual focus on mirrorless, which not only has excellent aids like focus peaking, but quick magnification in the viewfinder, which allows for pinpoint focus accuracy with manual lenses.
Mirror Slap: Here's something I haven't thought about in years, but it reared its ugly head when shooting with the D750. Mirror slap: induced vibrations that cause blur due to the impact of the mirror when flipping out of the way to make the image. Mirrorless cameras can experience a similar phenomenon with shutter shock on a fully mechanical shutter, but most mirrorless cameras today have an option for electronic first curtain shutter or electronic shutter, which eliminate that problem entirely. On a DSLR, you can use mirror lockup, and on the D750, there is an Exposure Delay mode, which is basically automated mirror lockup with a self timer (set to 1-3 seconds, and the mirror comes up when pressing the shutter, but the shutter isn't released until the designated time). I used this mode for any tripod mounted work, but it's fairly impractical for hand-held shooting since you lose the ability to see through the viewfinder.
My first outing with the 24-85mm f/3.5-4.5 VR was in early evening light, and I was often shooting around 1/40-1/80s, which is exactly the shutter speed range on this camera with this lens that is most susceptible to mirror slap. As a result, quite a few shots from that outing have visible softness from mirror slap. The shot above was taken at 85mm and 1/60s. With VR, and braced against a railing, this shutter speed is easily fast enough to avoid hand shake. And the web-reduced size looks fine. But zoom into 100%, and you can clearly see softness from the mirror vibration. (Click the image below to enlarge).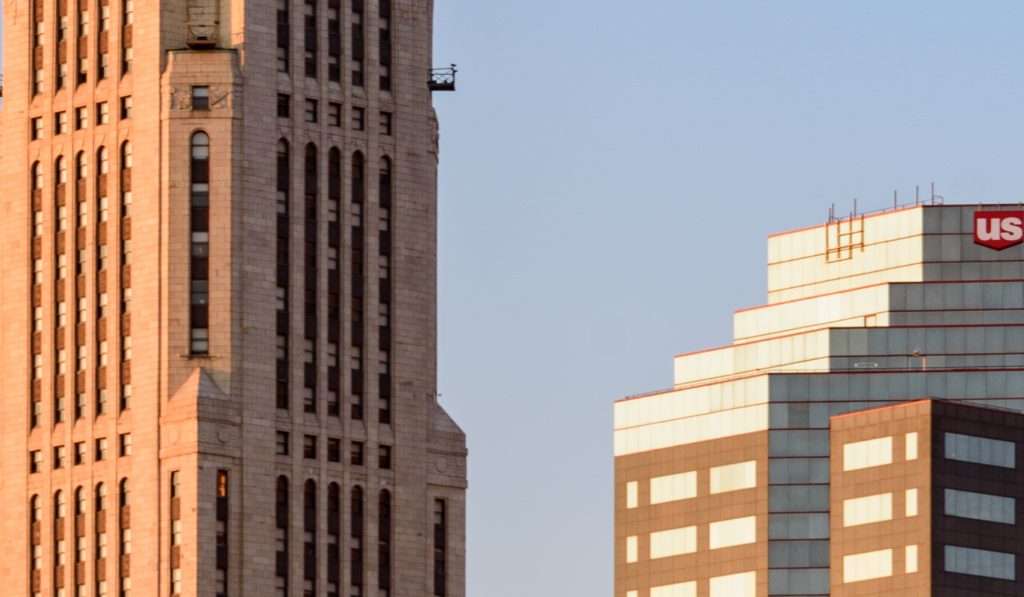 Performance: While this is not purely a DSLR thing, it IS a DSLR thing for any non-flagship camera. Burst performance on the D750 lags considerably behind any modern mid-range mirrorless body. DSLRs are somewhat limited in max burst rate because of the flapping mirror, which takes time and mechanical strength to reach crazy burst rates. Top end pro cameras like the Nikon D6 or Canon 1DX III have managed to eke out up to 15 frames per second with the mirror, but in the non-gripped lower end range, it is far lower. The D750 tops out at 6.5 frames per second, while the D850, D780 and Canon 5D IV all top out at 7 frames per second. Meanwhile, mid-range mirrorless cameras regularly go up to 12 frames per second with mechanical shutter, and those with faster readout or stacked sensors can shoot 20 to 40 frames per second with electronic shutter. Some DSLRs can also shoot that fast with electronic shutter…but again, only in live view where they are effectively a mirrorless camera.
Final Thoughts
So, after 1,300 photos and a month of shooting with the D750, have my thoughts about DSLRs vs. Mirrorless changed? Yes. And no. First the no: I do still very much believe modern mirrorless cameras have the best overall toolset and capabilities for photographers. The improvements in autofocus tracking, precision, viewfinder information and capabilities, and performance are all tangible improvements. In day-to-day operation, I still prefer shooting with my mirrorless gear by a fairly good margin, as the advantages simply remove a lot of the small headaches that are still present with DSLRs.
But I did change my thoughts about one thing, and a lot of that centers around value. One of the discussions that kickstarted this project was a discussion about a photographer wanting to dive into serious photography and purchase a competent kit for a lower end budget. My initial thought was that it made no sense whatsoever to pick up a DSLR kit when you can get a good mirrorless kit, and then have a more futureproof setup. I think for anyone who is really looking to dive in deep, that's still by far the best suggestion. But for those who aren't going to be upgrading gear regularly, it is incredibly hard to ignore the exceptional value offered by looking at the used DSLR market.
The kit I assembled for $1,440 is not going to match an equivalent modern mirrorless kit with top end glass, but it IS still a very competent kit for a wide variety of shooting situations, and it is absolutely dirt cheap in comparison. I don't think I'd recommend picking up a budget APS-C DSLR system for anyone, because the value proposition just isn't there in my opinion. But going for older used higher-end bodies makes a lot of sense for a lot of people.
Overall, my Nikon DSLR kit is not going to be replacing my Canon mirrorless kit, but I did enjoy shooting with it quite a bit, and it is certainly still a capable tool for a wide variety of shooting situations, even in 2023.
If you're interested in my thoughts on the Nikon gear I used, head over to the next page, where I've compiled some mini-reviews of the camera and each of the lenses.