One of the quieter announcements from Samyang last month (whose lenses are marketed around the world under the Rokinon, Bower, Walimex and other brand names) was an update to their 8mm fisheye lens for mirrorless cameras.  I've owned the original 8mm f/2.8 fisheye for Fuji X mount for around a year, and I reviewed it last year.  Despite the understated announcement, version II of the Samyang 8mm f/2.8 fisheye is not a minor revision of the lens, but a completely new optical design with the same specs.  The new lens has one more element, but also features two aspherical elements and three extra-low-dispersion elements, compared to the one aspherical and two ED elements in the original design.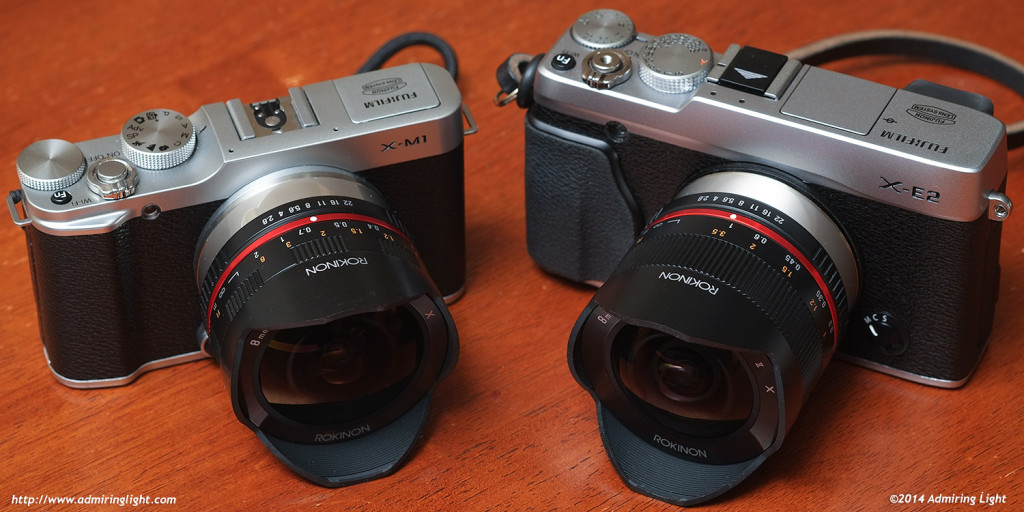 Well, today I received a copy of this new version of the 8mm f/2.8, and it is apparent immediately that the lens has been updated.  The new version is slightly longer and heavier (though still quite small), while sporting a more modern looking manual focus ring.  The focus ring is very well damped and the aperture ring features nice solid click stops every half stop. Looking at the rear of each lens shows you that this wasn't a minor optical update.  The rear element on the Version II lens is significantly larger than the original.
I've only had a chance to put a handful of images through the new lens so far, but at first blush, it appears to be slightly sharper than the first version, producing very crisp images into the corners stopped down a bit.  Chromatic aberration is quite low.  I haven't had a chance to see if the new design resists flare any better than the old one.  The new design still has the relatively long minimum focus distance of 0.3m, but otherwise, they seem to have addressed the few minor issues with the original.  One minor note is that the original version is very, very slightly wider than the new Version II (we're talking about maybe 1 degree….you'd only ever notice it in direct comparison on a tripod).
I'll be writing a full review of this new fisheye in the coming weeks.  The Samyang (Rokinon) 8mm f/2.8 fisheye is available for APS-C mirrorless cameras in Fuji X-mount, Sony E-mount, Canon M-mount and Samsung NX-mount for $349.
Here are a few images from around town today: