Wow.  Photokina kicked off this week, and as one of the biggest (if not THE biggest) photography trade shows, it also sees a ton of announcements.  I wanted to get to these earlier, but it's been crazy busy around here.  For Micro 4/3 users, Monday saw the announced release of no less than three new bodies and three and a half new lenses (I'll talk about the half in a bit), plus the 'pre-announcement' of three additional lenses from Olympus and Panasonic.  In addition, Schneider announced two new autofocus high end m4/3 lenses as well.  There's a lot to cover, so let's get right into it!
Panasonic Lumix DMC-GH3
Perhaps the most awaited camera announcement of the bunch is the new Panasonic GH3.  It's been nearly two years since the GH2 came in and really bumped Micro 4/3 up a notch.  In fact, it was that camera that finally reached a level that convinced me to completely get away from my Canon full frame gear.
With the GH3, Panasonic is positioning it as a pro-grade camera.  The body is larger than the GH2, now coming in at similar sizes to some APS-C DSLRs.  It's got a magnesium alloy body that is weathersealed against dust and moisture.  They've made some significant changes to the external controls by adding a front control dial to the rear dial found on the GH2, as well as many dedicated buttons and FIVE programmable function buttons.  Needless to say, the GH3 looks to be great for direct control.
Panasonic has added a bunch of other features, such as a PC socket, a standard 3.5mm mic jack and they've upgraded both the viewfinder and the rear screen.  The viewfinder is now a 1.7 million dot affair with extremely quick readout (Panasonic says 8x that of the GH2).  This has the potential to be a viewfinder that really rivals an OVF as far as refresh goes, and the resolution should make it look great.  The rear screen is now a 640k OLED screen, so colors should be richer than the older screens found on earlier G series cameras.
Panasonic has really targeted video users with this release, upping the native bit rate to an astonishing 80 Mbps in 30p or 24p mode, which is as good as the Canon 5D Mark III and should give exceptionally high quality video, suitable for use for professional videographers.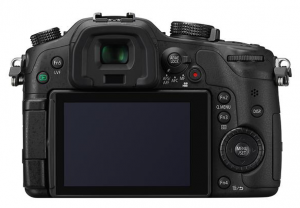 On the stills side, we'll have to see how the new sensor compares to other Panasonic sensors.  It remains to be seen if it can match the excellent Olympus E-M5 sensor in overall image quality.  Then again, it's got the exact same pixel resolution as the E-M5, so there may be the possibility it's the same Sony sensor.
So…what do I think?  Well, it's exciting to see Panasonic step up their game.  The G5 has become quite a nice camera in its own right, and keeps the smaller form factor of the older G and GH series, so I don't have an issue with the larger size, though it might put some people off.
It is really refreshing to see Panasonic catering to the high end of the market.  The new camera looks robust and, more importantly, instead of dumbing down the interface, they've refined it for even greater direct control, which is a wonderful thing.  Like the Olympus OM-D, Panasonic is also offering a nice vertical grip for the GH3.  For those who find the bodies of Micro 4/3 cameras too small, this camera may perfectly fit the bill.
For the video lovers, they'll be going nuts for this camera.  The GH2 already had some of the very best video quality available without spending tens of thousands of professional camcorders.  The GH3 seems to up that considerably.  I only hope that the Stills portion is every bit as good.  I'll be looking forward to the GH3.
 Olympus E-PL5 and E-PM2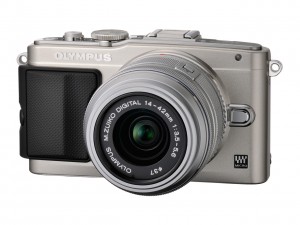 Olympus also announced some new cameras this week.  While the two bodies announced, the E-PL5 and E-PM2, haven't been highly desired for years, they do gain the one huge thing that Olympus Pen fans have been clamoring for: a new sensor.  Specifically, the new cameras both contain the same outstanding sensor found in the flagship OM-D E-M5.  This 16 megapixel sensor is significantly better in handling high ISO noise, and the dynamic range is dramatically improved over the aging 12MP sensor that has been in every Pen until now.
There isn't a whole lot more that is new aside from the sensor. There have been some software tweaks, and the E-PL5's tilt screen can now flip up 170 degrees to allow for self portraits, but otherwise, they are quite similar to their predecessors.  However, having the outstanding E-M5 sensor in these tiny bodies is a big deal.
Next: Lenses!