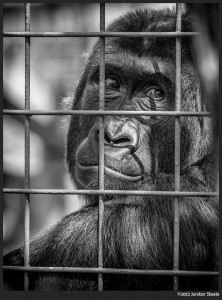 I took a trip to the Columbus Zoo with my daughter today.  It was a beautiful day in Central Ohio, and I had a wonderful time with her, and enjoying photographing the animals.  I brought my trusty (but heavy) Canon FD 50-300mm f/4.5L lens on my GH2.  With the 2x crop factor of micro 4/3, this lens gives the equivalent field of view of a 100-600mm lens on full frame.  Frankly, it's the perfect zoom lens.  Great range, relatively fast constant aperture, and a wonderful optic.  Of course, manual focus is needed for this lens.
Anyway, had a nice day, visiting a good portion of the zoo.  We are members, so I've seen most everything there many many times, but I always get some new shots.  Today, I had a moment of sadness looking at the Gorillas.  (see shot at left – click to enlarge).  One gorilla was outside, pressed up against the fence and looking extremely sad.  Made me thing whether or not we should be having these close relatives of ours in captivity.  I love seeing them, but you can't deny the emotion in a shot such as that.
Anyway, enjoy the photos.