I just received a copy of the HandeVision Ibelux 40mm f/0.85.  This is the fastest lens in production for any system right now, and is available for most of the mirrorless mounts.  This is simply a first impressions post, from a bit of shooting today.  My full review will come sometime in the next week or so, once I've really had a chance to put it through its paces.  I have a Sony E-Mount version of the lens, so the conclusions should hold for all the APS-C versions.
Build and Feel
The first thing you need to know about the Ibelux 40mm f/0.85, aside from the fact that it's a blazingly fast lens, is that it is an absolutely enormous lens.  The lens is slightly longer than the already not-so-small Sony 18-105mm f/4, and it weighs over two and a half pounds.  Yes, it's the same weight as a 300mm f/4 for SLRs.  When placed on the small Sony E-Mount bodies, it simply dwarfs them. It also lacks a tripod collar, and given the extreme weight vs. the small body, I don't really trust the mount to hold the lens when tripod mounted.  It is extremely heavy and unwieldy.
That said, it's built of solid metal and glass and generally feels nicely constructed, though I feel the operation of the aperture and focus rings to be mediocre at best.  The aperture ring has nice clicks, but they only feature full stop increments.  For a $2,100 lens released in 2014, full stop increments is a bit of an insult to be honest.  The focus ring is broad and has a nice long throw, but is not damped at all…it just spins freely.  This does make it easy to focus, but it also makes it very easy to inadvertently move the focus ring once you've acquired focus.
Let's talk a bit about that f/0.85 aperture.  This is exactly half a stop faster than an f/1.0 lens, which puts it in extremely rarified air.  However, due to pixel shading (where the pixel micro lenses themselves actually form a secondary aperture), exposure-wise, you won't get all of that speed.  Looking at some of my test images, the lens tops out on the Sony a6000 with exposure like an f/1-f/1.1 lens.  You'll still get the depth of field of the full f/0.85 aperture (which is similar to a 60mm f/1.2 lens on full frame), but you won't get more than about 2/3 stop advantage over an f/1.4 lens with regards to exposure.
Addressing size, weight and price
One of the big concerns many people, including myself, have with the Ibelux is its extreme size coupled with a very hefty pricetag.  While f/0.85 is extremely rare, with the advent of the Metabones Speedbooster and similar focal reducers, APS-C shooters can get very similar focal lengths and depth of field for a fraction of the cost.  I have an old Canon FL 55mm f/1.2, which cost me about $230.  I also have a Metabones Speedbooster, which costs $400.  This combination results in a 39mm f/0.9 (the speedbooster is limited to f/0.9), at a total cost of $630, and the combination is half the length and half the weight of the Ibelux.  While I haven't done a bunch of controlled tests yet, early comparisons I've done between the two show the 55+SpeedBooster combo to have higher contrast, less spherical aberration and similar sharpness to the Ibelux, though the Ibelux has a smoother bokeh.  I'll try to do some more controlled comparisons later. Edit: full comparison here.
Image Quality First Impressions
My first impressions of the Ibelux are that overall it produces a very pleasing and unique rendering wide open, though some of this is due to some really hefty spherical aberrations, longitudinal CA and heavy vignetting.  Central sharpness is quite good, with very nice resolution in the center, and even OK detail out a bit towards the edges.  However, when stopping down to smaller apertures, while the central 2/3 of the frame gets very sharp, the far edges and corners never get sharp, and indeed stay rather soft.  That's quite disappointing for a $2,000+ optic.  However, the overall look is very unique and pleasing.  I'll be looking forward to putting the lens through a lot more situations and lighting conditions as the week goes by.
Odd Banding with the a6000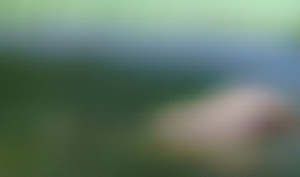 One very odd thing that I feel I must mention (and I hope Sony is listening), is that this lens has exposed a weakness in the a6000's sensor:  Ultra-fast glass induces banding.  I'm not sure exactly why, but it is very clear.  When shooting this lens at f/0.85 or f/1.0, in ANY lighting condition, out of focus areas have fine regular lines through them.  This banding is even visible in the live view preview when you magnify for focusing.  Stopping down to f/1.4 eliminates it almost completely, and by f/2.0 it's completely gone.  Again, this is in EVERY shot at f/0.85 and f/1.0, regardless of exposure or lighting conditions, as long as there is some out of focus area.  At first I thought my sensor was on the fritz, but as I mentioned, it's completely gone by f/2 (and only noticeable if you really look hard at f/1.4), and never appears with any of my other slower lenses.  This banding is not present at all on my NEX-6, so it's not a lens issue, but a sensor issue.  I don't know what would cause that, but it may be related to PDAF pixels on the smaller pixel pitch of the 24MP sensor.  That is simply a guess, though.  The image up and to the right is a 100% crop of the first sample image, showing the banding that I'm seeing (click to enlarge).
I was able to eliminate the banding mostly by using the banding correction in Topaz Denoise.  The web size samples below with the a6000 at f/0.85 have all had this performed before resize (otherwise it's quite visible in the resized image).
Check out my comparison between the 40mm f/0.85 and the Canon FL 55mm f/1.2 + Speed Booster, which you can find here. Please stay tuned for my full review, which I hope to have complete sometime next week. edit: my full review is now complete.
Now, for a few samples: (click to enlarge)