Samsung has made a few waves in the mirrorless world with the introduction of their new flagship NX1 camera. This SLR-styled machine is aimed at action shooters with fast focusing and extremely fast 15 frame per second burst mode while tracking focus. I spent about 40 minutes with the NX1 today, so here are my first hands-on impressions.
The first thing you notice about the camera is that it's very much in the style of the Panasonic GH3 and GH4, as the NX1 is an SLR-Styled camera that is almost the size of a standard SLR. The grip is large and feels fantastic in the hand. The camera is just small enough that my pinky is on the borderline of staying on the grip or sliding under, but overall it felt great in the hand.
The controls are fairly well laid out, with two main command dials accessible by your index finger and thumb, a standard mode dial on top and a sort of 'hub' of controls on the top left. This includes a drive dial with a push button lock that must be depressed to change drive modes. This dial has great clicks and a bevy of selectable modes, but the manner in which one must depress the button and turn it is a bit fiddly. It's something I'd imagine you get used to after shooting with the camera for a while. On top of this dial sit four buttons controlling AF, ISO, metering and white balance.
There is a four-way control dial and several more buttons on the rear of the camera. While the camera can be programmed to set any number of functions to your liking, I was unable to find a way to control exposure compensation using the rear dial in any of the priority modes. In aperture priority, both dials control aperture, while EC is accessed by holding the EC button and adjusting one of the dials. I'm hoping it's simply a setting I couldn't find, though the Samsung representatives also had difficulty finding a way to switch this functionality.
The EVF in the NX1 looks great. It's bright, has excellent contrast and is very clear. Repsonse time in decent light is outstanding, with very low lag. In dimmer light, the EVF does slow down its refresh a bit, so there can be some lag present there, but the viewfinder maintains good clarity in darker environments.
Autofocus seemed very quick to me (using the new 16-50mm f/2-2.8 zoom) in good light, and passable in dimmer light, though it does slow down a bit in darker environments. The setup they had for testing the NX1 was a model on a swing, and it performed fairly well. The NX1 can track while rattling off a crazy fast burst of 15 frames per second. When I shot with the 50-150mm f/2.8 Samsung lens (which is small for the range and very well-built, by the way), the camera was able to get about 50% in perfect focus on the swing (which even then is 7 frames per second sharp).  Now, that's not an amazing hit rate, but it's not bad for the changing acceleration on a swing…and indeed a bit better than many other cameras I've tried.  Of course, I'd need far more testing and the ability to actually review the images on a computer to ultimately judge image quality
The 15 fps burst mode is quite impressive. When shooting in JPEG mode, the NX1 can rattle off 70 frames at that ultra-high speed burst rate, and over 20 frames in RAW mode. When the buffer fills in JPEG mode, the camera will keep shooting at a lowered burst rate of about 3-4 frames per second.  In RAW, that continued burst is about 1.5 frames per second.
I had a bizarre experience with the buffer flushing, however.  The first NX1 I tried was horrifically slow at clearing the buffer.  As in, after I stopped shooting for 10-15 seconds, I could only shoot 2 frames before it filled again.  That's really bad.  I have to just think the memory card was bad or very slow, because when I tried it later in the day (to get a timing on the slow buffer, ironically), it was very fast to clear.  VERY fast.  So, I have to chalk up that initial experience to something off with the card.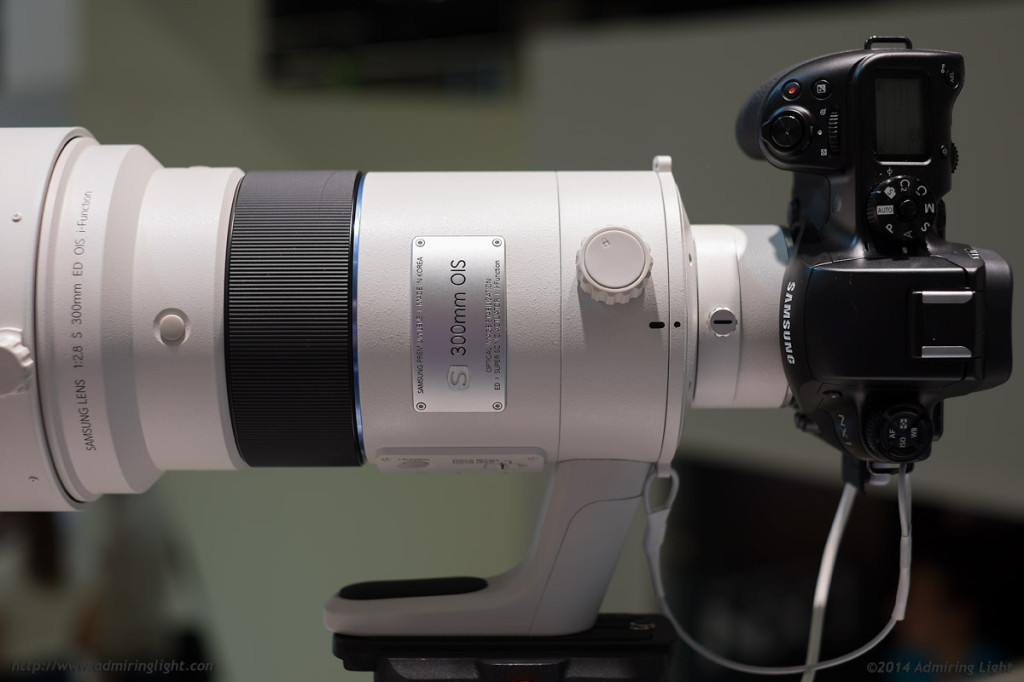 The NX1 also shoots 4K video.  While I didn't get to put it through the paces with regards to video (and, as I note in my reviews, I'm not the guy to talk about that anyway), they had some sample footage up on one of the Samsung curved 4K TVs.  The footage looked quite impressive, though there was a bit of oversharpening.  Still, the well-lit scenes looked fantastic.  The high ISO scenes looked fairly good with regards to tonal range, though it was rather obvious there's heavy noise reduction going on, as fine detail is gone at high ISO, at least in the sample footage.
While there are some quirks, the NX1 seems to be a very impressive camera body. Samsung is fairly new to the camera industry, but they've built a nice and somewhat impressive lens lineup and the NX1 seems positioned to leverage that lineup for great results. I look forward to reviewing the NX1 in the coming months.