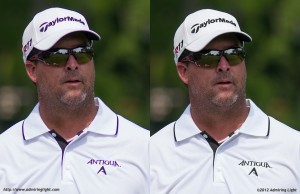 Lightroom has been getting more and more powerful.  Lightroom 4.0 was just released a few months ago, and Adobe is nearly ready to push out the 4.1 update, which will be free to all Lightroom 4 owners.  Usually these incremental updates contain new camera profiles, some bug fixes and a perhaps a tweak here and there. It's not all that common for a major feature to be included, especially so early in the game.  My guess is that the goal was for this to make it into Lightroom 4, but they just hadn't gotten it working properly yet.  The big feature of Lightroom 4.1 is an overhaul to the Defringing control.
If you use older lenses on your camera, or even modern lenses with less than perfect corrections, you'll run into the dreaded purple fringing…a purple halo around very high contrast edges.  It's most apparent on fast lenses that don't use special glass, such as ultra high refraction glass or fluorite.  I see it most on my non-L fast Canon FD lenses from the 80s, where high image definition is possible, but so is extreme fringing.
In addition to purple fringing, chromatic aberrations have been an issue for all sorts of lenses.  Lateral chromatic aberrations (LaCA) appear as blue, yellow, cyan or magenta fringes, most prominent at the edges of the frame.  Software has been able to largely correct LaCA for a long time.  In fact, Lightroom 4 even did away with its sliders, having improved the tool to where just a single click can correct all LaCA.  However, Longitudinal CA (LoCA), which appears as a red fringe in areas in front of the point of focus, and as a green fringe in areas behind the point of focus, has been very difficult, if not impossible to correct.
With Lightroom 4.1, Adobe has managed to provide tools that can essentially eliminate BOTH phenomena in most pictures that exhibit it.  There are two sliders, one for purple fringing, one for green fringing (the purple can eliminate the reddish foreground fringe).  You click the eyedropper, click the fringe, and it's gone!  In some cases, a tweak to the range of tones affected by the fringe is necessary, but it works, and it works pretty well.
Click on the image at the beginning of this post to see how it handles a very typical purple fringing situation.  This shot was taken with my GH2 and FD 135mm f/2.  It had bright purple fringing around the white areas that was completely eliminated in a single click in this instance.

On the shot to the right, you see an EXTREME example of purple fringing.  In this case, the single click wasn't enough…I had to tweak the purple range as well as desaturate some of the blues, as the fringing was so severe that the defringe caused a little bit of a blue fringe in its wake.  Still, the final result is a fringe free image…pretty impressive.
It does have some quirks, and on really extreme fringes, you can get some issues.  Luckily, the defringe control has also made it into the brushes dialog, so you can remove the defringe effect from areas where it messes up.  Also, since you can tweak the tones, you can perfect the correction when the eyedropper doesn't get it all.  I've tried it on a number of photos, and it does a fantastic job.  It was even able to eliminate the horrible cyan fringe I was getting with my Hexanon 57mm f/1.2 in the background.
To see how it deals with Longitudinal CA, take a look at the example below.  This is a shot of Davis Love III chipping out of a bunker, and while not horrible, when you look at the sand and ball in front of the focus point, you'll see a magenta fringe, and looking at the man behind the shot, you'll see he's got a nice green fringe.  Two clicks, and it's gone.  Click to enlarge on the crops to see the full size.
While in the past, I've done defringing control by desaturating purples, the new tool works MUCH better, leaving a cleaner final appearance, rather than a grey outline like the desaturation left.  It also does a really nice job on green rings in bokeh due to Longitudinal CA.
If you want Lightroom 4.1 now, you can download the second release candidate here, from Adobe Labs.