Traveling to New Mexico for work has its advantages. While I came to Albuquerque for non-photography work, I luckily have the chance to shoot when I'm not doing my regular work related tasks.   I'll be doing a photo diary as I process the images from this trip, and will post the results for you to enjoy!
Day 1 – Petroglyph National Monument and the Ojito Wilderness
Day 1 I arrived shortly after noon, settled into my hotel and then went out for the rest of the day to shoot.  I started at the somewhat interesting Petroglyph National Monument.  It's a range of volcanic rock on the outskirts of Albuquerque, where Native Americans had created drawings on the rocks that have since become petrified and permanent additions to the rock.  I stopped at Boca Negra Canyon for my quick visit, which allows you to climb a hill on a tightly winding path that passes many of the petroglyphs.  It's a very interesting (though short) hike.  Due to the ground color and the featureless sky this day, I knew I wanted to shoot the majority of my photos this day with an eye towards black and white conversion.  The photo on the left shows a petroglyph and a view of Albuquerque below the hill.  I then made my way back to the car and headed to the Ojito Wilderness.
The Ojito Wilderness is an area of rugged terrain about an hour northwest of Albuquerque.  To get back into it, I had to drive several miles over an extremely bumpy dirt road, but the trip was worth it.  Great rock formations, twisted trees and the unique landscape of the area made for some great photographic opportunities.  While I didn't get to do the exact hike I was hoping to do because of my failure to find the proper trailhead in time for sunset, I still got many good shots.  Take a look below, images can be clicked to enlarge them.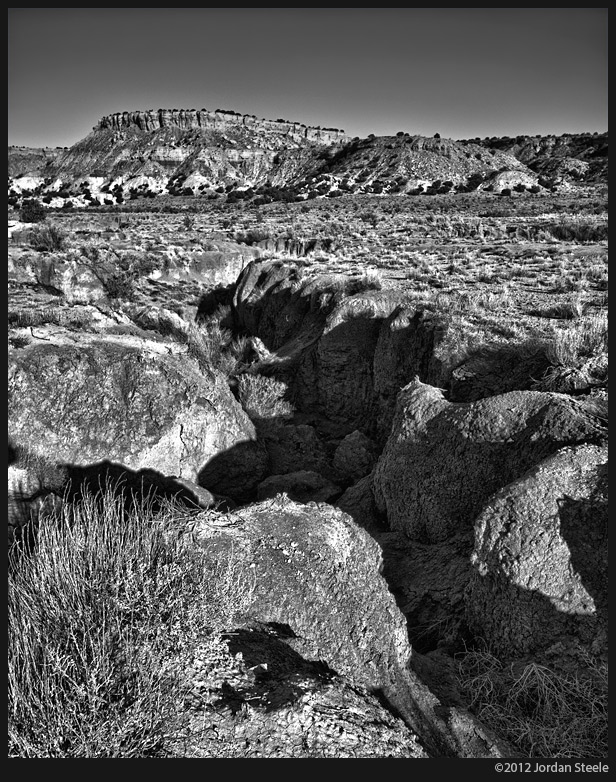 And one in color!