This is the last entry in my New Mexico Travel Diary.  I've had a great time exploring the stark and historic beauty of the northern part of the state, but it's back to home now.
Days 6 and 7 – Sandias, Coronado State Monument and back to Santa Fe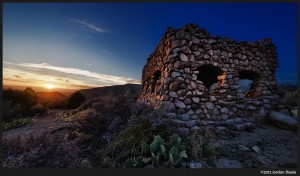 Day 6 came, and after all day doing work, I had time to visit Coronado State Monument in Bernalillo, NM, just north of Albuquerque, which is a site of a Kuaua Ruin where supposedly Coronado visited a short while during his expedition into the Southwest 450 years ago.  There are beautiful excavated drawings that have been meticulously preserved.  These are fascinating (though photography is not allowed).  There are small ruins and a wonderful view of the Sandia Mountains.
After the park closed shortly after I arrived, I tried to climb the Sandias (in my car) via a back winding dirt road that led to the peak.  The road was bumpy and at times, a little too close to the cliff edge, but I quickly made it up to around 8,500 feet.  However, at this point, I encountered a bend in the road that had been buried by falling snowdrifts from above, and in my rental Altima, I was just not going to make it through, so I had to turn around and go back to the bottom.  I did have just enough time to get down the mountain and find a great spot to view the sunset in the foothills of the Sandias, near an old stone hut (see the image to the upper left, and click to enlarge).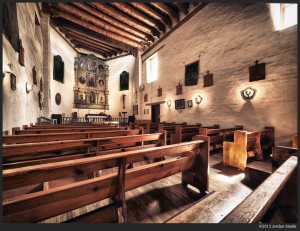 The last full day in New Mexico I had a little more time and made my way back up to Santa Fe to see the inside of the San Miguel Mission and the "Miraculous Stairway" in Loretto Chapel.  The stairway is quite beautiful and it has no visible support structure, only relying on the base and connection at top, and the strength of the materials as it twists upward.  Unfortunately, due to the distance they rope it off, it is quite difficult to get to the best angles for photography, so I had to make do. The San Miguel Mission was beautiful and felt as old as it is…quite a great place to see.  I was lucky here, as they closed the church literally 3 minutes after I arrived, but I had enough time to get a few shots.
So it is time to say goodbye to New Mexico.  It was a great trip.  Learned a bunch for work in my class, and had good photographic experience in the evenings.  It's a really wonderful place and different from any of the other 33 states I've been to.  I'd love to return and see all the other amazing sights the state has to offer, particularly in the south of the state.  Enjoy the remaining photos and thanks for looking in on my trip!