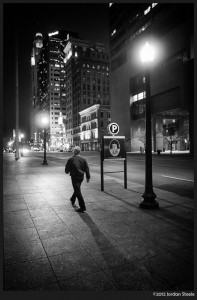 One thing I love about my little GX1 and my Olympus 12mm f/2, is that the combo makes for a great wide angle street shooting combination.  Even at night.  These were taken handheld at ISO 2500 and f/2.  Having a capable camera and wide, fast lens, make this kind of shooting possible, and because of the small size, extremely discrete.
I haven't done a ton of street photography, but I think I might do more of it. It's fun.  This combo also has the ability to get passable night cityscapes as well.  The image below is a multi-image stitch, making a 38 megapixel final image.  Of course, for serious night cityscapes, nothing can beat base ISO and a tripod, but if you are out for some candid shooting, it's nice to know that decent results are possible.
I'm sure I'll be taking this combo out at night much more often.  It's great fun!  Also, stay tuned for my review of this lens, coming in the next few weeks!