If you have not read my reviews before, please note that I take a real-world approach to my reviews, after using the equipment and seeing how they fare in the real world. There are lots of review sites that give empirical numbers and such, but you will not find any of those here.
The Olympus 12mm f/2 – Tiny, Wide and Beautiful
In June 2011, Olympus made a flurry of lens announcements, revealing a total of four lenses, but only two truly new designs. Two of the lenses were newer revised models of previous zoom lenses (14-42mm and 40-150mm), while the two that excited more serious photographers were the M.Zuiko 45mm f/1.8 and the M.Zuiko 12mm f/2. These were small, attractive prime lenses with fast apertures, and they finally looked to help fulfill some of the promise of Micro 4/3 as a high quality lightweight camera system. Both lenses have been wildly popular. I reviewed the 45mm f/1.8 about a month ago, and have found it to be an astoundingly good lens. Can it's wide-angle brother keep pace?
Build Quality and Ergonomics
The Olympus 12mm f/2 is a wide angle lens, bordering on ultra-wide. It gives an equivalent field of view as that of a 24mm lens on a full frame camera. This is significantly wider than the standard wide angle capabilities of the usual DSLR or mirrorless CSC kit lens (which generally starts around 28mm equivalent), but not so wide that you're really entering ultra-wide territory, with its extreme angles and crazy distortion capabilities. While I am somewhat of an ultra-wide fanatic, I really like the focal length here…it's a really good balance in width.
The Olympus 12mm f/2 probably the finest built lens Olympus has yet released for the Micro 4/3 system. It has an all metal build with an attractive silver finish (with a hint of gold). One odd thing is that while both this lens and the 45mm f/1.8 are both small silver primes, they are not the same color. The slight warm hue to the silver of the 12mm lens is not present on the 45mm, which is a much cooler silver gray color. The metal is not exceptionally thick or heavy, and feels likely to be aluminum (it is non-magnetic). However, the overall fit and finish works very well. Tolerances are tight and there are very nice grippy ridges along the base to make attaching the lens to the camera easy and sure-handed. The lens is very compact, with a broad focus ring that operates in two manners. Much like Tokina's clutch manual focus ring, the Olympus 12mm f/2 has a focus ring that slides back and forth. When in the forward position, the ring operates like all Micro 4/3 lenses: it's a focus by wire ring that will allow you to touch up autofocus manually. When the camera is in manual focus mode, it operates like any other focus by wire manual focus ring. The ring rotates smoothly, though when forward there are no hard stops.
However, unlike any other lens for Micro 4/3, pulling the focus ring back reveals a distance scale (with engraved and painted markings). When pulled back, the camera will immediately switch to manual focus mode, regardless of the camera autofocus setting, and the lens will set to whatever distance is shown on the mark. When in this mode, focus is still by wire, but the distance scale is accurate and the ring has hard stops slightly past infinity and at the minimum focus distance. When in this mode, the ring gets some extra damping and the feel is outstanding. Despite being by wire, the feel is like a precision crafted manual focus lens.
There is a downside to this mode, however, though a minor one. When the ring is pulled back, focus occurs in discrete steps. You can actually watch the lens step through the focus range while turning the ring. When the camera is in manual focus mode and the ring is forward, the manual focus is continuous, without steps. It's an odd behavior, and I really don't see much of a reason for it. It would be nice if Olympus would release a firmware update to address this, though in a practical sense it's not really an issue, as with a lens this wide, even with the fast aperture, depth of field is generally sufficient to cover the area between steps.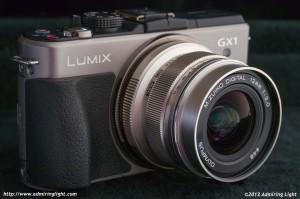 The front element takes 46mm filters, and the outer front of the lens barrel has a small groove to enable locking of the optional lens hood to the lens. The lens hood is a point of contention with me on this lens, as it is not included. Olympus doesn't include hoods with any of its lenses. This can be somewhat forgiven on a consumer oriented lens, but on a professional grade wide angle lens that retails for $799, it's frankly somewhat of an insult. The hood isn't cheap either…it's a metal rectangular hood that retails for $89. There is no excuse in my opinion for failing to include this accessory with the package. Canon doesn't include hoods with their consumer grade lenses, but at least they see fit to include them with the L series. While I am generally a hood advocate, I have not purchased the Olympus hood, and should I decide to get one, I will likely get a $29 knockoff on eBay rather than laying out $90 on the official hood. Edit: I originally had said the hood was non-reversible, but it has been noted that I was incorrect about that point. The hood for the 12mm can be stored reversed on the lens.
Up next: Image Quality