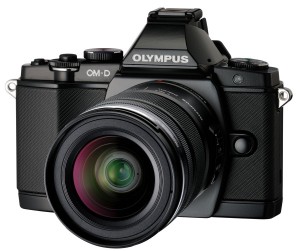 Today I got a chance for a brief time to handle Olympus' new flagship Micro 4/3 camera, the E-M5, which is positioned in the brand new OM-D line, a callback to the OM system of the 1970s and 1980s.  The new camera is styled in a very similar vein to those cameras, but is also distinctly modern.  While I didn't have a chance to get a peek at image quality, I did get to test out the viewfinder, the autofocus, general handling, the rear LCD and the 9fps burst mode.  I'll just give you my quick impressions from a handling and operational standpoint.
 Handling
The new E-M5, in my opinion, handles very well.  Using the same grip I use for my Panasonic GX1, my hand naturally falls on all the relevant controls.  The protruding thumb grip is very well contoured and fits the back of the hand beautifully.  The front grip is a little slippery, but with the rear corner seated in my palm, the front curves just enough to enable a firm hold on the camera.  Some people have had issues with the location of the right strap lug, but I found it didn't interfere with how I held the camera.  The front dial is very easily accessed, and the rear dial is a little more difficult to reach, but I was still able to slide my thumb over and reach it without too much trouble.  The weathersealed buttons definitely have a softer, springy feeling action which is quite different from the buttons on early Olympus bodies or their sister Panasonic Micro 4/3 bodies.  Overall, I felt the camera naturally worked well.  Since I didn't get to shoot for an extended time, I can't say whether there would be some quirks that may pop up after extended use.
Viewfinder
The E-M5's viewfinder is very clear and detailed, though slightly smaller than that of the Pansasonic Micro 4/3 bodies.  I thought this would be an issue with me, but the nice high contrast in the viewfinder and the better eyepoint for eyeglass wearers made this viewfinder easy to look at, and more importantly for me, easier to see all the information.  I was pleasantly surprised.
Operation
My last Olympus body was the original Pen, the E-P1, and while I liked that camera quite a bit, I really struggled with the controls.  It was clunky to use and had some pretty annoying faults.  Luckily, it appears over the past few years that Olympus has refined the interface considerably.  As mentioned, the camera has dual dials on top for the most common actions, and they work well.  There are two programmable function buttons, but oddly no dedicated ISO button.  The super menu for changing functions work pretty well, though I would prefer to have a few more external controls for things like ISO and drive mode, though the function buttons can help alleviate this.  Like most new Micro 4/3 cameras, the Olympus E-M5 has a large touch screen, and Olympus' touch screen is capacitive and very responsive.  Touch to focus works just how you'd expect, though the touch controls aren't quite as well laid out as they are on the Panasonic bodies like the GH2 and GX1.  The rear LCD is also very crisp and sharp with excellent contrast.  It's a much better panel than in my Panasonic bodies.
In burst mode, the camera fires off at 9 frames per second, and it sounds every bit as impressive at you'd think.  It's really quite something to hear a tiny camera rattle off at framerates that were, until the last few years, reserved only for the top end professional DSLRs.  Autofocus is fast and accurate and overall I found the camera quite pleasant to work with.
Anything Else?
So, one more thing I feel needs mentioning from my brief time with the camera.  The shutter is QUIET.  Very quiet. It is far quieter than any other Micro 4/3 body, and quieter than any SLR I've ever used.  It is almost approaching leaf shutter quiet.  Needless to say, if you shoot in quiet environments and need to maintain stealth, this camera deserves a hard look from you.   A few places have noted that the new 5-axis in body image stabilizer emits a constant hum.  It may be so, but in the ambient noise of the camera store, I couldn't hear a thing, and I was listening for it.  The store wasn't very loud today either.  I have to say, I think it's a non-issue.
Overall, I'm quite impressed.  I have been very much on the fence about whether to get this camera, and I still am.  I am likely to wait until I either get a chance to shoot with one for an extended period of time, or for more reviews to come out before making a decision, but I have to say…if the rumored outstanding low ISO dynamic range turns out to be quite true (and all sources so far are pointing to that being the case), then my GH2 may need to find a new home while I pick up an OM-D.  Currently the camera is in limited stock, but if you look around, you should be able to find at least the black kit with the 14-42mm lens.  The 12-50mm lens kits and the body only package are harder to come by, and the silver version is in very short supply at the moment.  I have a possible chance to use one extensively for a few days, and if I get that opportunity, I will do a full review of the camera at that time.  Right now, though, it looks like Olympus has a winner on their hands.