Performance
It's been a long time since my last Olympus body, and performance and responsiveness were really the big letdowns for me with the E-P1 (though I ultimately enjoyed the camera). Thankfully, the E-M5 does not fall into this category. The E-M5 starts up a little more slowly than some other cameras, with about a 1.5 second delay from flipping the switch to being able to begin taking a shot. During this time, the IS unit stabilizes the sensor, activates the dust cleaning mechanism and readies the camera for use. It's not as quick as most modern DSLRs or even the recent Panasonic bodies in this respect, but in real world it's short enough that it doesn't cause a problem.
The E-M5 sets a new bar for Micro 4/3 cameras in its high speed burst mode. The E-M5 can rattle off at 9 frames per second for about 16 frames before slowing to between 2-3 frames per second. While continuous autofocus isn't available during the 9 fps burst, you can shoot at a more modest 4 frames per second and maintain autofocus.
The burst mode and shot to shot timing is impressive on this camera, and it clears the buffer rapidly as well. One of the biggest hurdles I've faced with my Panasonic GH2 or GX1 is that when you fill the buffer you can sometimes have to wait for a second or two until you can take another shot. This has never happened to me with the E-M5, even when rattling off shot after shot. While you can't maintain 9 fps forever (not that you'd want to), the fact that you can do a big burst and not cripple the camera immediately after is very nice. As a result, the camera always feels responsive and it's a really nice feeling to have when you're taking multiple successive shots.
Autofocus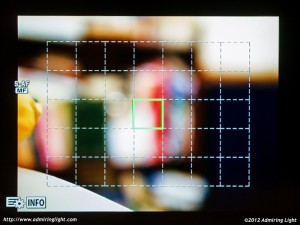 Olympus claims the E-M5 has the fastest autofocus in the world when used with the faster AF lenses in the Micro 4/3 system. The E-M5 has 35 focus points to select from, that can be chosen by using the arrow keys or by touch, which makes for fast selection. You can also tap and size focus points most any where on the screen, though it appears that the accuracy is still limited by the standard 35 autofocus points.
While Olympus' speed claim may certainly be correct in good light, it's not so cut and dry in less than ideal situations. Indeed, in bright light, single shot autofocus is blazingly fast and very accurate. With a fast focusing lens like the Olympus 45mm f/1.8 or 12mm f/2, the autofocus feels instantaneous.
In lower light, the E-M5's autofocus falters slightly, though it's still quite good. While quick, it can occasionally hunt for the focus a little longer than I'm used to from the GX1. It just feels a little less sure. That's not to say that it's slow or bad in low light. Indeed, it is still faster in dim light than most SLRs.
Focus is generally very accurate, though even with the smallest focus point size setting, it's not quite as precise with regards to exact placement as something like the Panasonic GX1, which even has a 'pinpoint' mode to enable absolutely precise AF. The E-M5 as a result will occasionally focus on the background if your focus point is half on your subject and half on the background, depending on the distance between the subject and the background and their relative contrast levels. It doesn't miss often, but it does happen from time to time. Overall, though, I've been very pleased with the autofocus performance of the E-M5.
There are some great tools like face detection priority, which will use your set focus point as its primary means of focus selection, but if a face is detected, it will switch to that. In situations where you may be doing quick shooting of people in motion, it works very well at finding and focusing on the face. The only downside I noticed is that when shooting with a large aperture close up, the face detection mode had a tendency to focus on the rear eye rather than the closest one, even when the face detection mode was set to 'near eye' mode. You can also choose 'right' or 'left' eye priority. Hopefully this will improve in accuracy in future firmware updates. It is worth noting, however, that even when the face priority did focus on the wrong eye, it was usually in situations where the focus point selected made for the maximum amount of the whole face to be in focus.
Continuous autofocus, unfortunately, is just like continuous autofocus on any other Olympus body (or any other contrast-detect autofocus camera). It can keep track of a subject and does OK on lateral movement, but as soon as the motion starts coming towards or away from the camera, the accuracy falls into 'dumb luck' territory. Single shot AF is great, but if you're an action sports shooter, it's best to stick to a DSLR at this point.
In Body Image Stabilization
One of the biggest features that Olympus cameras have that no one else in the mirrorless space has, save for the hideously ugly Pentax K-01, is in-body image stabilization (IBIS). The feature basically will turn every lens you mount, including legacy manual focus lenses, into stabilized lenses. Now, IBIS has been around for a long time, and there have been good and not so good implementations. However, even with 'good' IBIS systems, it has generally been concluded that lens-based IS systems were superior to an in-body stabilizer. Olympus has changed the game in that regard.
The E-M5 features a brand new IBIS system that works in 5 axes: vertical shift, horizontal shift, rotation around the lens axis, pitch and yaw. It is the first stabilization system to work in 5 axes, and let me tell you, it works VERY well. In addition to the functional quality of the IBIS, the E-M5 also stabilizes the viewfinder during IBIS operations. In order to see this you need to enable the "IS on half shutter press" function in the menu, but when you do, the effect in the viewfinder is just like that of using an optical IS lens. You get a stable view and stable shots. It's fantastic.
Olympus claims 5 stops of extra handholdability, and while it is not surprising that this claim really doesn't hold up, I can tell you that 4 stops wouldn't be exaggerating. I was able to consistently achieve sharp pictures with shutter speeds 3-4 stops slower than the 1/effective focal length rule (in this case, 1/(2xFL)) with lenses from 7mm all the way to 150mm. Even with my manual focus FD 50-300mm f/4.5L, I was able to get a solid 2.5 stops out of the IBIS system at 300mm. That is crazy good. I can handhold my Panasonic Leica 25mm f/1.4 at speeds of 1/3-1/5 second, the Olympus 45mm f/1.8 at speeds of 1/5 second and the Olympus 40-150mm at speeds of 1/20 second at 150mm. I was even able to handhold my 12mm f/2 at 0.4 seconds and get a tack sharp photo. The IBIS system is superior to the OIS system on the Panasonic 14-45mm and Leica 45mm f/2.8 macro, and is better with my 40-150 than the Panasonic 45-200mm OIS was.
For example, the shot at the beginning of this section was taken with the E-M5 at night with the Leica 25mm f/1.4 at 1/8 second and ISO 400. The shot below was taken with the Olympus 45mm f/1.8 handheld at 1/6 second!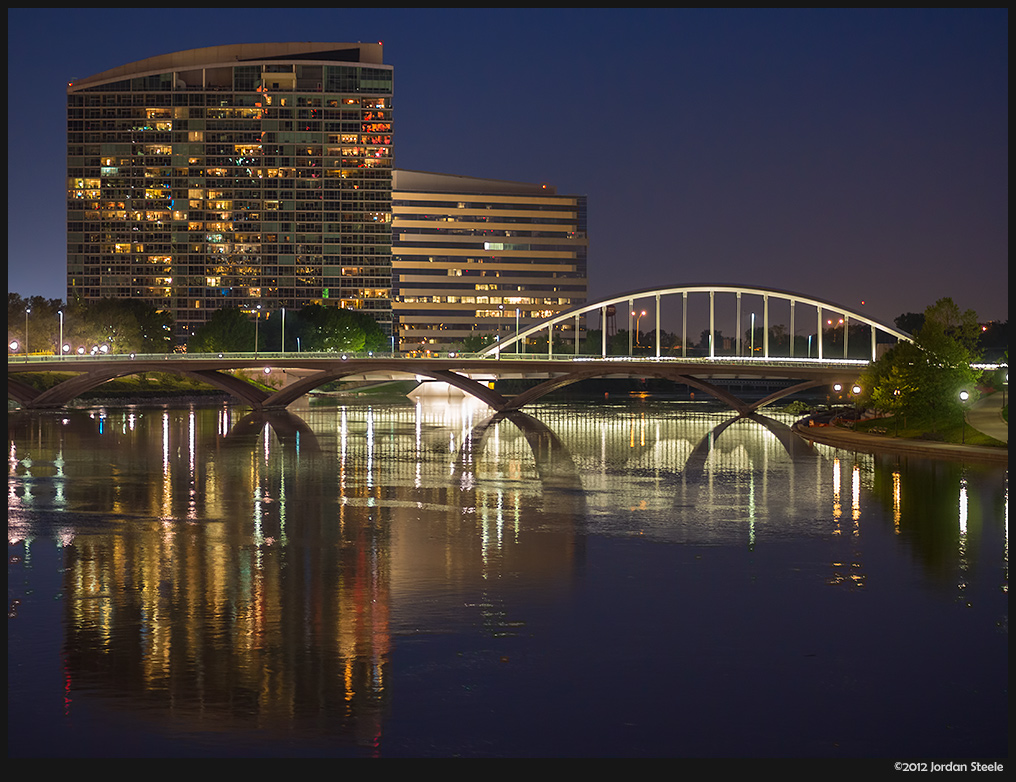 The quality of the OIS means that it is very rare that you even need to go into the really high ISOs unless you are shooting something that moves. The IS on the E-M5 is a game changer in the Micro 4/3 realm, and it is really what sets this camera apart from every other camera in the system at the moment. The good news is that I think we can expect this system to make its way into the Pen line in the future to replace the far less effective IBIS system in the current Pen cameras.
While I am primarily a stills shooter, it is worth noting that the IBIS works extremely well for video shooting as well. Videos with IBIS on are smooth and steady, to a point where even with moderate telephotos, the resulting video looks like it was shot on a steady cam. It's very smooth and stable. One odd quirk is that legacy lenses are not stabilized in video mode. I'm hoping this is an oversight on Olympus' part, and not something that can't be addressed with a firmware update. I can see no real reason for the IS system to not work with manual focus lenses in video.
The only downside to the IBIS is that it creates a whirring sound whenever the camera is on, even when the IBIS is turned off. It is only audible when in a quiet room, and you forget about it quickly, but it is there. The sound gets quieter when shooting video. Much has been made of this, but ultimately it's a non-issue.
Note: Since this review was first published, Olympus has released a firmware update that ccmpletely eliminates the whirring sound when the IS is not active (shutter button half pressed). This is a very welcome change.
Next: Image Quality