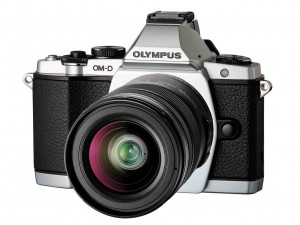 The much leaked and highly anticipated Olympus E-M5 is finally here.  Olympus has finally released the "professional" grade Micro 4/3 camera they've been promising for years.  Will it measure up to the hype? Will it take the Micro 4/3 format in a new direction?  I'll dissect the press release a bit and give you my initial thoughts.
What I like about it…
Caters to photographers – The best thing that I see about this camera is that it caters to photographers…it's a small body, but ruggedly built, with full weathersealing for shooting in the rain (with a sealed lens, of course), and has the ability to take additional grips to improve handling for assignments where size might not be the biggest consideration.  They've improved autofocus even further and include a tilting 3″ OLED touch screen on the back.  Dual metal dials for changing image parameters are a welcome sight.
Excellent design – Some people won't like the combination retro/modern design of the E-M5, but I love it.  I think it has just enough classic look to harken back to days when cameras were solid mechanical machines, but looks sleek and modern enough to feel at home in 2012.  The modular design of the grips again is well executed, and buttons appear to be well positioned.  Olympus is issuing the E-M5 is both black and silver versions, and my honest opinion is that both look outstanding.  If I ever get this camera, I will be hard pressed to choose a color.
Image quality should be very good – It uses a modified version of the sensor found in the Panasonic GX1, which is a solid performer.  Olympus usually gets the best out of these sensors, so I expect it to have best-in-format image quality.  ISO is extendable up to 25,600.  We'll see how usable that ISO is.
5 stop Image Stabilization – Yes, that's right…Olympus is claiming a 5 stop working in-body IS unit that works on 5 axes…yaw, pitch, roll, vertical shift and horizontal shift.  If it works as well as claimed, this would be exceptional.  Just think…you should be able to hand hold a 25mm 'normal' lens at approximately 0.6 seconds and get sharp shots!  We will have to wait and see if it is truly as effective as claimed, but even if it only does a very solid 3.5 stops, it would be outstanding.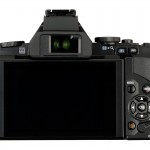 Autofocus improvements – Olympus is claiming a doubling of continuous autofocus speed.  Whether this brings CDAF into the realm of speed and accuracy in line with modern phase-detect systems remains to be seen.  Since current Micro 4/3 cameras are among the absolute fastest cameras in the world at single shot autofocus already, the AF on this camera should be truly blazing in single shot, and hopefully very good in continuous mode.
Pricing – Olympus is pricing the body only at $999.  Steep for a Micro 4/3 body, yes, but less than anticipated and a very good deal, in my opinion given the build quality and other improvements.
What don't I like – 
Well, at this point not much.  The only real disappointment from me is the viewfinder magnification.  The original OM series SLRs were renowned for their enormous viewfinder.  This was an opportunity to make the best EVF ever.  The E-M5's viewfinder is only 1.15x (when measured with a 50mm lens…equivalent to a 0.58x full frame viewfinder).  This is significantly smaller than the Panasonic GH2 and G3 viewfinder (and the add-on finder to the GX1), which all feature a 1.4x magnification (the same size as most full-frame DSLRs).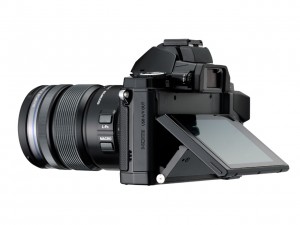 It also would have been nice to see 14-bit RAW files instead of 12-bit….I will be looking forward to full size image samples as soon as I can get them.
Final Thoughts
Olympus appears to have a winner on its hands.  The E-M5 looks like a camera many of us have been clamoring for…a weathersealed, beautifully built and responsive camera with good image quality and a host of usability tweaks and features.  The improvements to the in-body IS system look amazing, and I will be very excited to see if it works as advertised.
Oh, and one little plea: Olympus – I would LOVE to review the E-M5, and would be happy to put the camera through its paces if you'd be so kind as to lend me one for review.  
Go to the next page for the full Press Release.