Canon has been busy churning out lenses for their full-frame RF mount, and this past fall released two interesting consumer-grade lenses. The first is the tiny ultra-wide 16mm f/2.8, which I reviewed recently and really enjoy. The second is the subject of today's review, the Canon RF 100-400mm f/5.6-8 IS USM. When this lens was first announced, I may have rolled my eyes. Sure, it's a great focal range of 100-400mm, but the lens is also a full stop slower than the typical 100-400mm zoom lens, with a maximum aperture of f/8 at the long end of the zoom range. But then I started seeing some samples and very positive first hand reports and I had to try it out. What I've found has surprised me. Read on to find out why.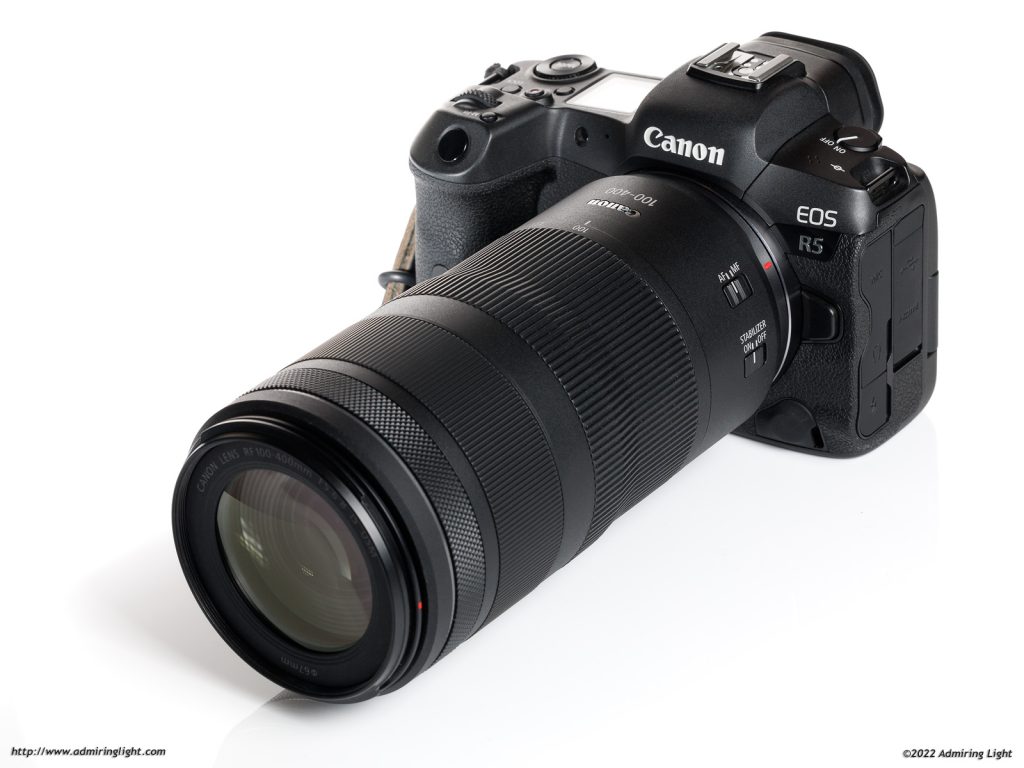 Construction and Handling
The first area where I was pleasantly surprised is in the construction of the lens. The RF 100-400mm is part of Canon's consumer-grade line of lenses, but I was shocked to see how nicely built this lens is. The 100-400mm has the now standard RF matte black polycarbonate exterior and metal lens mount, but the tolerances of construction on the lens are very high. There are no creaks and everything is tightly assembled.
The large zoom ring sits closest to the lens mount and features silky smooth zoom action. Indeed, the zoom feel on the 100-400mm is superior to that of both my RF 24-105mm f/4L and RF 70-200mm f/2.8L. The lens extends substantially when zooming to the long end of the zoom range, but the extending lens tube has no play in it at all.
The broad manual focus ring has a similarly nice feel, with extremely smooth rotation and excellent damping. The standard RF control ring at the end of the lens turns with a nice resistance with subtle but distinct clicks as you turn. The overall package is impressively taut for a lens that is very budget oriented given the focal range. I would assume that the internal construction of the lens is not quite as robust as the L-series lenses, and the RF 100-400mm lacks any weather sealing for inclement weather, but it is a well constructed lens.
After using this lens for a while, it has been an absolute joy to have a full-frame long range telephoto zoom lens that is this lightweight and compact. Canon has been doing this with a lot of RF lenses, including both 70-200mm zoom lenses, which are impressively small for what they are. The RF 100-400mm f/5.6-8 continues that trend with a lens that can easily fit in a typical shoulder bag, and even fits with the camera mounted in most bags.
When you look at it compared to lenses of similar reach, and then then compare to other small telephoto zooms, it puts the small size of the 100-400mm into perspective:
| | | | |
| --- | --- | --- | --- |
| Lens | Weight | Length | Diameter |
| Canon RF 100-400mm f/5.6-8 | 635g | 164.7mm | 79.5mm |
| Canon EF 100-400mm f/4.5-5.6L II | 1640g | 193mm | 94mm |
| Sigma 100-400mm f/5-6.3 DN (Sony E) | 1135g | 197.2mm | 86mm |
| Canon RF 100-500mm f/5-7.1L | 1365g | 207.6mm | 93.8mm |
| Canon EF 70-200mm f/4L IS II | 780g | 176mm | 80mm |
Size and weight of selected telephoto zoom lenses
Looking at the table above, it's really astounding how compact this lens is. Yes, you pay for that compactness with a slower aperture, but the size benefits for that tradeoff are substantial. The 100-400mm f/5.6-8 is over an inch shorter than all the other lenses that go to at least 400mm. The lens is nearly 1/3 the weight of the EF 100-400mm, less than half the weight of the RF 100-500mm, and even nearly half the weight of Sigma's mirrorless 100-400mm lens for Sony: a lens that many already considered extremely compact for a 100-400mm zoom. In fact, the lens is even smaller and lighter than Canon's lightweight 70-200mm f/4L II for EF mount.
This sort of portability makes handling the 100-400mm a dream. It is a lens that can be carried for long hikes or even in the hand for long periods of time without any fatigue, and is easily thrown in the bag for some convenient reach. Ultimately, this is the sort of compact zoom that has been unheard of on full-frame cameras outside of mirror lenses. To go this compact in a lens with this much reach has previously required moving to smaller formats like APS-C and Micro 4/3.
One negative is Canon's continued failure to provide lens hoods for non-L lenses. Canon continues to deny people hoods in the box and then charges outrageous prices to get them as an added accessory. The RF 100-400mm uses the ET-74B lens hood, for which Canon charges $45. I chose to go the route of third party here, and picked up Vello's ET-74B clone, which can be had at B&H Photo for $15. Vello's hood works well, and locks in place securely in both the in-use and stored positions, though a small plastic pin on the inside does very slightly brush the end of the lens barrel when reversing the hood for storage. I filed this little pin down to avoid the minor scraping.
Autofocus and Image Stabilization
Most of Canon's consumer-grade RF lenses come with their STM stepping motor for autofocus, but the RF 100-400mm is one of two that feature their latest Nano-USM focus motor (the other being the RF 24-240mm). That USM motor pays off big time, as the 100-400mm focuses extremely quickly and accurately. When mounted on my R5 in good light, the 100-400mm focuses nearly instantly. When shooting flying birds, the animal eye-detection works wonderfully in conjunction with the lens, with a very high rate of accuracy. As light levels drop, the dimmer maximum aperture causes the autofocus to slow down a bit. This will limit the lens' use for sports in low light, but in sunny or bright conditions, it can track action very well.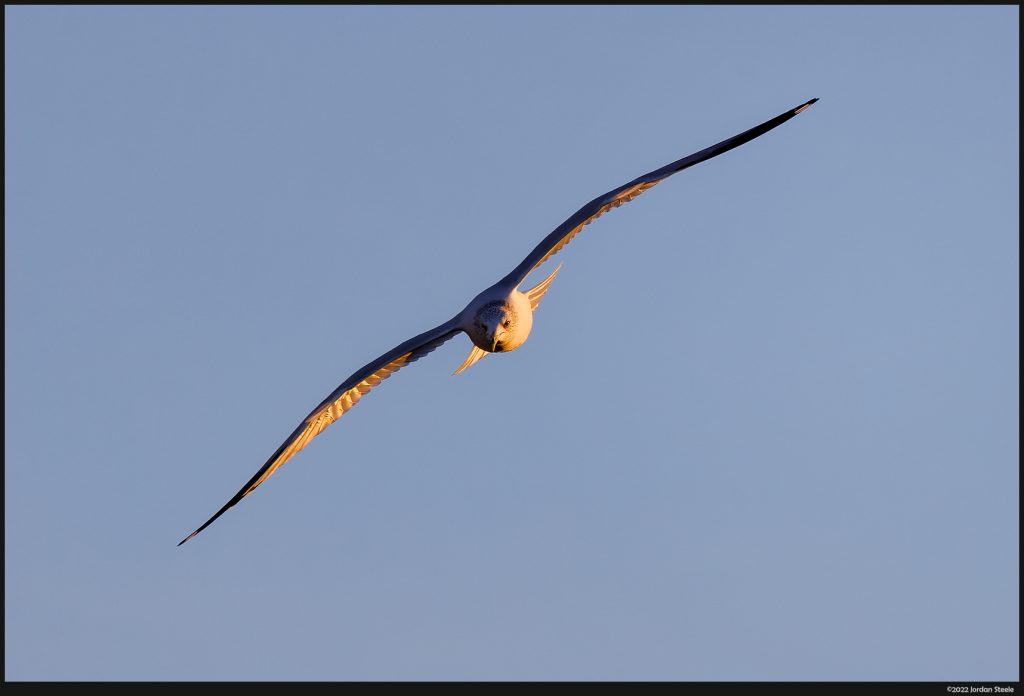 The lens also comes with an optical Image Stabilizer, which can work in conjunction with the IBIS on the R5 and R6. When used on the R5, I found the stabilizer to allow for hand-holding at shutter speeds as low as 1/15 second at 400mm with good technique, which is around 5 stops slower than I can hand-hold without the stabilizer on. When shooting on my EOS RP, which lacks in-body stabilization, I still was able to get sharp shots around 1/20-1/25s, yielding around 4.5 stops of stabilization in real-world use. This is an excellent performance, and a great thing to have in a long telephoto zoom lens.