When the first details about the Canon RF 16mm f/2.8 STM leaked in 2021, the lens sounded intriguing: the RF system could certainly use a mid-range ultra-wide prime. When later leaks suggested that the lens would cost only $299 and would be the same size as the nifty-fifty RF 50mm f/1.8, I thought there was simply no way that could be true. The lens had to be for a new APS-C RF mount camera, or the leaked dimensions and price had to be wrong. You see, ultra-wide lenses for full-frame aren't typically all that small, and they are almost never inexpensive. But the leaks were all 100% correct, and today I'm going to review Canon's $299, ultra-compact ultra-wide prime lens for full-frame RF mount. Let's dive in.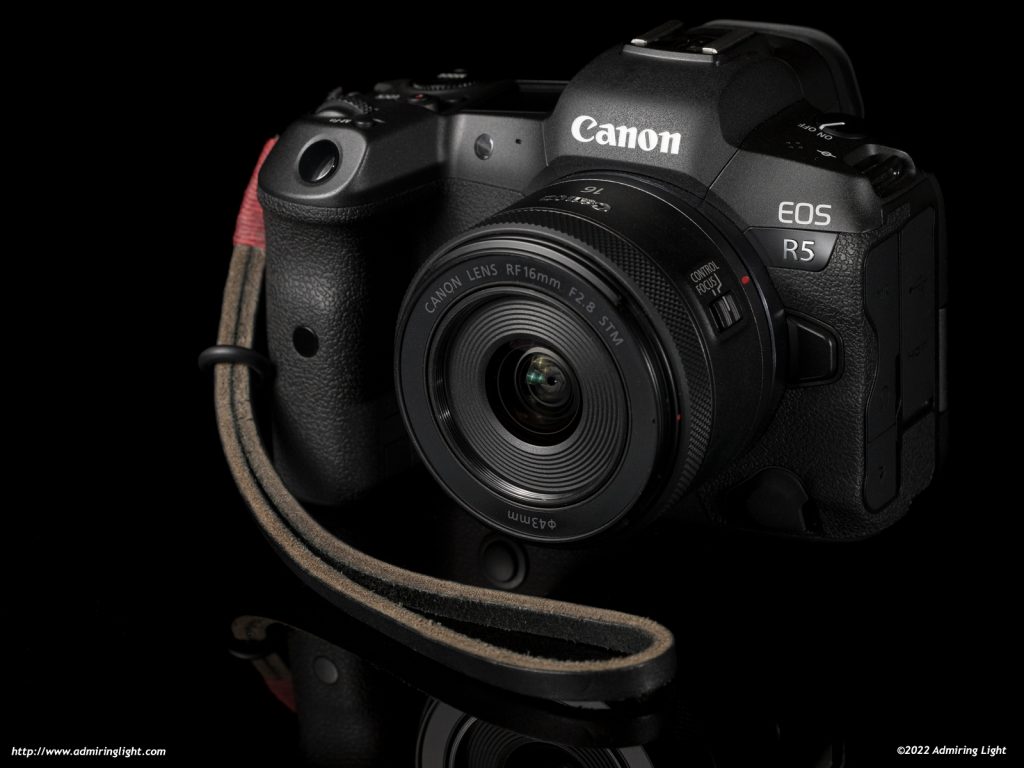 Construction and Handling
When you see the RF 16mm f/2.8 STM for the first time, it looks instantly familiar. That's because it shares the exact same lens body as the RF 50mm f/1.8. The two lenses are identical in size, and nearly identical in weight. Only a closer look at the focal length number on the barrel, or the different looking front element gives you an indication that this is a different lens. The RF 16mm f/2.8 is extremely compact and lightweight, but like all of Canon's RF lenses, it's nicely constructed, with a polycarbonate lens body and a metal lens mount.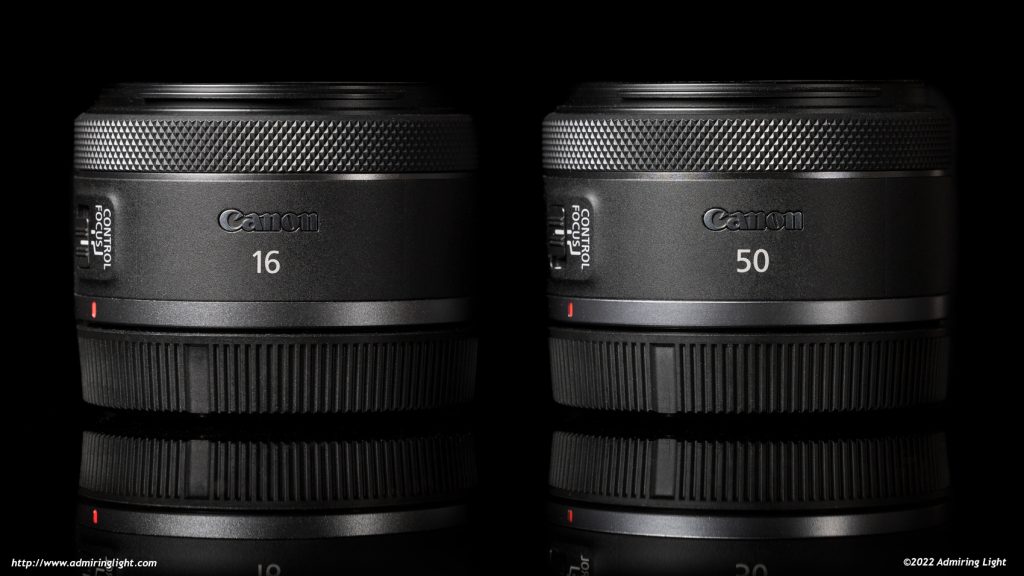 Due to its extremely small size and light weight, the lens handles almost as if there's nothing on the camera, and you'll barely feel it if adding it to the bag. I've found it to be the perfect small lens to pop in the bag for day hikes where you don't want to carry much gear but still may need an ultra-wide focal length. Now, when I want to travel light, I'll bring the RF 16mm, the RF 24-105mm f/4L and, if I feel like I need a little more reach, my tiny Minolta MD 135mm f/3.5.
The 16mm has a dual-purpose ring on the front of the lens, which can be switched between a focus ring and the RF-specific control ring. The ring turns smoothly and with a nice amount of damping. Unlike RF lenses with dedicated control rings, this ring does not click when turning.
Like all of Canon's non-L series lenses, the RF 16mm does not come with a lens hood, but Canon's EW-65C is a nice locking, reversible and compact lens hood, and can be purchased for $30. When the lens was released, it sold for only $25, but has since seen a small price increase. This is fairly affordable by Canon's standards, and due to the wider field of view, I didn't hesitate to pick up the hood. With that said, Canon still should be including these hoods in the box, even on their affordable lenses. Almost all other lens makers include hoods with lenses at any price point.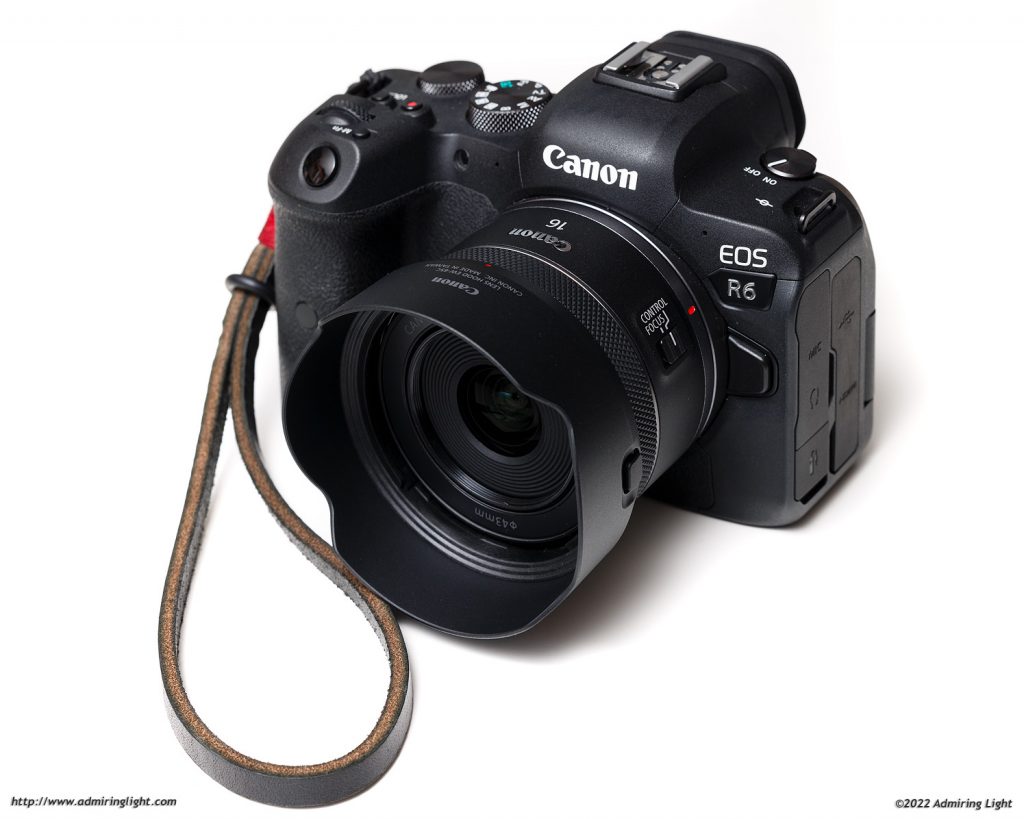 The RF 16mm f/2.8 has a 43mm filter thread, and can take a polarizing filter without vignetting, though due to the way the lens focus barrel extends and retracts, I found it easier to attach and detach filters when the camera is powered on and the lens tube partially extended. When the camera is turned off, the focus group fully retracts and makes it difficult to get a grip on a polarizing filter to unscrew it.
Autofocus
The 16mm f/2.8, like many of Canon's consumer grade lenses for the RF system, utilizes a stepping motor (STM) for autofocus. While Canon's STM motors are typically slower and a little noisier than their USM motors, the one in the 16mm f/2.8 is reasonably quick and relatively quiet as well. Much of this may be due to the shorter focus throw inherent in wide angle lenses. In use, the STM motor works very well for this lens, providing quick and quiet autofocus with good accuracy.
The RF 16mm f/2.8 does not have an optical image stabilizer built in, but it works well with the in-body stabilization of the R5 and R6, and I was typically able to achieve sharp hand-held exposures of around half a second to one second in duration.