Fuji surprised the market by releasing something that is both the first of its kind and something that people have been waiting for since the beginning of mirrorless: Native OEM extension tubes. It's surprising to me that it took 6 years for the first original equipment manufacturer to create extension tubes for their system.  In November 2014, Fuji announced the MCEX-11 and MCEX-16: 11mm and 16mm extension tubes for their X-Series cameras.  Third party manufacturers have made a handful of extension tubes for various mounts for some time, but these two are the first from the camera manufacturers themselves.  In this short review, I'm going to take a look at the Fuji 11mm extension tube, the MCEX-11, which retails for $99 (available here).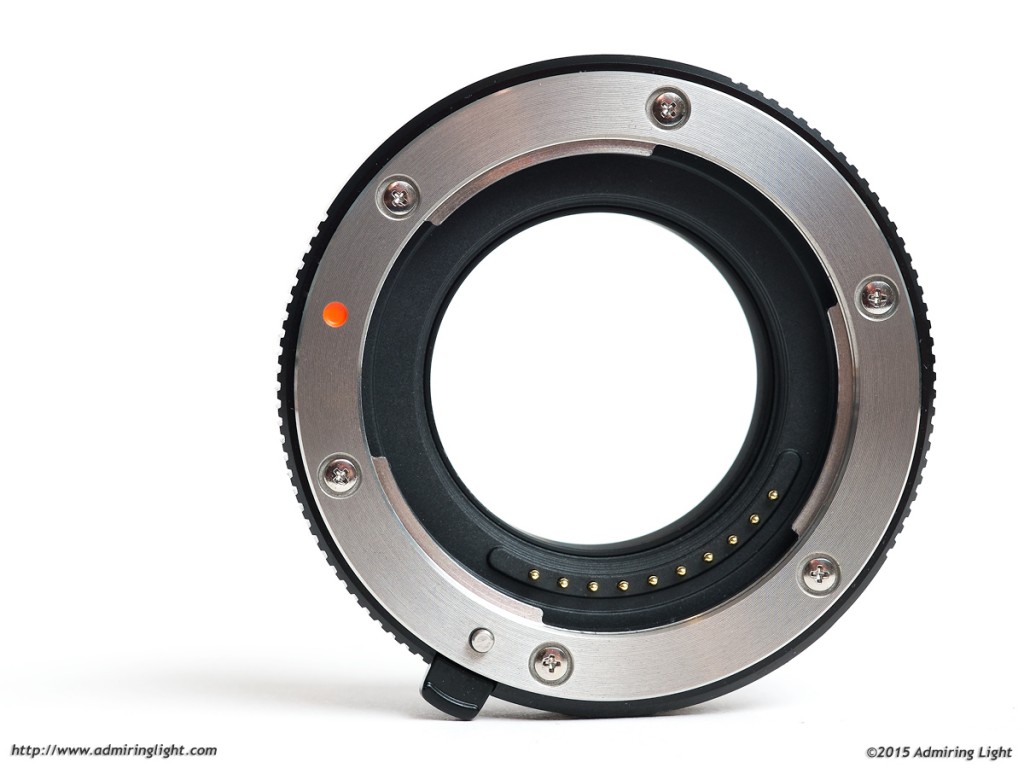 A bit about Extension Tubes
This review is going to be a bit different from many of my other reviews.  I will have some image samples of the tubes used with various lenses, but I'm not doing my standard shooting for this review because I think it's more important to go over what adding a tube gets you vs. native macro lenses and how it works with the current Fuji lenses.
First off, for those uninitiated, let's go over what an extension tube does for your photography. An extension tube is simply a small tube that duplicates the lens mount a bit further from the sensor plane than usual.  This has the effect of shortening focus.  As such, lenses will focus significantly closer than usual, while the ability to focus at a distance is removed.  The gist is, an extension tube allows you to do the following things:
Get additional magnification for macro lenses
Utilize non-macro lenses for macro or close-up work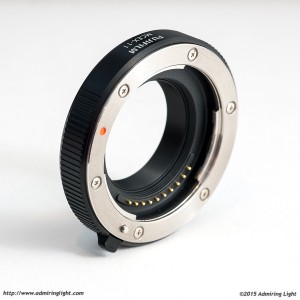 Basically, it's a cheap way to enhance the macro capabilities of macro lenses and turn non-macro lenses into macro lenses (or at least, close-up lenses).  The longer you extend the lens, the closer you can focus.  At the same time, the more the extension, the more of the distant focus capabilities are lost.  With normal and short telephoto lenses, adding an extension tube gives a very narrow range of focusing capabilities, usually from 1:2 magnification to about 1:4 or 1:5 magnification.  Focusing outside of this range is impossible, which makes working with extension tubes a bit more frustrating than with a dedicated macro lens.  This is also the reason why I opted for the 11mm tube instead of the 16mm tube.  I get a bit less maximum magnification, but a bit more workable range of focusing.  In theory, you should be able to stack the two extension tubes to get even greater magnifications.
There are also some optical downsides that need to be considered when using extension tubes.  Some lens designs aren't conducive to good quality when extended, and with the short register distance of mirrorless cameras, these compromises may be large depending on the design.  I will get into this in more detail later in the review, but it's worth noting that almost all Fuji X-mount lenses show some corner smearing when used with extension tubes.  More on that later.
Construction
The MCEX-11 is an extension tube.  There's not much to a tube…it's an extended lens mount with electrical contacts and a hole in the middle. It's worth noting that Fuji has done a nice job with construction here.  It's a very solidly built tube with tight tolerances.  Both the mount to the camera and mount for the lens are tight without slop, and the entire body of the tube is constructed of metal.  The lens release mechanism operates smoothly and surely, and the electronic contacts mean that all lens functions continue to operate as you'd expect, with aperture control, OIS and autofocus remaining intact.