Fujifilm just keeps on churning out lenses to fill out its two-year old X-Series system.  This rate of production is outstanding on its own, but what is most amazing is the catering to the enthusiast.  In just two years, Fuji has managed to create a nearly complete enthusiast lens lineup.  The only things missing now are super-fast zooms, supertelephotos and the specialty lenses such as tilt-shift lenses.  The latest offering from Fujifilm brings a true ultra-wide-angle zoom to the system in the XF 10-24mm f/4 R OIS.  This lens covers a wide range from the extreme wide-angle to the more moderate wide angle, with a field of view equivalent to 15-36mm on a full-frame camera.  Not only have they created a useful range, but they've thrown in an optical stabilizer to boot.  It's not a cheap lens, at $999, but let's dive into this Fuji 10-24mm review to see if it's worth the cost.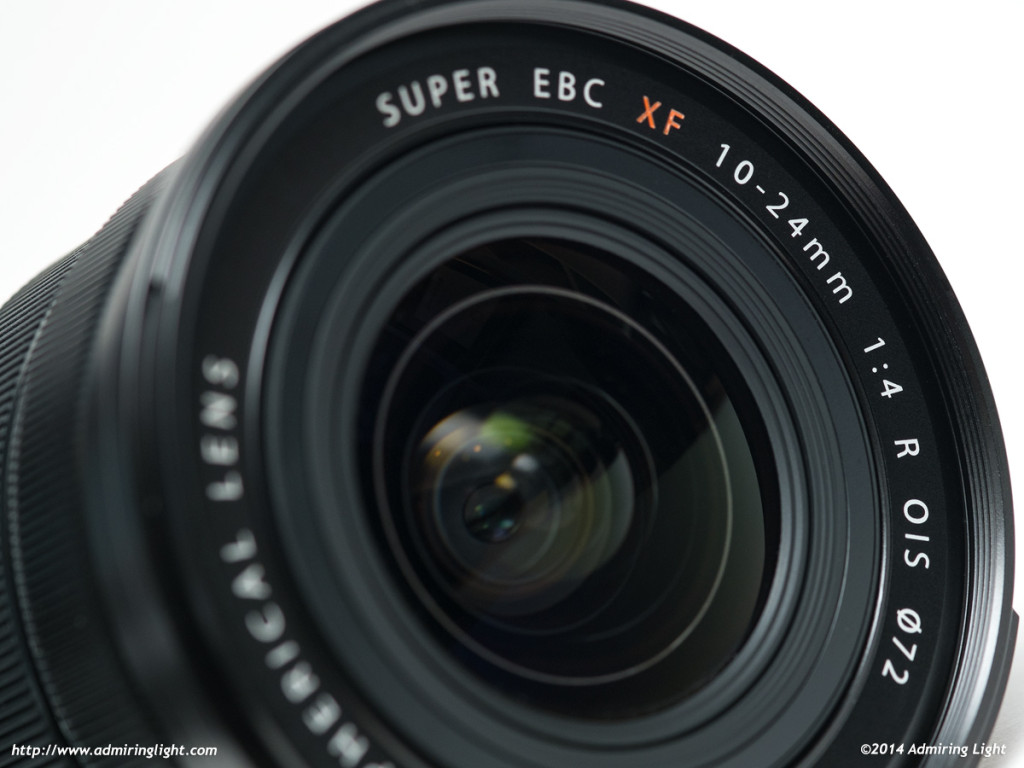 If you're not familiar with my reviews, I review from a real world shooting perspective.  You won't find lens charts or resolution numbers here.  There are plenty of other sites that cover those.  I review products on how they act for me as a photographic tool in real-world shooting. 
Build Quality and Handling
The 10-24mm f/4 is a constant aperture ultra-wide zoom that has to cover an APS-C sensor and contains an IS unit.  As you might imagine, this does make it rather difficult to keep the size down.  As a result, the 10-24mm is a relatively large lens.  Compared to many other mirrorless lenses, it's downright huge.  However, I honestly thought it looked larger in photos than it felt on the camera and in my hand.  The lens has a large 72mm front filter ring, though the rest of the lens slims down considerably.  As a result, it's a relatively lightweight lens despite its size, and when used with my X-E2 with the accessory grip, it felt great on the camera.  I'd imagine it would handle beautifully on the X-T1 as well.  The lens felt slightly awkward on a very small body such as my X-M1, as the weight distribution is just a bit out of whack on a body that small.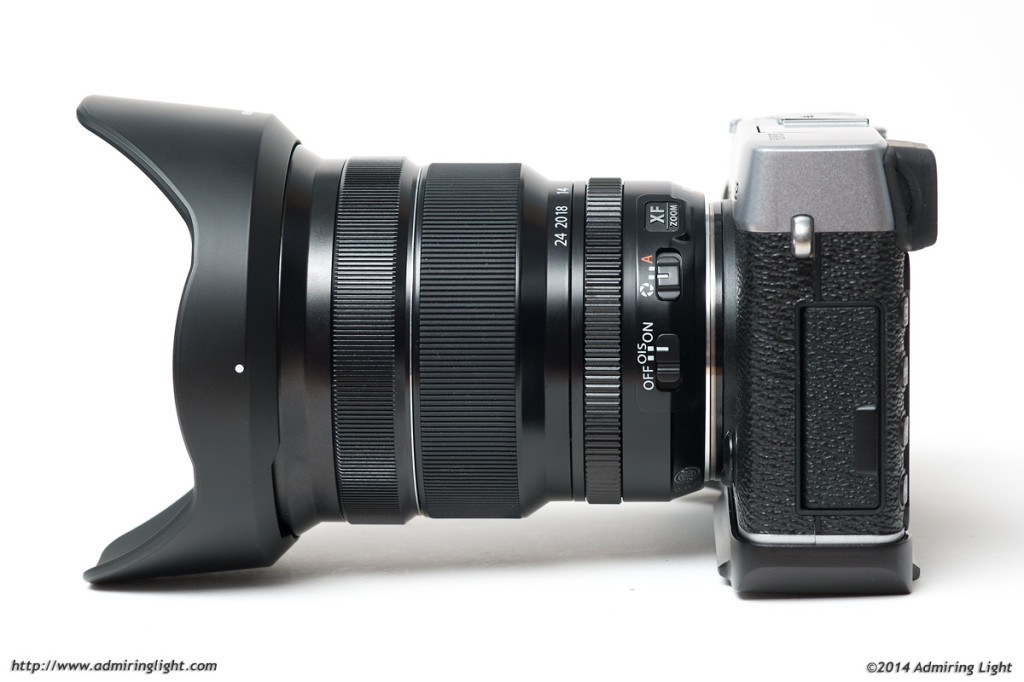 Despite the light weight, the 10-24mm f/4 is built very solidly.  The majority of the lens body is made of aluminum and there is no flex anywhere on the lens.  The large rubberized zoom ring is well damped and moves smoothly, though I felt the throw on the zoom was a little shorter than I'd like.  The metal focus ring is well damped and silky smooth.
One oddity about the 10-24mm is that it features the same unmarked and free spinning aperture ring as the 18-55mm f/2.8-4 and the 55-200mm f/3.5-4.8.  Since the 10-24mm has a constant f/4 maximum aperture, there is absolutely no reason a marked aperture ring couldn't have been put in this lens, as it is on all the Fuji prime lenses.  This is simply a bizarre design choice. I'd love to have the convenience of seeing my working aperture prior to turning the camera on.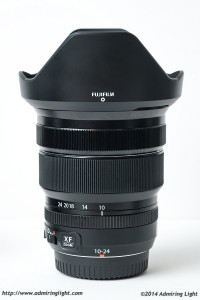 The lens comes with a broad petal shaped lens hood that provides decent coverage for the front element and is reversible for storage.
Autofocus and Stabilizer Performance
The 10-24mm features a very quiet and quite quick focus motor that is, like all the other Fuji lenses, very accurate as well.  Focus in almost any normal shooting circumstance was very quick and sure.  However, as light levels dim, you definitely need a high-contrast target on which to focus.  Without a suitably contrasty target, I found the 10-24mm to occasionally give up without finding focus in low light.   The lens can focus all the way down to 0.24m, allowing for tight framing at the long end of the zoom and lots of creative freedom at the wide end.
The optical stabilizer in the 10-24mm is effective for about an extra two to three stops of handholdability.  I found I could get sharp shots at about 1/4 second at the wide end and at around 1/10 second at the long end in most situations.  While this is a decent performance, it's not quite as impressive as the outstanding stabilizer in the Fuji 55-200mm lens.  I did find that if I could properly brace my arms against something rigid, I could get outstanding performance out of the stabilizer, with shots approaching one second at the wide end of the zoom range.