Image Quality
Sharpness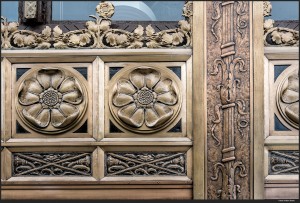 The XF 27mm f/2.8 is a sharp lens over most of the frame right from f/2.8.  Center sharpness is excellent at f/2.8 and the edges are a little bit softer, but even edge and corner sharpness is acceptable at all apertures. You can simply worry about selecting which aperture gives you the desired depth of field, rather than worrying about stopping down to get to a certain level of sharpness.  That said, stopped down to f/5.6 or so, the 27mm is capable of resolving very high levels of detail.
The only exception to this is near minimum focus distance, where the lens softens up a bit at wider apertures.
Click on the image on the right and select the green arrow at the bottom of the enlarged version to see a large-sized image from the XF 27mm at f/5.
Bokeh
The moderate maximum aperture of f/2.8 and the semi-wide 27mm focal length means that you're not going to get a ton of blur with the 27mm, though it is still possible to get decent subject separation.  Unfortunately, the quality of the blur you do get is mediocre.  It's the first Fuji lens I've used that has a somewhat harsh bokeh signature, a byproduct of the pancake lens design.  The XF 27mm's bokeh renders some bright edges on specular highlights and a general nervousness and double-edge (nissen) bokeh at certain focus distances.  Only near the minimum focus distance does the blur smooth out a bit.
On the good hand, while not exceptional, the bokeh from the 27mm f/2.8 is also not horribly distracting either.  At medium focus distances it gives shots a little character which you may or may not enjoy.  I find the bokeh acceptable for a pancake lens and it gives the lens a little different look than what you get with the Fuji 35mm f/1.4.
Chromatic Aberration and Distortion
The XF 27mm f/2.8 is, rather surprisingly, essentially completely free of any visible chromatic aberration.   There is no visible lateral CA visible at any aperture and even longitudinal CA and fringing is extremely well controlled.  An excellent performance here.
The 27mm f/2.8 also manages to control distortion very well, with any distortion negligible in field use.  These two things are quite impressive for a pancake lens.
Contrast, Color and Flare
The XF 27mm f/2.8 produces images with nice solid contrast with moderate microcontrast.  There's really nothing particularly special about the color out of the XF 27mm…it's nice and even with a neutral color balance and moderate saturation.  It doesn't necessarily provide a lot of pop out of camera, but it sets up well for post processing, as only minor adjustments are needed to get whatever look you may be after.
The 27mm f/2.8 does fairly well against bright light, which is good since there is no lens hood for this lens. In most situations, complex flare is absent, even when shooting into the sun.  If you have a really bright light source relatively close to the lens, you can get it to produce some interesting flare artifacts, but for general shooting, i found it to be a complete non-issue.  You can get some loss of contrast from veiling flare when a bright source is just out of frame, however.