Image Quality
Macro lenses tend to be some of the best lenses in a system's lineup due to the extreme resolving requirements to produce quality images at high magnifications, and as such, I had very high expectations for the lens.  For the most part, the 80mm f/2.8 Macro met these expectations.
Sharpness
One area where the lens certainly meets expectations is in image sharpness.  The lens is extremely sharp right from maximum aperture, across the entire frame, and stopping down just a bit brings everything just a tick sharper.  This is true both in the macro range and towards infinity, though it may be just slightly lower resolving at those longer focus distances.  With that said, you will not want for sharpness anywhere in the range. There's really not much more to be said here, as there's very little to nitpick. Click here for a 100% crop of the focus area.
Bokeh
Bokeh, on the other hand, is a bit of a mixed bag.  Like almost all macro lenses, bokeh when shot close up is quite smooth, due in part to the extreme amount of blur that is created at these focus distances. It is, however, somewhat high contrast, which can make it feel a little chunky at times if the background is busy.  At portrait distances, this is accentuated even further due to the lowered amount of blur.  It's not a bad performance at all, as the bokeh doesn't produce double edges, and the blur discs are still relatively even, but it also doesn't really wow me.  There's also quite a bit of a swirly character to the bokeh at medium focus distances that may or may not be to your liking, depending on personal preference.  Perhaps the worst thing about the bokeh is that specular highlights can show extremely pronounced onion ring artifacts due to the aspherical elements in the lens.  These are visible even when resized for web use, as can be seen in the white highlight below.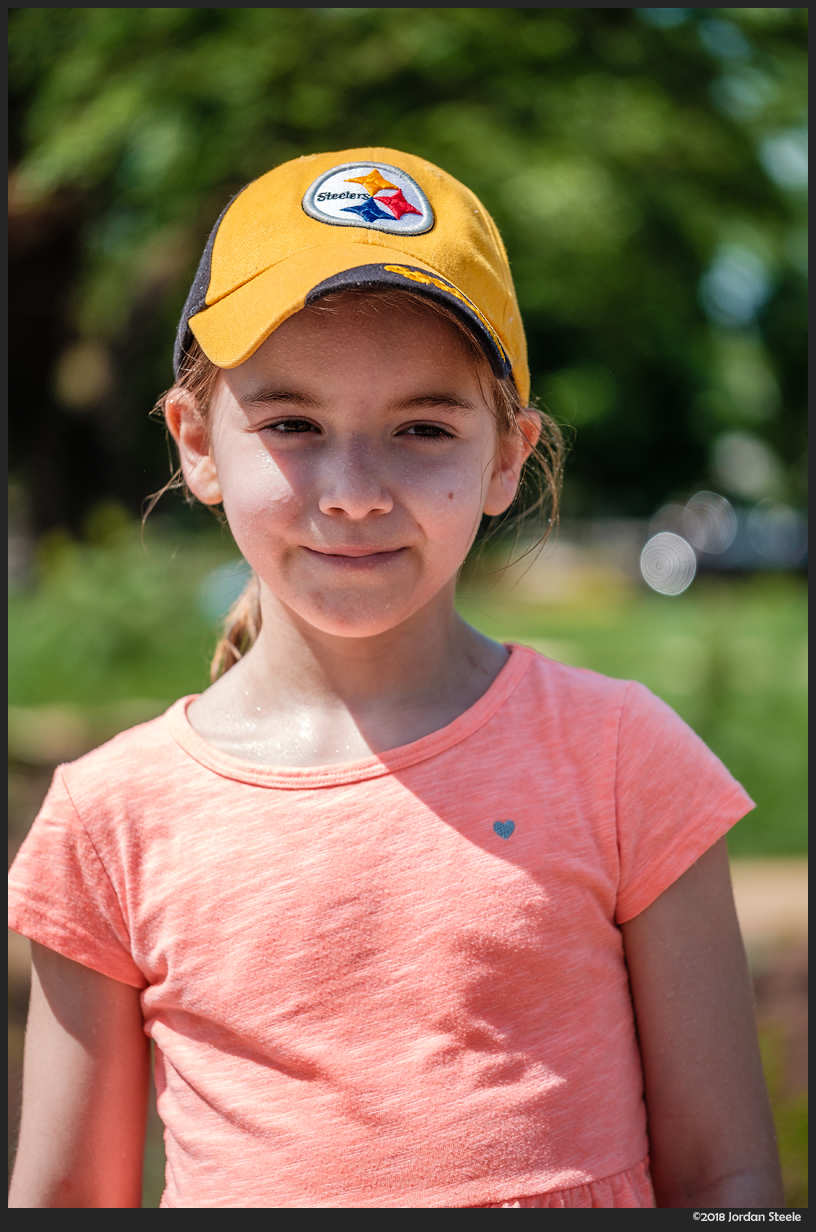 However, overall, the bokeh from the lens is quite good, and will produce pleasing blur in the majority of situations. It does, however, fall short of truly excellent.
Color, Contrast and Chromatic Aberration
The 80mm f/2.8 follows the tried and true Fuji formula for color, producing rich tones and a consistent look with other Fuji lenses.  Contrast follows the same mold, with an even contrast that stays consistent throughout the aperture range. Spherical aberration is almost entirely corrected, so there is no loss of contrast at f/2.8 and even at 1:1 magnification, as one would hope from a macro lens.
The lens exhibits very low chromatic aberration, with lateral aberrations being essentially absent in real world usage, and longitudinal chromatic aberrations being very well controlled. There is a very slight green fringe on out of focus items behind the subject, but it's very mild and won't have a major effect on your images in real world use.
Distortion, Flare and Vignetting
Most macro lenses tend to have very low distortion, but the 80mm f/2.8 macro minimizes them to essentially zero.  Lines appear perfectly straight, and it's hard to do much better.
The lens has a bit of vignetting at wider apertures, but it's fairly negligible in real-world use.  No issues here.  the lens also performs quite well with regards to flare.  Due to the deep hood and narrow angle of view, it's pretty hard to get any sort of light source to hit the front element obliquely, so the only real situations where flare can be an issue is when the sun is in the frame.  As you can see below, the lens does an admirable job in this situation, with no major ghosting or loss of contrast, just a touch of a purple tint around the sun.