Image Quality: Dynamic Range and Color
Not much has changed in the image quality department since the introduction of the X-Pro 1, but that still isn't necessarily a bad thing.  The X-E2 files are still among the best in the business.  The camera has outstanding dynamic range that can capture tones in even very harsh light.  Only in the most extreme circumstances will you exceed the camera's dynamic range.
Likewise, Fuji has always had excellent color, and this continues with the X-E2.  While the RAW files are a little muted right out of the camera, they take saturation adjustment well and the color can be brought out well.  JPEG color is outstanding.
One note about the X-E2's RAW compatibility as of November 2013.  Adobe has enabled RAW capability in the latest release candidate for Lightroom 5.3, but the Adobe standard profile is pretty bad for the X-E2.  It can leave some odd magenta shadows on interior portraits and other color inaccuracies.  Luckily, a custom profile I made with my Color Checker Passport fixed this and brought it back to the beautiful Fuji color I am used to.  Hopefully Adobe produces a better profile for the final 5.3 release.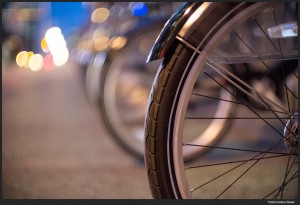 Image Quality: Noise
The X-E2 has very good noise control, with JPEG images showing very low noise up to ISO 3200 and even somewhat usable images at the ISO maximum of 25,600.  RAW files show more noise but also much more detail.  Noise remains quite low up to ISO 1600 and very usable at ISO 3200 and 6400.  I don't hesitate to shoot with Auto ISO at ISO 6400.
It is worth noting that the X-E2, like all X-Trans sensors, does overstate ISO a bit.  In my experience it's about 1/3 stop overstated vs my other cameras.
Overall image quality with the X-E2 is on a very high level. The low noise, great color and excellent dynamic range are combined with a sort of 'it' factor with the images, which have a depth that is unusually rich for an APS-C sensor.
JPEG Quality
As mentioned on the previous page, the X-E2's JPEG quality is outstanding.  Fuji's JPEGs are good enough that I don't feel particularly limited if I choose to shoot JPEG.  As I desire full control over my images, I almost always only shoot RAW, but I do shoot RAW+JPEG from time to time, especially in the black and white modes and often end up using the JPEG in many cases.  With the control you have over the dynamic range, the highlight and shadow curves and film simulations, you can also obtain tremendous dynamic range in the JPEG images.
Video
The X-E2 features a semi-featured video mode, accessed through the drive menu.  The camera can shoot 1080p or 720p, and you can choose 60 or 30 fps.  You can now adjust exposure compensation on the fly and you can still select the shooting aperture, but ISO and shutter speed control are not available.  It's clear Fuji intends its X-series to be a stills oriented camera, and the video mode's lack of features and power is a testament to that.
Video quality itself is fairly good, but nothing particularly special.  This is not a hybrid camera.  It's a stills camera that can shoot video when you need it.
Other Items of Note
A few other things to note about the camera:
One of the complaints I had about the X-E1 was the inability for the camera to auto-rotate vertical images when reviewing them on the rear LCD.  This is still the case, unfortunately.  However, the biggest detriment to that for me was that the X-E1 would only allow you to zoom in a little bit on a vertical image (equal to full zoom on a horizontal image, but with the vertical crop).  The X-E2 thankfully zooms in on image review to the same level for both horizontal and vertical images, so checking focus on vertical images is actually possible.
While the View Mode button was something I very rarely used, I know many photographers did use that often.  Fuji has removed the View Mode button entirely.  This wouldn't be too big a deal if you could assign the second Fn button to operate the View Mode capability, but on initial firmware, this isn't possible.  The only way to switch operation of the EVF and LCD is to dive into the menu system.  Enough people have complained about this that I'd imagine Fuji will add this as an option in a future firmware update.
Speaking of viewing modes, there is a new one on the X-E2.  There is now an option to use the eye sensor to keep all viewing devices off until you raise the camera to your eye.  That is, the EVF and rear LCD will be off and the EVF will only activate when shooting, which will save a good bit of battery life.  It's not a perfect implementation, however, as when this mode is activated, the rear LCD is completely off, and you can't turn it on without diving into those menus to turn it back on.  It would be nice to have the option to have this work that way, but still use the rear LCD if you enter the menu system or playback an image.
I've mentioned in my previous Fuji camera reviews, but the X-Trans sensor can have some odd painterly artifacts from time to time depending on the RAW converter you use.  I have to say that over time, most RAW converters have figured out how to properly demosaic the X-Trans sensor, though Adobe is still lagging in this area.  Lightroom and Photoshop ACR still can generate these artifacts in the right situation, though it's much better than the early releases.  Most of the other major RAW converters have managed to figure out the X-Trans demosaicing to the point where these artifacts are a non-issue.  I use Capture One Express 7 for my Fuji files when ACR has trouble, and it does an excellent job.  As of this review, Capture One hasn't been updated for X-E2 support, but it should be coming soon.  Iridiant Developer for the Mac and Photo Ninja also do a pretty good job with the X-Trans files.  Hopefully Adobe can get with the program here and tweak their RAW conversion of X-Trans files further to eliminate the few cases where it is still an issue with those converters.
With the same body as the X-E1, the tripod socket is still too close to the battery door, and most tripod plates or a direct mounting to a tripod will make it impossible to access the battery/memory card door.
Bracketing is still limited to just three frames at +/- 1 stop. This makes it pretty much a useless feature for HDR, and appears to be meant as a means to quickly get the 'best exposure' as opposed to increase dynamic range