Features
In-Camera RAW Conversion
There's not a lot new to write about Fujifilm's in-camera RAW conversion, which has remained fairly consistent for the past several years. It's still one of the best in-camera converters out there, with the ability to tweak most everything about the RAW output to JPEG. Pushing and pulling exposure, white balance changes, tone curve, film simulation and more can all be changed.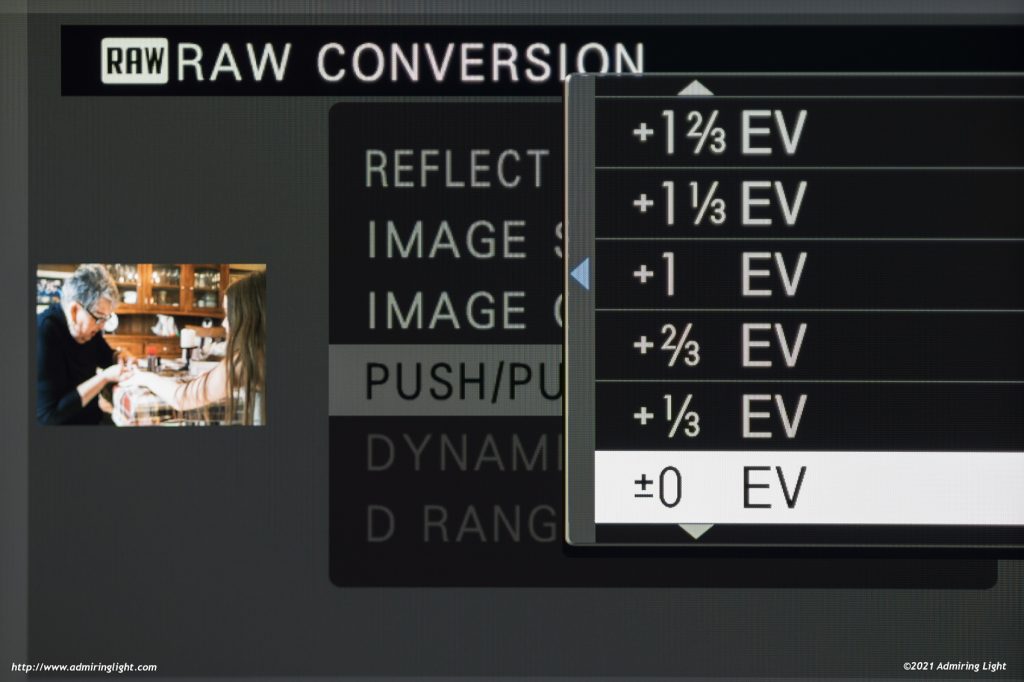 Since the last Fujifilm camera I reviewed, the Tone Curve manipulation has consolidated highlight and shadow tone into one tone curve section, and those controls modify a graphic of the curve that will be applied to the file. I don't think the actual conversion differs from earlier versions any, but it does help with visualizing what the changes you are making will do to the final image.
New items that are more recent to Fujifilm cameras have been added to the RAW conversion options as well, such as the Color Chrome effects and Clarity adjustment. After making any desired changes, you can preview the image before writing the JPEG. It's a very nice way to tweak images in camera to improve the result you want for direct sharing of JPEG images.
Connectivity
Like almost all modern cameras, the X100V has Wi-Fi built in for remote control of the camera, geotagging images or transferring images wirelessly. The functionality is very similar to previous Fujifilm cameras and has most everything you really need. The camera also features Bluetooth for easier connection and a lower power maintenance of connection when using things like geotagging.
Remote control allows for full control over image settings, including shutter speed, aperture, ISO, exposure compensation, white balance, and film simulation, plus the ability to move focus points and switch from stills to video while still in the app.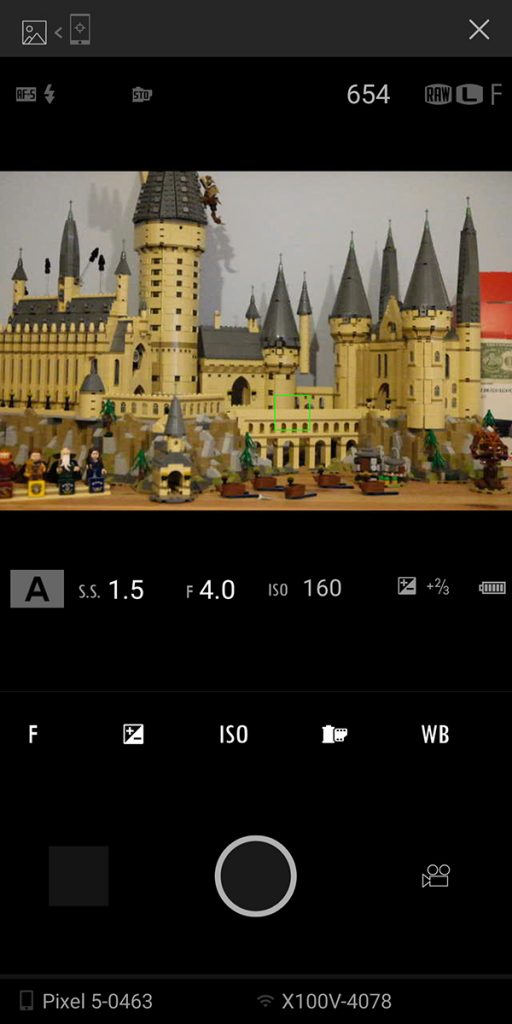 While the Wi-Fi and Bluetooth options are relatively full featured, the mobile app for controlling these things has fallen a bit behind some others in the industry. It could certainly use a refresh to make initial setup more convenient.
There are also some features that are missing that are found on some other cameras released in the last few years, such as the ability to connect to the camera while the camera is powered down. Both the Sony A7R IV I owned, and the Canon R5 and R6 can do this, and I have found it extremely convenient to grab some images off the card while the camera is in my backpack and I'm hiking back to my car, or to grab an image to share when the camera is at my desk in the study, and I'm in the living room. I'm a bit bummed that on the X100V I need to turn the camera on, manually initiate connection and then go.
The X100V also lacks the ability to auto-convert JPEGs from the RAW files for remote transfer; only JPEG images can be transferred. I'd love to see the ability for the camera to instantly create a JPEG from the shot settings if the user requests transfer of a RAW file. The Canon bodies do this nowadays and its very convenient. It would be nice for Fujifilm to add some of these newer connectivity features to the X100V.
Other items of note
Bracketing: Fujifilm has finally given us a full-featured bracketing feature. I am assuming this made its way into the latest X-mount cameras as well, but my previous latest Fujifilm camera I reviewed was the X-T20. The X-T20 and X-Pro 2 updated the bracketing from the previously terrible 3 shots at +/- 1 stop of expsosure to 3 shots at +/- 2 stops. Now the X100V (and presumably other X-Trans 4 cameras) has a truly full featured bracketing solution with up to 9 frames of exposure at up to 3 stop intervals. At the maximum number of frames and interval sizing, this results in a 24 stop bracket, which should cover essentially every dynamic range situation you would ever encounter.

Battery life on the X100V is decent, but not spectacular. For the type of shooting I do with the X100V, I've never had an issue with battery life. I'm able to get a few hundred photos on a single charge. Still, if you anticipate a heavy shooting day, having a spare in your pocket isn't a bad idea.

The X100V, like all the X100 series cameras, uses a leaf shutter instead of a focal plane shutter. While the leaf shutter limits mechanical shutter usage to 1/2000s when shot wide open, rather than the 1/4000s or 1/8000s available on many focal plane shutters, the X100V augments that shutter with an electronic shutter that can go as short as 1/32,000s. Like all Fujifilm bodies, the option is available to use the mechanical shutter until its top speed, then seamlessly switch to the electronic shutter at higher shutter speeds.

The leaf shutter is nearly silent, making just a faint click when activated, and it has the huge benefit of being able to sync with flash at it's fastest shutter speed of 1/2000 (or 1/4000s at f/4.5 and smaller). As such, if the focal length is right for you, it's a great camera to use with strobes in daylight.

The X100V has a built-in ND filter that will reduce ambient light by around 4 stops, and with the most recent firmware update, this can be used in video as well. It's a nice addition to be able to shoot with slow shutter speeds when desired, both for stills and video.

The body of the camera gets warm during shooting. It was noticed immediately when the camera was released, and Fujifilm confirmed it was normal operation. It doesn't get so hot as to be uncomfortable, but it can be noticeable.