An f/4 standard zoom has been an essential part of any system's lineup for several decades now. Canon had their FD 28-85mm f/4 from 1985. Nikon had a manual focus 24-50mm f/4 starting way back in 1979. As zoom designs became more modern, the f/4 standard zoom has expanded in range, with Canon settling on the 24-105mm range for its f/4 zooms, while Nikon pushed out to 120mm, first with the AF-S 24-120mm f/4 in 2010 and then leading directly to today's reviewed lens, the Nikkor Z 24-120mm f/4 S. Nikon has put the S-line badge on this lens, which it uses for high-end lenses on the Z system, but these wider range f/4 zooms often have some compromises beyond just the f/4 aperture. Has Nikon managed to buck that trend?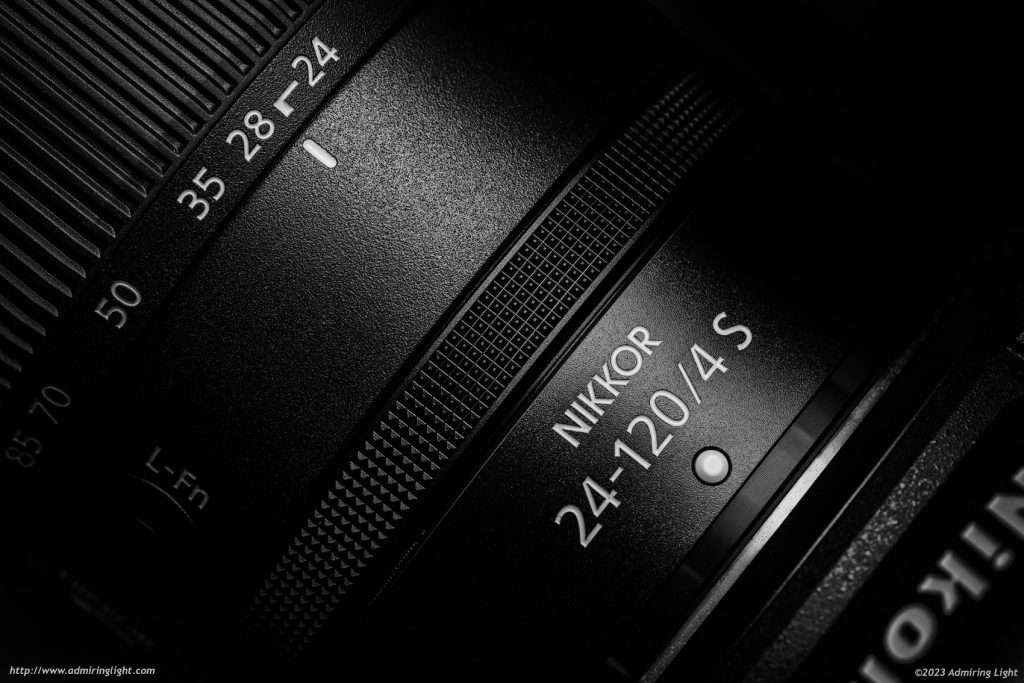 If you're not familiar with my reviews, I review from a real world shooting perspective.  You won't find lens charts or resolution numbers here.  There are plenty of other sites that cover those.  I review products on how they act for me as a photographic tool in real-world shooting.
Construction and Handling
Nikon's Z series lenses have a specific aesthetic, with a dark matte black finish that is simple, yet professional. The 24-120mm f/4 S is constructed of a mix of metal and plastic, with a metallic ring at the base of the lens featuring the S-Line's signature subtle silver accent. The remainder of the lens barrel is a high-quality polycarbonate with a slightly rough texture. The rear control ring is made of metal, while the zoom and focus rings have rubber grips. The overall impression of the lens is one of quality, as the 24-120mm f/4S is very tightly assembled and solid, with no flex in any of the plastic coverings and no play in any of the rings. Like all S-Line lenses, the 24-120mm is weathersealed against dust and moisture.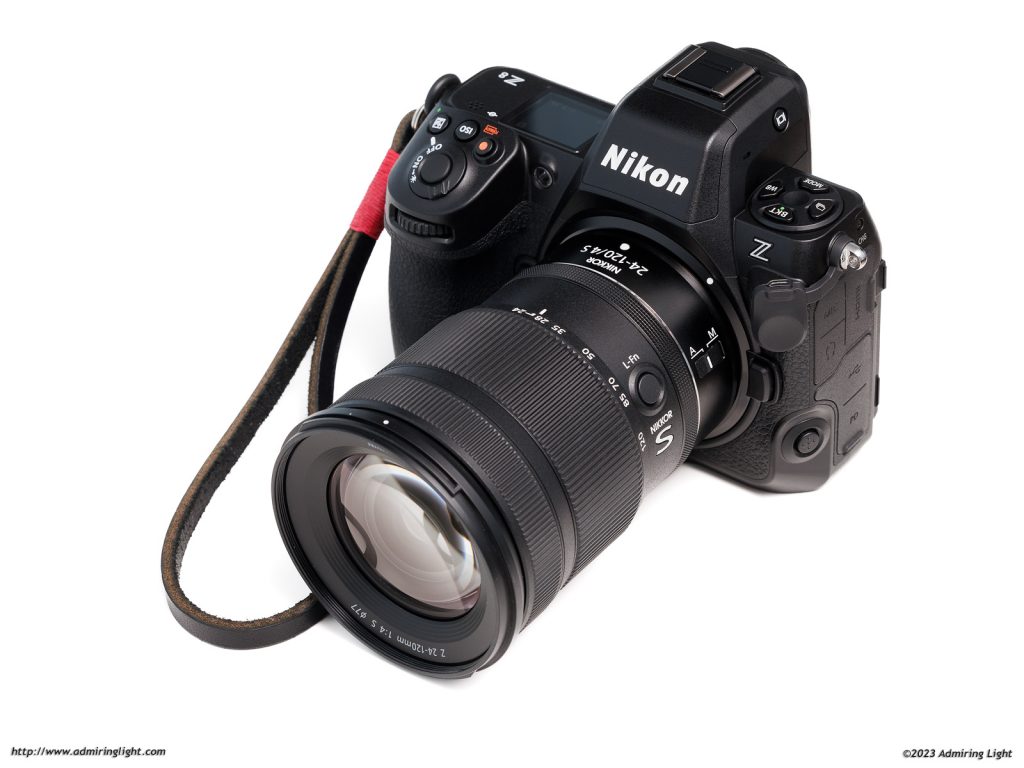 The Z 24-120mm f/4 S is moderately sized for a lens of this range. It's about a centimeter longer than Canon's RF 24-105mm f/4L, and roughly the same diameter as that lens. However, the Nikon 24-120mm f/4 S is also moderate in weight for its size, at around 640g (60g lighter than the Canon). The lens extends significantly when zooming towards the long end, on a double-tube extension. While I am somewhat wary of two tube extending zooms, the 24-120mm is very solid, with absolutely no wobble or play in the lens, even at 120mm.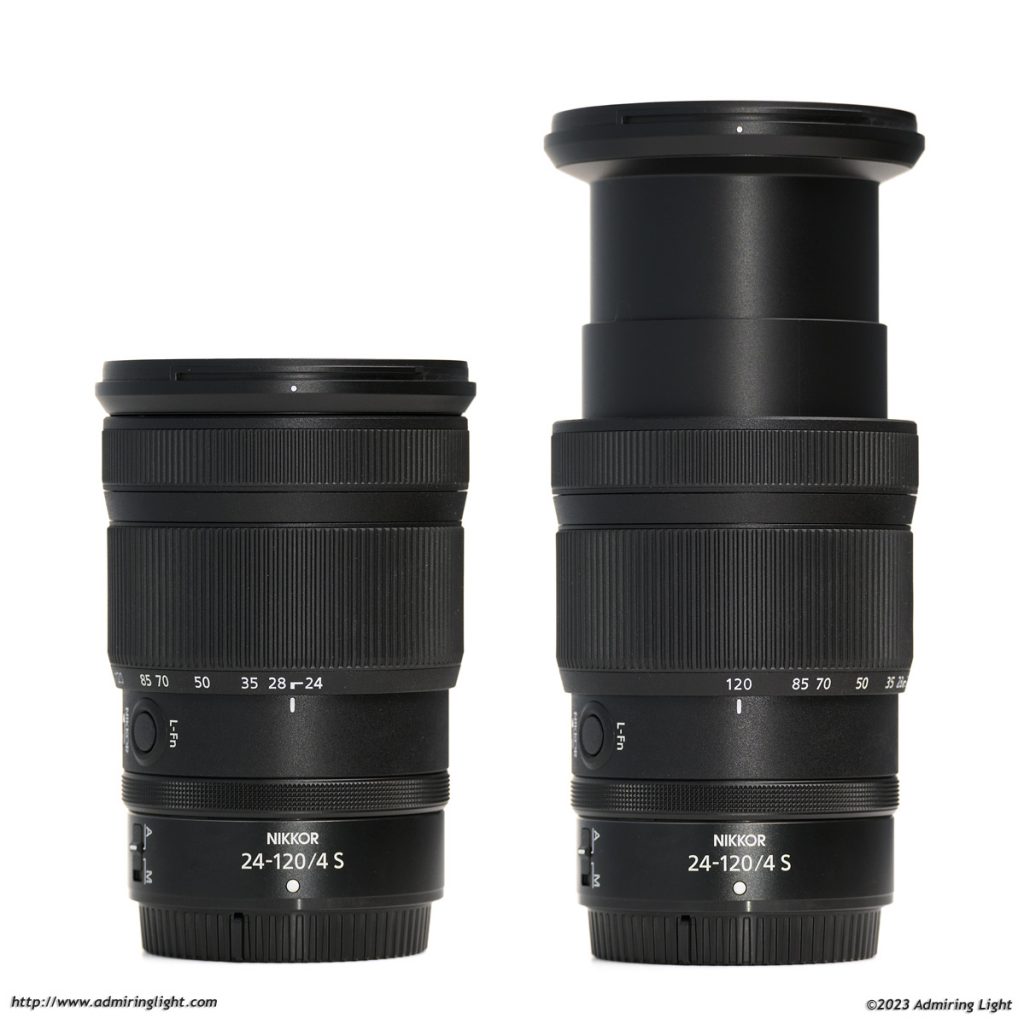 The focus ring turns smoothly with a nicely damped resistance, and the rear control ring turns without clicks and with a heavier damping. I do wish Nikon would add clicks to their control rings, as I find that the lack of tactile feedback makes them difficult to use for changing lens parameters with any degree of precision, and it also makes them prone to accidental changes. I have the dedicated control rings turned off on all my Nikon lenses that have them.
The zoom ring moves smoothly, but with higher resistance than one might expect. This makes it harder to make very fast zoom changes, but does prevent any lens creep. Overall, I find the build of the Z 24-120mm f/4 S to be on a very high level.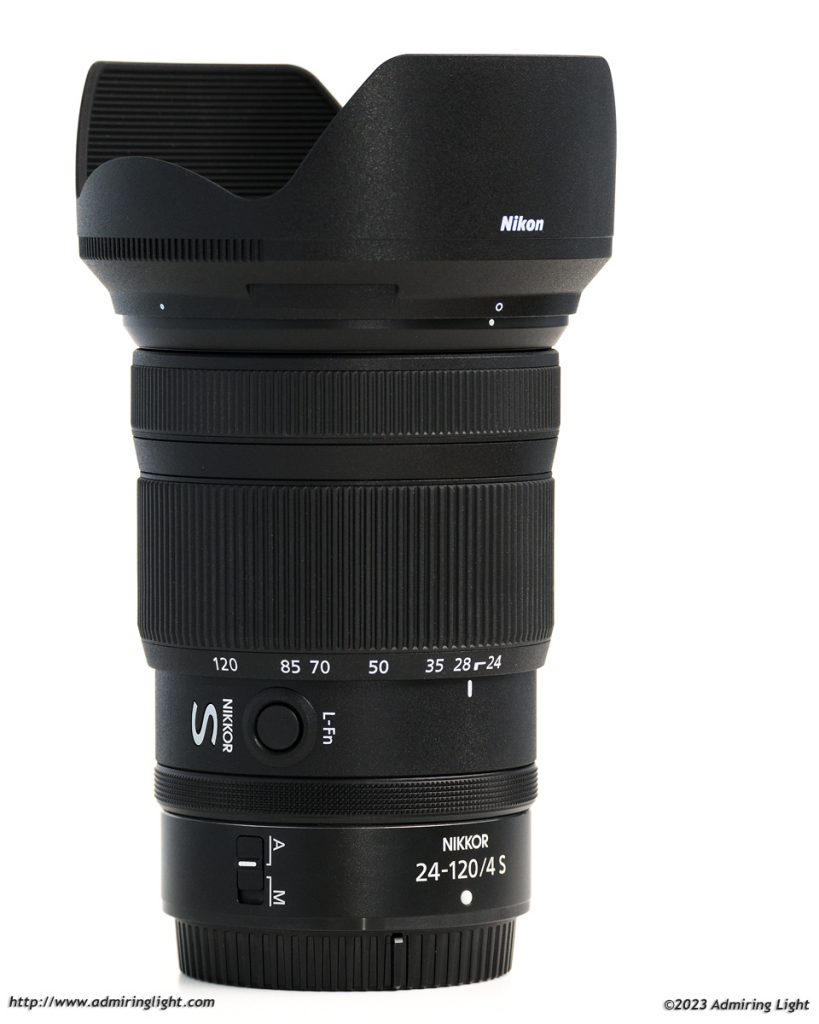 The lens comes with a plastic petal-shaped lens hood with the same matte black finish as the exterior of the lens barrel. The hood locks on securely (and perhaps with a bit too much resistance to lock it in place) and reverses for storage. Along the side of the lens are two controls: a switch for changing between autofocus and manual focus, as well as a lens function button, which can be programmed to a number of options in the camera settings.
Autofocus
The Z 24-120mm f/4 S features dual stepping motors that are near silent and quite quick. There are faster autofocus motors out there, but the 24-120mm is still quite snappy. Accuracy has been excellent in my testing. The lens is also able to track action fairly well, even on lower end bodies like the Z5. I have absolutely no complaints about the focus performance.
The lens can focus down to a rather impressive 0.35m throughout the focus range, yielding 0.39x magnification at 120mm, allowing the lens to also pull duty as a near-macro lens.
One thing missing from the 24-120mm is an optical stabilizer, as the lens relies on the in-body VR found in the majority of Nikon's mirrorless cameras. I found the IBIS to work well with this lens, so I don't really miss the optical VR.