Up for an in-depth look today is the Olympus 8mm f/1.8 Fisheye.  It's the first prime lens released under Olympus' PRO moniker, and features a weathersealed high-grade body and fast aperture, which is unique among fisheye lenses. If you've never used a fisheye lens before, it's worth your while to do so, as the extreme wide-angle view can allow for the capture of scenes that would otherwise be impossible with other lenses.  I've used quite a lot of fisheye lenses over the years, and I always enjoy bringing one out.  The Olympus 8mm has some unique features that fisheye lovers will really enjoy, but with those capabilities comes a high price tag of $999.  Is it worth it?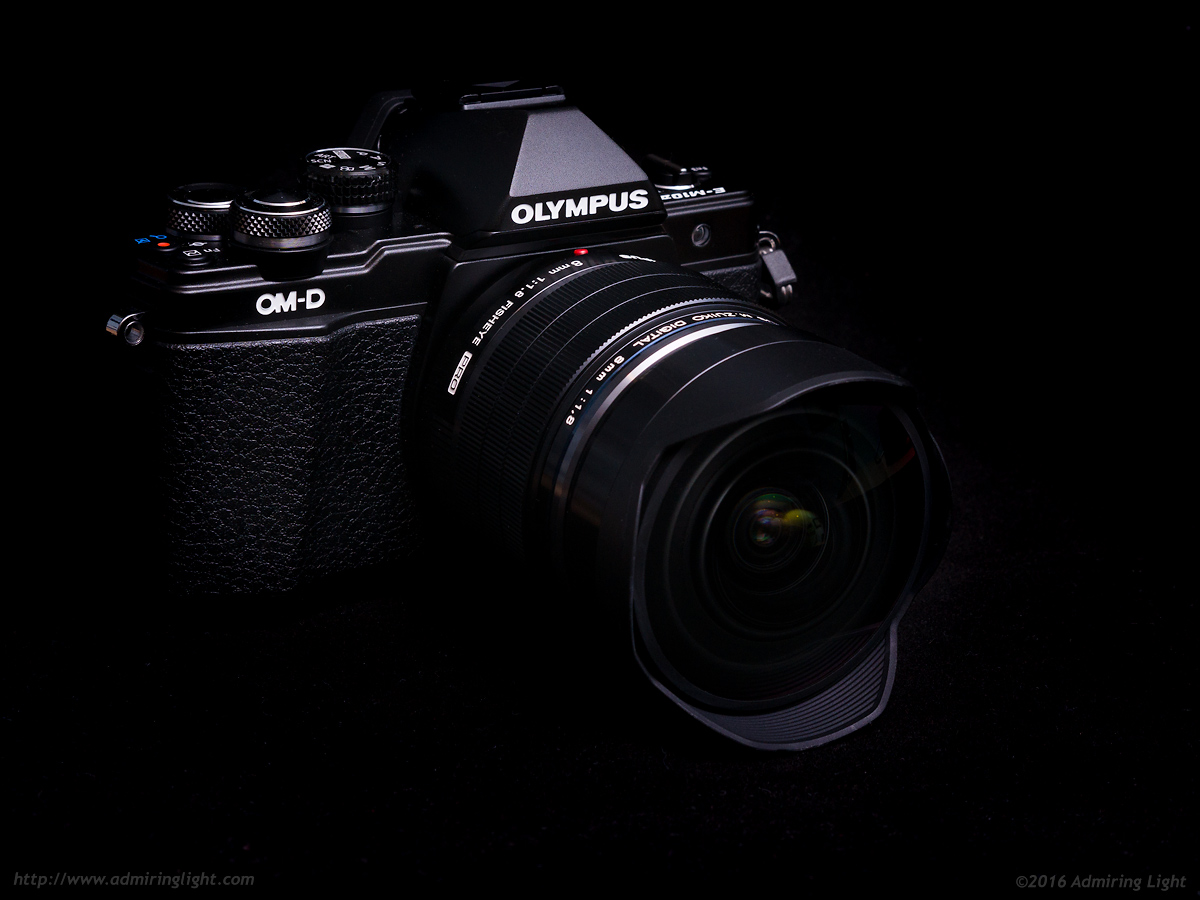 Construction and Handling
The 8mm f/1.8 fisheye is the first prime lens released by Olympus with the PRO label (later followed by the 300mm f/4). As such, it's built how you'd expect: well.  It's constructed with an all metal exterior, save for the built-in lens hood, to produce a lens body with a solid feel that gains splash and dust proofing for use in inclement weather.  The lens is fairly hefty compared to the other smaller and slower fisheyes available for Micro 4/3, but considering the high-end build and very fast aperture, it's actually smaller than I expected.  It's a dense lens, though, with 17 elements packed into the optical path.
The lens isn't big enough to cause handling problems with most of the Micro 4/3 lenses. It feels fairly nice on my E-M10 Mark II, even without the added hand grip.  The focus ring is by wire, like all Micro 4/3 autofocus lenses, and is smooth and well damped.  Unlike the other PRO series lenses, the 8mm fisheye lacks the focus clutch mechanism and L-Fn button that the other PRO series lenses have.
The extreme width that a fisheye provides necessitates a built-in lens hood that covers as much of the optics as it can, though care must be taken with the front element due to its proximity to the front of the hood. As with all fisheyes, the extreme angle of view precludes the use of lens filters.  The bulbous front element is covered by a deep lens cap that fits over the lens hood and locks into the small side edges of the hood.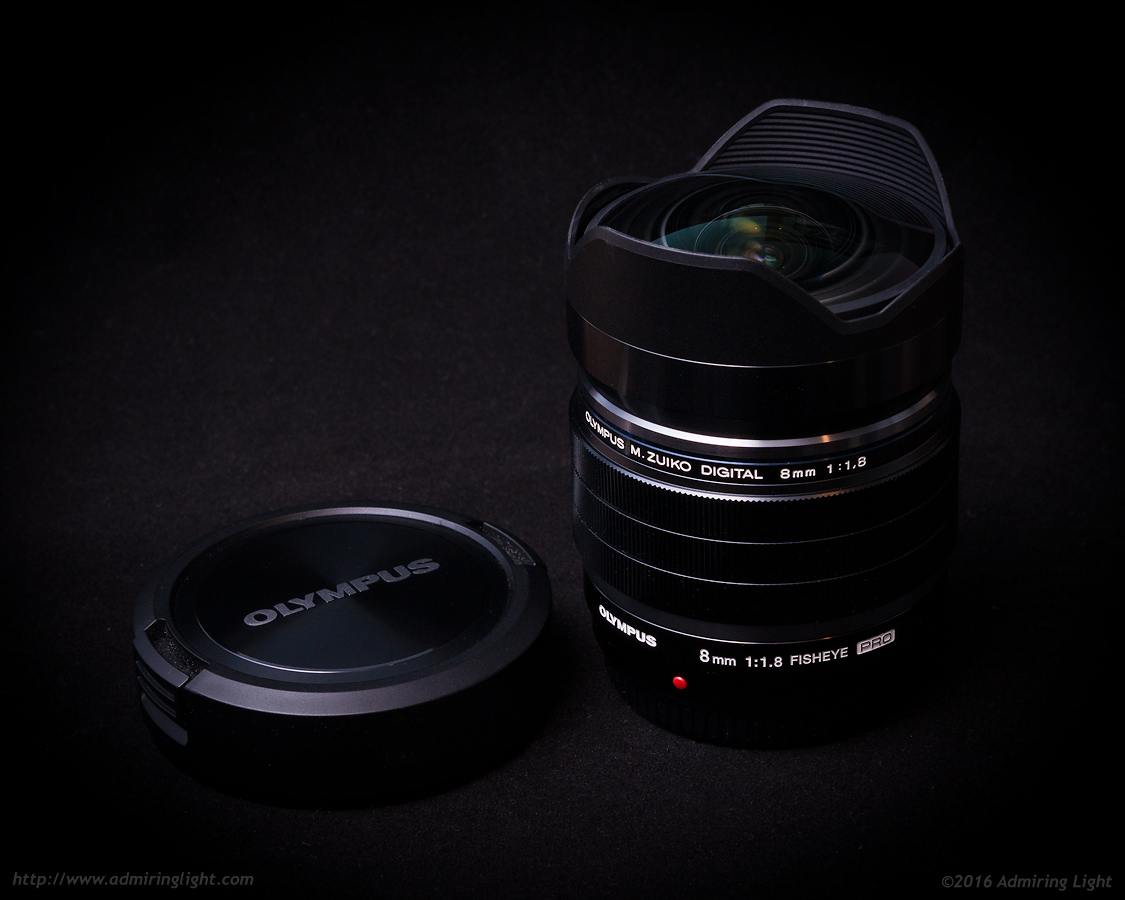 Autofocus
The Olympus 8mm fisheye features a decently quick and quiet autofocus motor.  A lot of fisheyes don't really need to be focused much, but that isn't the case with this lens because of the combination of the fast f/1.8 aperture and the extreme close-focus ability this lens offers. Let's talk about that feature first. When reading the spec sheet, you see a minimum focus distance of 4.72″.  This seems close, but you don't realize how close until you use the lens.  That MFD puts the focus point a half an inch in front of the front element.  Yes, a half an inch.  You can actually rest the bottom of the lens hood on your subject, tilt the lens slightly, and focus in the middle of the frame.  This capability opens up a huge world of compositional capabilities.  Being able to focus this close opens up the ability to use the lens for very unique close-up shooting with interesting background context.  Essentially, you won't run into a practical situation where you can't focus on something.
Second, that ability to focus super close, combined with the f/1.8 aperture, can actually create quite a lot of background blur: a unique proposition with a fisheye lens.  You'll see several examples on the next two pages showing close-up performance and how this works.  So, this relates to autofocus because unlike a lot of fisheyes, critical focus is very important with this lens when shooting close up, and thankfully, the 8mm f/1.8 delivers.  Focus is dead-on accurate and reasonably fast.  Because of the focus range from very close up to infinity, it focuses a touch slower than some lenses in the Olympus lineup, but certainly fast enough for any use I had for the lens.  If you're not already focused close up, and are focusing anywhere outside of a few feet, focus is essentially instant, so those looking to use this lens for shooting close up on sports like skateboarding aren't going to have any problem with focus speed.